As my son approached his first college exam period, I received promos for student "care packages" full of cookies, candy, and chips. When asked if they interested him, he said, "I wish you could send your cauliflower with rosemary and garlic." (His exact words.) A more resourceful mother might have been able to make it happen, but I was completely stumped. It's a dark day in the life of a healthy food maven when you can't meet a cruciferous vegetable request from your only child.
Seven years later, we're in a completely different place. The shift began with a few hands-on cooking lessons, followed by extensive phone coaching (including a number of semester-abroad calls from Rome). Then, instead of the family cookbook I might have compiled in a simpler age, I created a cooking app (Trufflehead) that featured his favorite dishes. I crammed it with all the information he (or anyone else) might need to cook the recipes. Now, chopped rosemary, minced garlic, and roasted cauliflower are in his repertoire, and he routinely shares the food he loves with the woman in his life. I've become senior menu consultant.
My most recent assignment involved dishes for Valentine's Day. The task immediately brought to mind a comment by Wolfgang Puck on the White Truffle Tagliatelle at Valentino in Santa Monica. He said the dish was so perfect that, after eating it, all you could do was go home and make love.* What better metric for the romantic effect of a meal?
So the Wolfgang Puck Index was born: Beauty, mystery, sensuality, and affordable elegance (no white truffles) went into the formula, as did the couple's preferences and time constraints. The final requirement was minimal last-minute stress. Guided by my WPI, I went through Trufflehead as a maternal Cupid in search of the best possible bow and arrows.
To insure a stress-free dinner, I chose recipes that could be partially or entirely prepared in advance. Since Valentine's Day is on Tuesday, I knew my son could do some of the work over the weekend. Here's the menu, with notes on each dish (recipes follow).
Double Celery Soup
This opalescent pale green soup is thick and luxurious, without any help from butter, flour, or cream. It's sophisticated and fancy even though the ingredients are humble. The celery-celeriac blend has a subtle, mysterious, earthy flavor. Preparation couldn't be easier: just chop, sauté, simmer, and puree. You can make it Sunday and then reheat Tuesday in the microwave or on top of the stove. Serve with crusty whole grain rolls.
Porcini-Crusted Beef Tenderloin Steaks
Tenderloin is the leanest cut of beef, so it's the healthiest, but it isn't cheap. You can get enough to feed 2 people for about $12, plus an extra $2 for dried porcini to coat them. The mushrooms add a musky pheromone to the luscious meat. Grind the porcini and mince the shallots in advance to limit last-minute effort.
Chard with Raisins
Red chard is the queen of greens--with looks and flavor to match its nutritional pedigree. Mild, silky leaves provide a nice foil for the edgy porcini; crisp-tender stems play off the buttery beef. Raisins balance the tart, wine-y sauce. If you precook the chard, you can finish it in less time and less oil than you'd need otherwise. Blanch and dry it in advance, and then give it a quick toss in a skillet while you sear the steaks.
Chocolate Mocha Swirl Cheesecake
Warning: Adult Content--a creamy, crust-less, no-bake cheesecake with chocolate and coffee flavors in a sexy light-and-dark swirl. Your valentine will never guess it's low in fat and calories. It takes at least 2 hours to chill, so you might want to prepare it the night before.
WPI for the meal: OFF THE CHARTS.
*I couldn't provide Wolfgang Puck's direct quote because The Best Thing I Ever Ate: Crazy Good wasn't available on the web, but I think I came pretty close.

The following recipes are excerpted from the Trufflehead app, which has been featured on Apple's New and Noteworthy, Top 25 Lifestyle, and What's Hot iPhone app lists.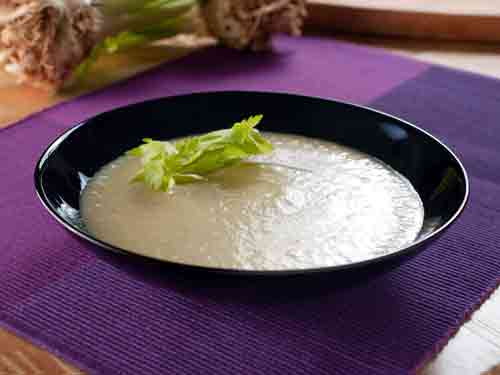 Servings: 6
Time: 30 to 60 minutes
Difficulty: Moderate
2 tablespoons extra virgin olive oil
5 cups chopped celery with leaves (about 1 bunch), preferably organic
1 large leek, white and light green parts only, sliced (2 cups)
3 garlic cloves, minced (1 tablespoon)
1 medium celery root (1 pound), peeled and cut into 1-inch chunks
4 cups low-sodium chicken or vegetable broth, plus more if needed
½ teaspoon salt, or to taste
freshly ground black pepper
1 teaspoon sugar, or to taste, optional
minced flat-leaf parsley, optional
Place a large soup pot or Dutch oven over medium heat. When hot, add the oil. When hot, add the celery and leek. Cook, stirring occasionally, until soft, 15 to 20 minutes. Add the garlic and cook, stirring, 1 minute longer.
Add the celery root, broth, salt, and pepper. Bring to a boil over high heat. Reduce heat to low, cover, and cook 30 minutes, until celery root is very soft.
Remove from heat and allow to cool for several minutes. Transfer in small batches to a blender. Remove the center ingredients cap from the blender lid. Process on "stir" 15 seconds to allow steam to escape. Then replace the cap and increase speed to "puree"; process until smooth. Transfer to a large saucepan or heat-proof container. Repeat until all of the soup is pureed. Taste, and add sugar if desired. If the soup is too thick, add more broth to reach desired consistency. Serve immediately, sprinkled with minced parsley, if desired.
Per serving: 87 calories, 6 g total fat. 1 g saturated fat, 0 mg cholesterol, 8 g total carbohydrate, 3 g dietary fiber, 8 g protein, 354 mg sodium.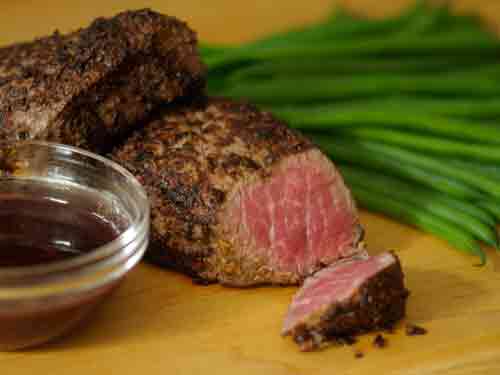 Porcini-Crusted Beef Tenderloin Steaks
Servings: 4
Time: < 30 minutes
Difficulty: Moderate
1 ounce dried porcini mushrooms
4 (4-ounce) beef tenderloin steaks, 1 inch thick, visible fat removed
salt
freshly ground black pepper
1 tablespoon extra virgin olive oil
2 shallots, minced (2 tablespoons)
½ cup low-sodium beef broth
½ cup dry red wine
Brush the porcini to remove any grit and place in a blender. Cover and process to the consistency of coarse crumbs. Set aside 1 tablespoon. Transfer the remainder to a shallow bowl.
Season the tenderloins generously with salt and pepper. Gently press the meat into the porcini crumbs to coat top, bottom, and all sides. DISCARD UNUSED CRUMBS.
Place a medium nonstick skillet over medium-high heat. When hot, add the oil. When hot, add the beef. Cook top and bottom 4 minutes each, reducing heat if necessary to prevent scorching. Then place the tenderloins on their sides and cook, turning to brown the perimeter, 4 minutes total for medium-rare meat, or longer to desired doneness. (Cooking time depends on thickness.) Transfer to a platter. (To sear the entire perimeter, you may have to use tongs to press some areas against the skillet as you turn.)
Add the shallots to the skillet. Cook, stirring occasionally until soft, about 2 minutes. Add the broth, wine, and reserved 1 tablespoon of porcini crumbs along with salt and pepper to taste. Cook, stirring constantly, until syrupy. Spoon a little sauce onto each of 4 plates and top with the beef. Serve immediately.
Per serving: 217 calories, 10 g total fat, 3 g saturated fat, 70 mg cholesterol, 3 g total carbohydrate, 1 g dietary fiber, 26 g protein, 65 mg sodium.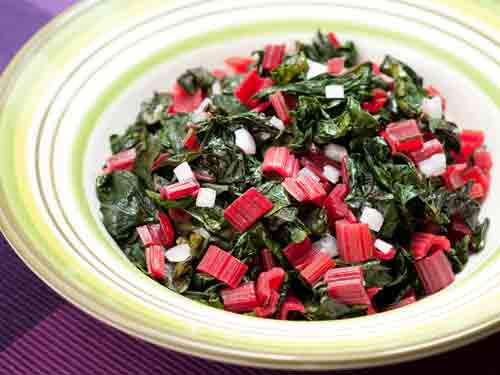 Servings: 6
Time: 30 to 60 minutes
Difficulty: Easy
2 bunches red or rainbow chard (about 1½ pounds total), washed and drained
1 tablespoon extra virgin olive oil
¼ cup seedless raisins, preferably organic
3 garlic cloves, minced (1 tablespoon)
½ teaspoon hot red pepper flakes, or to taste
salt
freshly ground black pepper
Separate the chard stems from the leaves. Chop the leaves into bite-sized pieces and cut the stems into ⅓-inch thick slices.
Bring a large pot of water to boil. Add the stems and cook 3 minutes. Add the leaves and cook 1 minute longer. Drain and transfer to an ice water bath to stop the cooking. Drain and dry between layers of paper towels. (May be prepared up to 3 days in advance and refrigerated in a covered container.) Alternatively, stems and leaves may be steamed.
Place a large nonstick skillet over medium heat. When hot, add the oil. When hot, add the garlic and raisins. Cook, stirring, 1 minute. Add the leaves and stems, and season generously with salt and pepper. Cook, stirring, until heated through, about 5 minutes. Serve hot.
Per serving: 62 calories, 2 g total fat, trace saturated fat, 0 mg cholesterol, 9 g total carbohydrate, 2 g dietary fiber, 2 g protein, 116 mg sodium.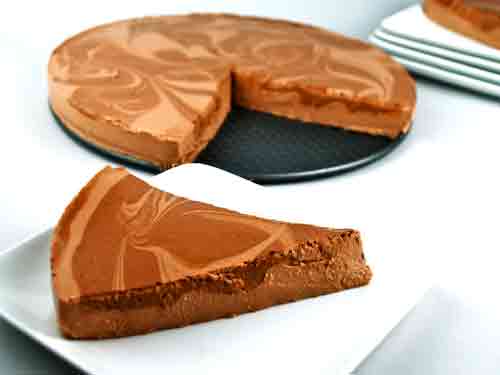 Chocolate Mocha Swirl Cheesecake
Servings: 12
Time: > 60 minutes
Difficulty: Easy
4 teaspoons unflavored gelatin
¾ cup boiling water
3 cups 1% cottage cheese (24 ounces)
¼ cup plus 2 tablespoons reduced-fat cream cheese (3 ounces)
1 cup Splenda granulated or sugar
1 teaspoon vanilla extract
2 ounces unsweetened baking chocolate (2 squares)
2 tablespoons light chocolate syrup
1 teaspoon unsweetened cocoa powder
1 teaspoon instant coffee
In a small bowl, combine the gelatin and boiling water. Stir continuously for 2 minutes to dissolve.
In a blender, combine the cottage cheese, cream cheese, Splenda or sugar, and vanilla. Pour the gelatin mixture over and stir briefly with a flexible spatula. Cover and process until completely smooth.
Place the chocolate in a medium microwave-safe bowl. Microwave in 15 second intervals, stirring in between, until melted. With the blender running, use a flexible spatula to scrape the melted chocolate into the cottage cheese mixture. Process until the mixture is uniform in color.
Leaving ½ cup filling in the blender, pour the mixture into an 8-inch springform pan. Add the syrup, cocoa, and instant coffee to the reserved filling, and process briefly to blend.
Pour the remaining filling into the pan in a circular pattern. Swirl with a flexible spatula to create a decorative pattern.
Refrigerate 2 hours or until solid to the touch. Serve chilled. Cover leftovers and refrigerate up to one week.
Per serving: 102 calories, 5 g total fat, 3 g saturated fat, 8 mg cholesterol, 6 g total carbohydrate, 1 g dietary fiber, 10 g protein, 209 mg sodium.

Related