We've all been there. The alarm goes off and it's a scramble to get the day started. Some of us are lucky enough to have the time, and the financial means, to start the day off feeding our bodies and minds with a nutritious breakfast.
Others aren't so blessed. What about the 400,000 children in foster care? Or the staggering 2.5 million homeless kids in America? One out of five children receives food stamps. Don't forget about single-parent homes, where kids often have to fend for their own meals and transportation, while mom or dad works three jobs just to afford rent.
Children are expected to arrive at school fueled for a day of mental and physical activities. But, instead many children are going to school hungry and tired. It's becoming commonplace to see middle school students waiting in line to buy breakfast at the local bodega.
All too often, children experience health problems that impact school performance and overall well-being due to poor nutrition. And because children spend so much time in school, creating a healthy, supportive and successful learning environment is essential.
Educators are no longer just responsible for core subjects taught in the classroom. Promoting student health and addressing poor nutrition are issues that educators face and need to tackle in real time.
Direct service providing organizations, like Common Threads, help schools breathe life into existing health and wellness policies meeting educators and students where they are, giving them the programming, education, and implementation models that go beyond core academics.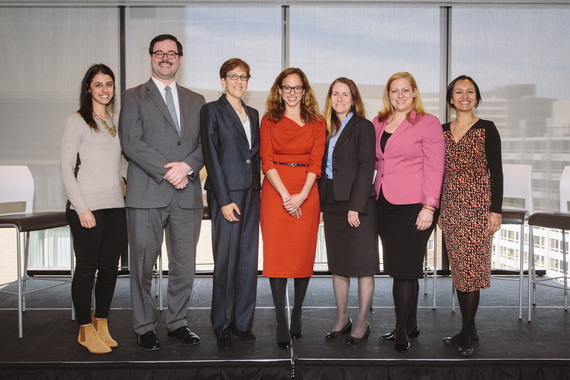 Erica Walther, Colin Pekruhn, Crystal FitzSimons, Jackie Haven, Linda Novick O'Keefe, Kristy Anderson, Diana Bruce; Photo credit: Thomas Van Veen, Documentary Associates.
Common Threads brought together decision makers in the food policy and school nutrition space to discuss how to improve the health and wellness of America's children. Diana Bruce, Office of Youth Engagement, DCPS; Erica Walther, RDN, LD, Office of the State Superintendent of Education, DC; Crystal FitzSimons, FRAC; Kristy Anderson, American Heart Association; Colin Pekruhn, Grantmakers in Health; and Jackie Haven, USDA, Center for Nutrition Policy and Promotion participated in the discussion: Organizations, Policy, and Creating Change.
"Increasing student health and wellness is one of the strategies for improving achievement rates for DCPS."
Diana Bruce, DCPS
"It is federally mandated that we have a local wellness policy," says Bruce who explains that DCPS directs local funds from collaborative grants and finds money where they can for programs. The district also relies on relationships with local and national organizations to support wellness initiatives.
"Even though we know that academic performance and health are directly linked, that sometimes gets lost when it comes to running the school day. The administration is often focused on test scores, performance testaments and making sure that everything happens between 8:45 AM and 3:15 PM," says Bruce. DCPS has five goals within their capital commitment that make up the strategic plan, and meeting those is a priority.
(1) promote health education and healthy behaviors; (2) increase physical activity of students before, during and after the school day; (3) offer healthy food to students; (4) provide universal supports to families and school staff to meet student health requirements; and (5) increase the environmental sustainability of schools. The DCPS Local Wellness Policy (LWP) articulates how they plan to implement programming towards these five stated goals.
"Increasing student health and wellness is one of the strategies for improving achievement rate for DCPS," Bruce says.
According to Bruce, it's easy to show the effectiveness of health and wellness activities when it comes to creating fun learning opportunities that help students enjoy school. Beyond that, she thinks the focus should expand to capture data that demonstrates how these initiatives facilitated by DCPS are able to meet capital commitment goals.
As she puts it, "health and civil rights are intertwined and it is the school's responsibility to take care of the kids while they are in our care."
"We rely heavily on the partnerships we have created with community based organizations to implement the Healthy Schools Act."
Erica Walther, RDN, LD, Office of the State Superintendent of Education
Walther has seen the power of collaboration firsthand when it comes to implementing health and wellness practices in schools, influencing food policy and reversing childhood obesity.
"In DC, we have the Healthy Schools Act, which is a piece of legislation that mandates how schools can be healthier places," she says. Passed in 2010 by DC City Council, this landmark law illustrates how everyone, including community organizations, can address and improve the health and wellness of students attending DC public and charter schools.
Walther explains that collaboration is the key to implementing the legislation. While she works with other DC government agencies, she relies heavily on partnerships with community based organizations.
DCPS schools partner with organizations like Common Threads and Food Corps because it allows them to place a person directly in the schools to interact with students in the cafeteria and school garden, providing schools with valuable food, cooking and nutrition education.
The Heathy Schools Act outlines the ideal school environment. Schools are different and building a culture of health requires change and effort. "Cross-sector collaboration is helpful when looking at programmatic design and making sure that you're creating a program that will fit different schools. Allowing someone else to come in with boots on the ground and leaving room for flexibility are both important," stresses Walther.
"One of the most exciting things to come out of the Healthy Hunger Free Kids Act was a new provision called the Community Eligibility Provision ..."
Crystal FitzSimons, Food Research & Action Center (FRAC)
When it comes to new opportunities to ensure that kids have access to nutrition programs in school, FitzSimons is excited about a new provision in the Healthy Hunger Free Kids Act, the Community Eligibility Provision, which allows high poverty schools to provide free breakfast and lunch to all children and eliminates the need for school meal applications and other paperwork. FRAC research shows that 8.5 million kids are attending community eligible schools across the country and roughly 18,000 (about half of the eligible schools) schools have adopted the provision. In her 18 years at FRAC she has never seen uptake like that.
According to FitzSimons, participation in both lunch and breakfast programs has grown -- 15 percent and 23 percent, respectively -- indicating less stigma associated with the programs. FRAC is also pleased with the provision because it supports another priority -- Breakfast in the Classroom and Breakfast After the Bell.
Federal nutrition programs are in place to ensure that students receive food during other critical times, including summer and after school. The after school meal program is also part of the Healthy Hunger Free Kids Act, and while research is limited, FitzSimons is thrilled that the program is reopening cafeterias, reaching students doing a variety of activities at the school and providing a more nutritious meal.
Participation in summer nutrition programs has increased significantly in recent years. The latest report from FRAC shows that nearly 1 in 6 low income children receive summer meals. It goes on to state that "During July 2014, the Summer Nutrition Programs served nearly 3.2 million children, an increase of 215,000 from 2013."
The Child Nutrition Reauthorization Act is another key piece of legislation when it comes to food policy and children. "The program is up for reauthorization every five years and provides an opportunity to improve and strengthen the child nutrition programs including school breakfast, school lunch, summer feeding, after school feeding, WIC and the fresh fruit and veggie program," says FitzSimons.
Concerns with new versions of the Child Nutrition Reauthorization Act center around cuts to community eligibility changes that would cause some kids to lose access to school meals even though they are eligible.
"You can't foster change unless you speak up."
Kristy Anderson, American Heart Association
"We are seeing a culture of change now more than ever," says Anderson. She points to the fact that 97 percent of schools are meeting the updated nutrition standards since the Healthy Hunger Free Kids Act was passed -- a considerable improvement. She continues, "We need to go further. Everybody knows the phrase 'the squeaky wheel gets the grease,' and it's true -- you can't foster change unless you speak up."
"Heart disease is our nation's number one killer -- it is also our costliest chronic disease and will cost us an estimated $815 billion by 2030. One in every four Americans dies from cardiovascular disease. And 80 percent of heart disease is preventable," says Anderson. The American Heart Association has a vested interest in improving the health of Americans. Eating better, getting physical activity and abstaining from tobacco are crucial to improving the health of Americans.
Equally as important, according to Anderson, is reaching children and changing environments. As more American children show signs and symptoms of heart disease it is critical that the trend is reversed. She says that "About 14 percent of children show signs of hypertension and high blood pressure, developing fatty liver disease, and arteries that have blockage." Anderson maintains that eating nutritious foods can set kids on a path towards better health by teaching them lifelong lessons that will lead to a healthier and longer life. There is a real opportunity -- through the various programs included in policies to make sure that a significant portion of young scholars' daily calories are nutritious.
"A lot of effective organizations are looking to take a holistic approach to solving some of these problems."
Colin Pekruhn, Grantmakers in Health
Cross sector collaboration is an important component to creating effective change in the health and wellness space. There are some things that make a service providing organization stand out from the others.
"An organization needs to have a clear mission with a well-outlined plan on how to get there in order to differentiate itself," says Pekruhn. According to him, organizations also need to have the ability to measure success and demonstrate an ability to partner -- both within their own space and across silos, goals to change systems, a strategic plan to scale programming and an ability to reply not only on evidence-base but also get creative about implementation. The ability to scale is a crucial component, stresses Pekruhn.
Funders want to know where an organization is headed -- beyond just serving more people. In an ever-growing field of nonprofit organizations and service providers, it is challenging to ensure that energies and funds are being spent in an efficient way.
Foundations have been supporting obesity prevention and healthy eating efforts for quite some time, and according to Pekruhn, that won't change anytime soon. "Our research shows that health funders are still committed to the issue and intend to remain committed for the foreseeable future," he says.
Pekruhn identifies some of the challenges that remain: getting to large scale change, affecting policy, addressing gaps that exist in ethnic minority and impoverished communities that are disproportionately affected by the obesity epidemic and measuring outcomes and progress. In spite of these obstacles, the focus remains and there are some shifts taking place. As health funders focus more on policy and more on the larger food system and its role, it is more important than ever to ensure that funders, service providers, institutions and governmental agencies work together for greater impact.
"We are responsible for helping all Americans make healthy food choices."
Jackie Haven, USDA, Center for Nutrition Policy and Promotion
"At USDA, in our Center for Nutrition Policy and promotion, we have a very big mandate. We are responsible for helping all Americans make healthy food choices," Haven says. They work together with partners at various levels -- from national strategic partners to ambassadors -- to promote healthy eating.
Haven has found flexibility to be key in effective communication, especially when budgets are tight. The USDA is employing social media and interactive tools, including the SuperTracker (a free online physical activity and nutrition tracker to align your diet with dietary guidelines), and challenge platforms involving Fitbits and other devices; to be most cost effective but still get the message out in a powerful way. She is also excited about the USDA's new cooking platform and their partnership with 4H to offer child nutrition programs, recipes, and a menu planner.
Much like the other representatives across sectors, Haven says the USDA is effective through partnerships. One of the most recent and successful partnerships has been with MyPlate. According to Haven, consumers relate with initiatives that encourage healthy progress and smart choices.
Our expert panel members agree that there are steps we can all take. Action items that came up across the board include being informed, acting as an advocate, and collaborating with other groups who share the same goals. There is palpable momentum that has been building in the health and wellness space and that is what it takes for real change to happen.
FitzSimons suggests accessing the report on FRAC's website to find schools participating in nutrition and food programs as a starting point. There are resources available and programs in effect that people might be able to easily take advantage of.
As far as advocacy goes, she says, "Weigh in with your congressman to let them know what you support and want to see." Making your voice heard is a starting point in creating change.
It takes partnership to create real change. The more organizations and institutions that collaborate efforts toward the goal of fighting childhood obesity, the more progress can be made. The Center for Public Health at the Milken Institute believes that "...extending life and promoting health and wellness are among the most effective strategies for spreading prosperity and empowering people across the globe." The nonprofit organization published an extensive report, "Weighing Solutions to Obesity," earlier this year and found that investing in obesity prevention is worthwhile and results in change. In one of the analysis reviewed it was determined that "... different stakeholders will have power to change different aspects of the community or environment. These different groups, from government to community-based organizations to the public sector, will have to collaborate to develop and coordinate a plan to tackle the growing obesity epidemic.
REAL LIFE. REAL NEWS. REAL VOICES.
Help us tell more of the stories that matter from voices that too often remain unheard.