It didn't take long for the opposition to find me. My Super Bowl article caught the eye of Boyabovegarage, who posted this comment: "If I was coming to your house, I'd bring a meat lovers pizza and a 30 pack of beer. Maybe 2 pizza[s] so I can sell slices. Your house must be a blast on Thanksgiving with tofu turkey." Was there too much cayenne in the cannellini dip?

I don't really mind this in-your-face stuff because it makes good conversation between me and my husband. As a shrink, he's the house expert on human behavior, and it's extremely helpful to have one around. For example, when your adolescent child does enraging things that you cannot comprehend, the house expert reframes them in (somewhat) rational terms that make it (somewhat) possible to get past your rage. After 25 years or so, you don't even need the discussion because you know how it will go. You can just replay the tape in your head and calm yourself down.
I had one of those mental exchanges with my husband regarding Boyabovegarage's comment. As usual, the expert said: "Don't take the bait." (That's Rule #1.) Since it's my nature to take the bait, I often end up with some sort of compromise between what I know I should say (nothing at all) and what I'd like to let fly.
Boyabovegarage got the compromise treatment. As my reaction evolved, a series of draft messages appeared in the reply window. The last read: "Unless your pizza is world class--I think my buffalo chili and turkey sandwiches...would hold up pretty well against it...Don't knock it 'til you've tried it." It struck a familiar balance between saying nothing and letting it fly, and I decided to go with it. The preview passed inspection. Although the tape in my head reminded me that Rule #2 is "Don't push SEND," I clicked "Post Comment." Later, I asked my non-virtual husband how I did: He gave me a B- for taking the bait and pushing send.
Hoping to improve my grade, I brought up a similar experience I'd had on my blog. For some reason, my Turkey-Spinach Burgers with Sweet Soy-Ginger Sauce provoked the following outburst from a reader:
Isn't there anyway to eat healthy other than icky dry, dry turkey and weird tasting tofu? If y'all could offer something that everyday people could get excited about eating everyone would probably be more excited about trying to eat better things. OK - all you perfect people who have amazing nutritional habits - bring it on - I'm sure there will be lots of negative comments to this comment.
My husband read her contribution and then considered my response:
I'm trying to understand your tone. It's not exactly congenial. But, since you've issued what seems to be a challenge...If you look at my list of recipes...you'll see that there is only 1 recipe for turkey (this one) and you'll find exactly NONE for tofu. In addition, these turkey burgers will NOT be dry unless you overcook them.
"Well?" I prodded. The expert simply shrugged. He (almost) never takes the bait.
No pressure. I'm not trying to tell you or anyone else how to live or what to eat. I'm a food-loving MD who enjoys sharing delicious options with people who don't want to go the ribs-wings-pizza route. Everyone is welcome at my table, but you don't have to accept the invitation.
The following recipe is from the Trufflehead app, which has been featured on Apple's New and Noteworthy, Top 25 Lifestyle, and What's Hot iPhone app lists.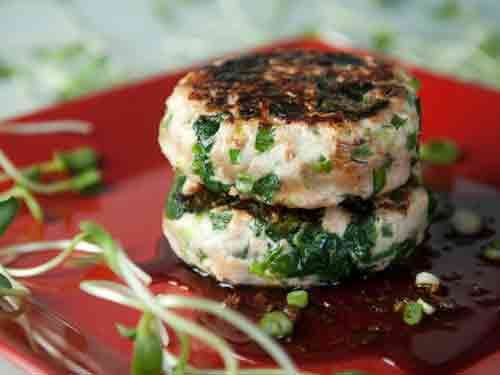 Turkey-Spinach Burgers with Sweet Soy-Ginger Sauce
Servings: 4
Tim: 30 to 60 minutes
Difficulty: Moderate
2 tablespoons reduced-sodium soy sauce
2 tablespoons mirin
2 tablespoons dark brown sugar
1 tablespoon minced fresh ginger
1 (5-ounce) package fresh baby spinach, preferably organic
1 pound ground turkey breast
¾ cup finely chopped scallions
1 teaspoon toasted sesame oil
Salt
Freshly ground black pepper
1 tablespoon canola oil, preferably organic, or macadamia nut oil
In a small saucepan, combine the soy sauce, mirin, brown sugar, and ginger. Bring to a boil over medium-high heat. Reduce until slightly syrupy, about 5 minutes. Keep an eye on it and adjust heat if it threatens to boil over. Remove from heat and cool completely. (Sauce may be prepared up to 2 days in advance and refrigerated in a covered container. Reheat just before serving.)
Bring a large pot of water to a boil. Add the spinach and cook 1 minute. Drain and transfer to an ice water bath to stop the cooking. Drain again. Spread out a dish towel on your work surface. Cover it with a layer of paper towels. Spread the spinach in a thin layer over the towels. Cover with another layer of paper towels and another dish towel. Roll up the entire apparatus. Holding the roll at the ends, twist it to wring the water out of the spinach. Unroll, lift the top layer, and transfer the spinach to a cutting board. Chop coarsely and set aside. (Spinach may be prepared up to 2 days in advance and refrigerated in a covered container.) Alternatively, you can use ½ standard 10-ounce package of frozen chopped spinach, defrosted, drained, and squeezed dry.
In a large bowl, combine the turkey, scallions, sesame oil, reserved spinach, and 1 tablespoon of the reserved sauce. Season with salt and pepper and blend well. Form the mixture into 4 patties, about 3½ inches across and 1 inch thick.
Heat the oil in a large nonstick skillet over medium-high heat. When it is hot, add the burgers. Cook about 3 minutes. Reduce heat to medium and cook 3 minutes longer until nicely browned. Turn, raise heat to medium-high, and cook 3 minutes. Reduce heat to medium and continue cooking about 3 minutes longer, or until cooked through. Lower the heat if necessary to prevent burning. Serve with some of the sauce spooned over.
Per serving: 198 calories, 5 g total fat, 1 g saturated fat, 75 mg cholesterol, 7 g total carbohydrate, 2 g dietary fiber, 29 g protein, 409 mg sodium.