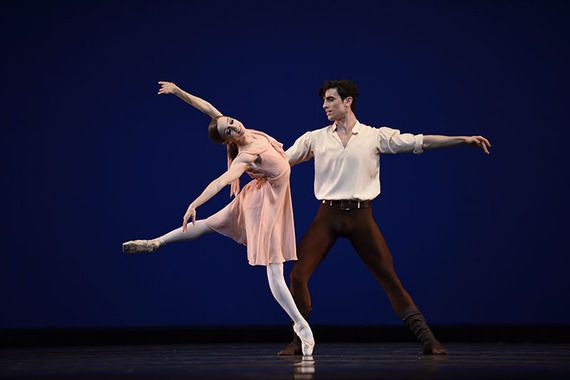 Daredevil Maria Kochetkova and the passionate Joseph Walsh in Jerome Robbins' Dances at a Gathering (Photo: Erik Tomasson)
At 6:32 p.m. Pacific Standard Time on Thursday night, Ballet to the People paused on her way to the War Memorial Opera House to gaze skyward. In the company of other San Franciscans, she watched a "visible passing" of the International Space Station. Good sightings of the ISS are infrequent, and depend on the earth's rotation and the clarity of the sky. For three minutes we stood, motionless, following the arc of its journey eastward in the dusky sky. The sight never fails to thrill: like an exceptionally bright star, the Space Station zooms across the sky at nearly five miles per second, manned by American, Russian, European and Japanese astronauts who spend their days conducting scientific research and testing the effects of zero gravity on their bodies.
At 8:58 p.m. Pacific Standard Time, ten San Francisco Ballet dancers stood motionless on stage, at the close of Jerome Robbins' heroic Dances at a Gathering, gazing skyward in their own ritual Space Station sighting, as the wistful chords of a Chopin "night piece" rained lightly down. The previous hour had been spent negotiating the earth's gravity with an insouciance that belied these dancers' formidable technique.
This plotless masterpiece, affectionately known as DAAG, opens as the Man in Brown - Joseph Walsh, whose thrilling dancing unites lyricism and bravura - relives a bittersweet memory. Watching him from the pit, magician Roy Bogas spins this memory into Chopin's poignant Mazurka Op. 63 No. 3.
Part of the genius of this work is that the dance does not arise, like most dances, in response to the music; rather, it seems to inspire the musician to create the music on the spot - a feigned improvisation, for which Chopin's mercurial moods prove perfect. On the bare stage, balletic movements punctuated by hints of Eastern European folk dance (Robbins claimed to be inspired by his Russian Jewish heritage), are interpreted with a simplicity and a deliberate avoidance of style and stylishness that make us question the boundary between dance and ordinary human movement.
The people in Walsh's memory (identified in the program only by the colour of their summery garb) drift on and offstage. They tease, seduce, fall in and out of love, spur, pester, protect and commiserate with each other, revealing poetry in their mundane lives. Weather happens: a couple, caught in a storm, spin delightedly. A hint of tragedy emerges as two women stretch out, rigid and still, in the arms of two men.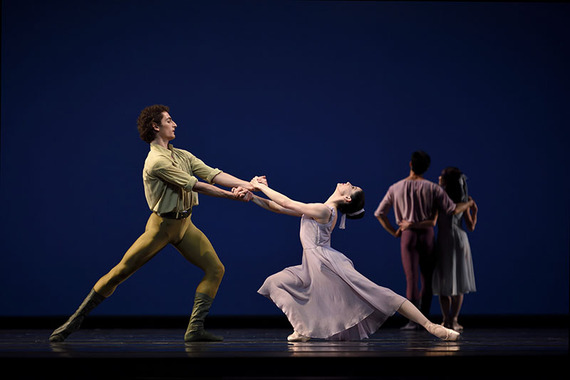 The poetic Vanessa Zahorian falls for Carlo Di Lanno in Dances at a Gathering (Photo: Erik Tomasson)
Vanessa Zahorian (Mauve) shows perhaps the greatest range of feeling, delicate in the expressive yearning of her upper body, at other times a gale-force wind. Her early duet with Carlo Di Lanno (Green) to a lilting waltz is innocent and playful; a later duet, to a heartbreaking mazurka, is stately and deliberate, leaving many things between them unsaid. Maria Kochetkova (Pink) never seems truly happy unless she's doing something dangerous, in which she is aided and abetted by Davit Karapetyan, later by Joseph Walsh. Karapetyan dances a solo like butter, his double air turns melting into a deep knee bend. Later, he and Walsh betray a cordial rivalry in an anything-you-can-do-I-can-do-better duet. Mathilde Froustey is a zephyr in yellow; at the end of a sunny, jazz-inflected duet with the irresistible Vitor Luiz (Brick), she dives enthusiastically into his waiting arms, partway into the wings.
The mood turns pensive, though not for long. Sensing change is in the air, Doris André (Blue), Kochetkova and Zahorian huddle together, warily stretching their legs outward, like antennas.
In a feisty dance of independence, Lorena Feijoo (Green) mocks those women-of-a-certain-age who fear loneliness. Yet later she becomes a powerful force of nature. In a sextet, Di Lanno, Karapetyan and Steven Morse (Blue) toss André, Froustey and Zahorian playfully into the air. Even when airborne, the main quality of this cast is a wonderful groundedness, a weightiness missing from DAAG as performed by some companies.
An inspired programming coup pairs DAAG with Liam Scarlett's Hummingbird, another plotless ballet, new last season. Wunderkind of the Royal Ballet, Scarlett wrests unexpected emotions from Philip Glass' relentless Piano Concerto No. 1. Co-conspirators John Macfarlane (set and costumes) and David Finn (lighting) have designed a post-apocalyptic world, the stage overhung by an enormous, curved, shimmering sail that rolls up and down to reveal more or less of a metallic quarter pipe running the full width of the stage, down which the dancers slide or roll to make their appearance. With the exception of Yuan Yuan Tan and Luke Ingham, dressed in white, the ensemble is outfitted in shades of industrial grey and indigo. The effect is both oppressive and uplifting.
Like DAAG, Hummingbird hints at complicated, even tragic, backstories, but if we come away undecided as to what was really going on in this world, it is not with a sense of frustration, but exhilaration at the possibilities.
Tan and Ingham appear to be trapped in a bad relationship. She may have found out something terrible about him - perhaps he is a Russian spy, or a bigamist. Frances Chung, who opens up the piece with Gennadi Nedvigin, may be the steely spymaster. The thrill-seeking Maria Kochetkova joins forces with Joan Boada to break free from the tyrannical intelligence apparatus. In the end she is propelled triumphantly through the air by the gentlemen of the ensemble, perhaps signaling the heroic destruction of the surveillance state.
Scarlett elicits magnificent performances from all, including the very fine Isabella DeVivo, Emma Rubinowitz, James Sofranko and Hansuke Yamamoto in demi-soloist parts, as well as the eight-person Greek chorus. Martin West captained the orchestra steadfastly through the score which, like an ocean roiled by passing storms, turns ominous, tempestuous, then momentarily serene. Pianist Brenda Tom attacked the Glass with vigor, in sharp contrast to Roy Bogas' heavenly, limpid renderings of Chopin.
In the future, when space stations whizzing overhead are no longer objects of fascination, and space travel becomes as common as riding the BART, when we encounter alien life forms in far flung galaxies who inevitably challenge us to display the superiority of humankind, let's just throw San Francisco Ballet's sensational Program 4 at them and be done with it.
Calling all HuffPost superfans!
Sign up for membership to become a founding member and help shape HuffPost's next chapter