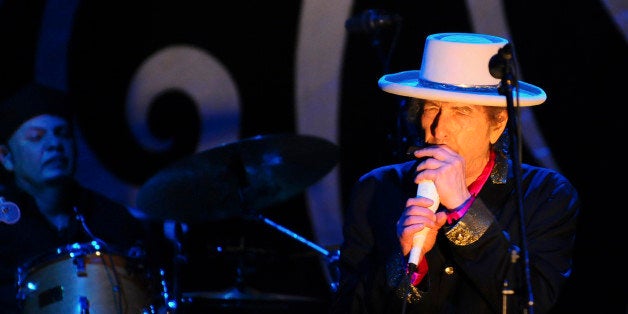 "Could you bring in your article?" said a "graveyard woman," whose gruffness perhaps masked her "soulful mama" status, terminology used by Bob Dylan in "From a Buick 6," one of his early tunes.
The graveyard woman smiled from behind a desk. "Bob would like to read it."
True to the code of Dylanologists or Bobby acolytes, I will not reveal the circumstances of our meeting, nor will I reveal where or when.
What I will reveal is that Bob Dylan is an extraordinarily modest man, with a soulfulness beyond that of any junkyard angel and with a rare generosity of spirit.

But before I return to my encounters with Bob Dylan, let me back up for some perspective.
He has been called the voice of a generation, but it may be more accurate to dub Bob Dylan, who turns 75 on May 24, as a voice, if not the voice, of the generations.
We should never limit Dylan, whose voice, always evolving, cannot be pinned down, and whose songs have a timelessness to them.
When I say that Dylan's oeuvre is timeless, I say this not because his new album, "Fallen Angels," which will be released on May 20, conjures the golden era of standards, and, like his last album, features ballads originally sung by Frank Sinatra, hailed at one time as the Voice.
Nor do I deem Dylan to be timeless because "Fallen Angels" marks his 37th studio album, which happens to be the same number of plays written by Shakespeare, the one and only Bard.
No, Bob Dylan's music is timeless because it resonates with an inevitability that one hears only in the prose or poetry of the best writers.
But that inevitability can take time to appreciate.
Years ago, in the summer of 1998, between my first and second psychotic breaks, my then-girlfriend, Barbara, now my wife, took me to a concert in Anaheim, a double-bill of Bob Dylan and Paul Simon.
The odd truth was that while Simon deferred all evening to Bobby, I was much more familiar with Simon's music then, and I liked it better too.
Of course, I was not well in 1998. Clinical depression, let alone depression of an acute psychotic variety, can strip people of their ability to enjoy many things, even things they might ordinarily love.
But I did not love Dylan's work at the time. In fact, his performance that summer evening at the Pond, otherwise a hockey arena, was not exactly helpful to the uninitiated.
Dylan, as can be his wont at concerts, seemed to mumble his words. He certainly did not enunciate them the way that Simon enunciated lyrics. And based on what I perceived to be the erratic or desultory fashion with which Bob played the guitar that night, I wondered why Paul Simon was deferring at all to the voice of a generation.
And yet, like the gravitational pull, Bobby had his own inevitability, and it was beginning to tug at me.
Months later, in the spring of 1999, I started to recuperate from my second psychotic break. At that time, Barbara, who, like Bobby's heroine in "She Belongs to Me," "never stumbles, she's got no place to fall," put on a Dylan record at her condominium. She did so somewhat tentatively.
I cannot recall if that was the occasion that Barbara played one of Bobby's tunes that referenced Muhammad Ali, a hero to many who grew up in the sixties or seventies. Whatever tune Barbara played that spring day, I found to my surprise that I liked it.
Still, neither I, nor Dylan was quite within the other's grasp.
I remained a bit skeptical of Bobby, not because I had any reason not to like him; I remained skeptical because depression often makes even agreeable people a tad cantankerous.
It is also true that Bob Dylan's music rewards repeated listening. He is, as one might say, an acquired taste. He is not, nor has he ever been a candied-assed, pop song writer, whose morsels can be digested the first time you hear them.
Dylan has always stood apart. To paraphrase Bob, he has never followed leaders.
But that is true not just because he broke ground in fusing folk and rock music.
Nor is it simply due to his lyrics, which often reach a celestial realm, what I have termed the vernacular sublime.
More than anything else, what started to draw me years ago to Dylan and what continues to draw me to his music is the wryness of his voice, which is so far removed from that of other singers, let alone the singers of the early sixties, such as the doo-wop groups.
Bob Dylan has always had more than a degree of irony, wit and whimsy to his lyrics, and his voice is not beautiful in a traditional sense; the nasally twang we heard in the early sixties has become much more raspy and gravelly.
But over the decades, Bob's voice has always been unique, possessed of an unusual beauty despite its seeming hideousness.
It wasn't until after my psychotic breaks in the late 1990s, when I listened to a mix of his early albums on my drives with Barbara up to the Bay Area, that I truly began to appreciate Dylan's humor, his melodies, his bemused whine.
He was exacting his pull when I joined an outfit that, unbeknownst to me, was owned by the Bobster himself.
It was more than a year later that Dylan's colleague, the erstwhile graveyard woman or soulful mama, asked me to bring in an article I had written.
"Bob would like to read it," she said from behind her desk.
This was before the Internet was as prevalent as it is today, and Bob wanted to read the paper version of the story.
I told his colleague that I would bring it in the next day, which I did.
The next day, as I walked over to a water fountain to have a drink, a spindly wraith in gray sweats, so spindly that he looked almost malnourished, like a Holocaust survivor, slinked over from a private alcove.
Since I had turned my face to the faucet, Bob Dylan had to tilt his body at an angle. As he did so, he extended his hand, and, with a beam on his face, hailed me in that gravelly voice of his. He called me by my nickname, known to those at his establishment.
While I swallowed the water and looked up, I gripped Bob's hand and shook it.
He congratulated me on the article, told me he liked it.
We discussed the origin of my nickname and other aspects of my article.
Dylan, who of course changed his name years ago, at least partly in homage to Dylan Thomas, liked the fact that my nickname was not a posturing one. It was much more neutral with a historical pedigree that Bob could appreciate.
It goes without saying that very few writers or non-writers, for that matter, ever offer the kind of praise Bob offered me on that day.
I will always remember his kindness and warmth, the way his eyes leaped and the deep timbre of his voice.
This had not been our first, nor was it our last exchange.
I had praised Bob the year before when he won the Oscar for best song for "Things Have Changed," from the film, Wonder Boys.
I had also talked with him about his album, "Love And Theft," which had been reviewed in L.A. Weekly, the paper for which I was working at the time.
I told him he had gotten a good review.
"I'll have to check it out," said Bob.
Hearkening back to his early days in Greenwich Village, he then said, in a phrase that might have recalled the Beats, that he had heard that a "heavy writer" from "the Voice" had reviewed "Love And Theft."
While the late Norman Mailer, another literary icon, touted himself as the heavyweight champ of writers, Bob Dylan, in spite of his spindly frame, remains the heaviest writer around. His work, like an electro-magnetic field, generates a force that is as inevitable and potent as a Muhammad Ali punch.
What makes Bob Dylan heavy is not just his output, which is prolific; and not just his influence, which is outsize.
What makes Bob Dylan such a heavy writer is his modesty, even humility, as well as his wisdom and good humor.
I will always be grateful to my wife, Barbara, for so many reasons, including her stroke of genius in introducing me to Dylan's music.
It is perfectly fitting that Barbara, who, as Dylan would say, "gives me everything and more," and I got married on May 26, 2001, only two days after Bob's 60th birthday, although we were unaware of that at the time.
I serenaded Barbara at our wedding, not with "From a Buick 6" but with "She Belongs to Me," also one of Dylan's early tunes; and she sparkled, as she always does, even if she did not actually wear an Egyptian ring.
As for Bobby, I will always be grateful to him too.
He took the time to care about and praise a young writer, who was just a few years removed from the psychiatric ward.
All these years later, as Barbara and I celebrate our 15th wedding anniversary, I would like to wish a happy birthday to the voice of the generations.
No one may ever match Shakespeare, but you, Bob, are the champ. I won't limit you to any weight class. You have graced and enriched our lives for 50 years and more, and your voice will reverberate over the ages, for eternity.
That is the heaviest compliment of all.
Calling all HuffPost superfans!
Sign up for membership to become a founding member and help shape HuffPost's next chapter