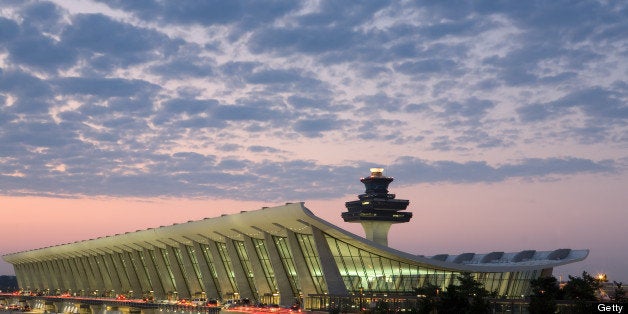 The time-honored traditions of families gathering during the holiday season are a ritual we as a country go through each year around this time. Malls, highways, and airports are bustling with excitement as both the young and old travel to see family members, whether it's down the street or across the world.
According to an AAA estimate, more than 100 million Americans will hit the roads or skies for during the holiday season. This is the first time there has ever been a prediction this high for the holiday season spanning from December 23 until January 3.
As a Travelers Aid volunteer at Dulles Airport outside Washington D.C., I was able to see this first hand through my multiple shifts during the holiday season. Typically, a majority of travelers are not thrilled to be travelling during the cold weather months that is unless they are going summer warm and tropical. This last week most people I saw were happy to be travelling, likely to see family and loved ones, some of which they may not get to see often or even at all. Travellers were pleasant and festive, knowing they had a lot to be thankful for and look forward to during this special time of year.
Despite a festive atmosphere, the normal stresses of travelling still exist. There are still cancellations, mishaps, or just bad luck. As a volunteer, I hoped this week with my volunteering I could help people get to where they needed to go for the holidays in an efficient and painless fashion.
One group who approached my small gray podium in the B Terminal at Dulles Airport needed to have a prescription filled before their next flight. My grandfather and I, who is my partner who I volunteer with, assisted the group in finding transportation to the closest CVS Pharmacy to get the medication. Its little things like this that I hope helped make someone's trip through Dulles and the Washington D.C. area a good one.
We also see an abundance of families travelling with young children throughout this time of year. For some of these families, this is the first time they are taking their children on an airplane. The stress is obvious on the faces of these young parents who while worrying about keeping their children comfortable and at ease, also have to worry about making their flights.
While Dulles Airport does not have a "play area" for young children, we often recommend parents take their young ones to empty gates areas where this plenty of room to run around and burn off some energy before a flight. Additionally, we try to find "kid-friendly" eateries within the airport that picky eaters will also be fine with. At Dulles, there are numerous options for healthy meals throughout the airport, which parents often look for in airports that are usually thought to just have greasy unhealthy food. In fact, Dulles ranked as the 8th best airport for healthy eating options.
One memorable family was a family traveling through Dulles and ultimately flying all the way to Johannesburg, South Africa to visit relatives. I personally have never left the eastern part of the United States for the holidays so this thought of a long-haul flight for the holidays was foreign to me.
Hearing this was certainly an interesting perspective for me on the Christmas and holidays as it showed it is truly a time when people can come together. I am glad I was able to assist this family in finding their South African Airways gate, meeting the rest of their group as well as making their holiday traveling experience a little more enjoyable.
Calling all HuffPost superfans!
Sign up for membership to become a founding member and help shape HuffPost's next chapter