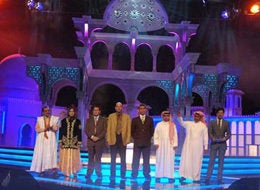 It boasts the same live audience, the same glitzy stage, the same young hopefuls bearing their souls before a panel of celebrity judges (only this time, two of the judges are wearing a thobe).
It's one of the highest-rated shows in the Arab world, but Prince of Poets, interestingly, doesn't aim to merely entertain the masses, it aims to celebrate and spread Arabic culture--particularly to the region's youth. Produced under the patronage of the crown prince of Abu Dhabi (in the United Arab Emirates), the show's aim--per the UAE's Authority for Culture and Heritage--is "to detect distinct poetic talents that have not been previously discovered by the media, to encourage new generations on the development of poetic talents, allow them to interact with the distinguished poets, and to identify rhythms and rhymes and various schools of poetry,"
That's not to say that the show doesn't entertain the masses. Its ratings have, at times, outperformed football matches, and producers are milking it for all its worth. This year's ten-week run, which kicked off on June 11, will include documentaries on contestant auditions, the popular Idol-style judge-contestant interactions, and producers have even added a "diary room" where potential princes (who can be male or female) will confide their secrets to a camera (and everyone watching at home). And this year, it's all in high definition.
Prince contestants hail from all over the Arab world. This season, 35 poets from 18 different countries were selected to compete, and the celebrity judges hail from Saudi Arabia, Palestine, Egypt, Algeria and the UAE. As with Idol, viewers at home vote for their favorites, and the pool of hopefuls is steadily pared down to five finalists who compete for the title of "Prince" along with a healthy prize of a million dirhams (about $250,000 dollars).
The show can also earn you no small measure of fame. The Palestinian poet Tamim Al-Bargouthi only took fifth place during the 2007 season, but he instantly became something of a rock star to the Palestinian people. Posters of him appeared on the streets, and both the Fatah and the Hamas-controlled media urged people to text in their votes for him--a rare instance of agreement for the two groups. Here's an excerpt from his poem "Gift" which is published on his website (translated by Radwa Ashour):
I found hell in an inkpot,
And heaven in an inkpot too;
I found an Arab horse on a race track
Covered with glue;
I found a stove with no flames;
At the bottom of the box,
I found a white card with my name on it,
The rest has not yet been written.
I did not know what to do with all these things!
Oh, God, thank you,
But why the trouble?
I put them all back in the box,
I closed it,
Wrapped it,
Tied the ribbon,
I threw it skywards and up it went,
The gift turned into a host of flying doves
That I will follow forever.
Why did I do that?
I really do not know!
"Gift" is an example of how the nature of poetry in the Arab world is moving from the political to the humanistic: a significant shift, as Abdul Kareem Maatouk explained in The National:
In days of old, our words gave inspiration to the crescendo of political voices in countries such as Egypt, Iran and Iraq. Today, poetry plays to a different tune. We no longer need to amplify tribal pride or espouse a national political ideology... This is the reality of our new, globalized world.
Well, that and Idol-style competition shows. In all seriousness, the shift is wonderful to see--just as it's nice to see that poetry is wildly popular somewhere.

Related