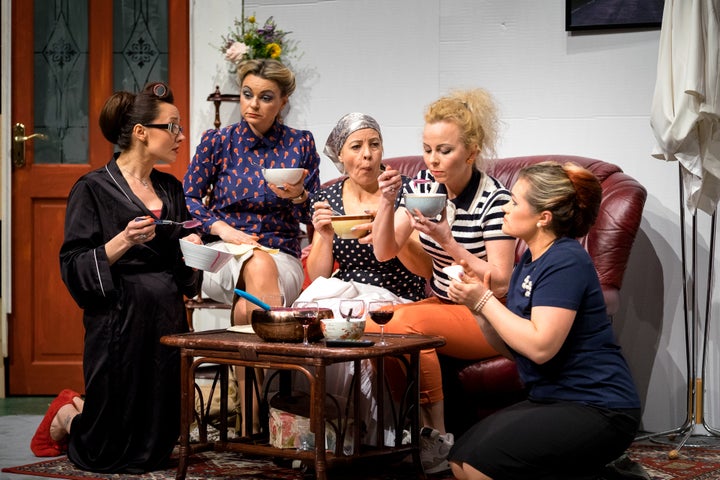 Only in the era of globalization is it possible for a play written by a Lithuanian-American about mid-life issues faced by women in contemporary Lithuania to be staged by Lithuanian immigrant theater in Dublin, Ireland. Twenty-first century immigration has scattered Lithuanians all around the globe, and yet common themes still bind us together as a global community.
A Hike at the Seashore (Žygis prie jūros) ran for two nights (March 25 – 26) to sold out audiences at the Tallaght Theatre in Dublin, Ireland. The play offers a snapshot into the lives of five women over fifty. All five are from the cosmopolitan city of Vilnius, and all five have been fast friends since their university days in the final years of the Soviet Union. These women have been through a lot together and are each others' support network. All five are divorced. All are single. All suffer from empty nest syndrom. All work as professionals and face the demands and challenges of long work days and the pressure to succeed in a fledgling capitalist society.
Every summer the women organize a girls' trip together. This summer they have traveled to the Baltic Sea coast. The organizer of the group, Vida, is on a fitness binge. She is enamored with Alpine walking sticks and tells everyone about how this miracle exercise keeps the entire body fit. She wants her girlfriends to spend their weekend hiking 30 kilometers along the Baltic coast. The other women are not so sure that hiking the long stretch of beach while everyone else is sunbathing is such a good idea.
The play is essentially a comedy, and there are a lot of opportunities to laugh. The women often joke around, making references to the absurdity of their past lives in the good old Soviet Union. All of the women are from the generation that grew up and came of age under the Soviet system, only to have to scramble to readjust their thinking and their lives when Lithuania became an independent democratic nation when they were just starting out in life.
There is a lot to cry about too. Like all of my plays, A Hike at the Seashore raises contemporary social issues. Breast cancer is becoming an epidemic, especially in Lithuania where we still feel the legacy of the Chernobyl nuclear disaster. Vilija, a sensitive literary editor, is suffering from breast cancer. She has lost her hair from chemotherapy, but refuses to wear a wig. She prefers to absorb as much vitamin D as she can. She goes on the hike not at all sure if life is worth living anymore.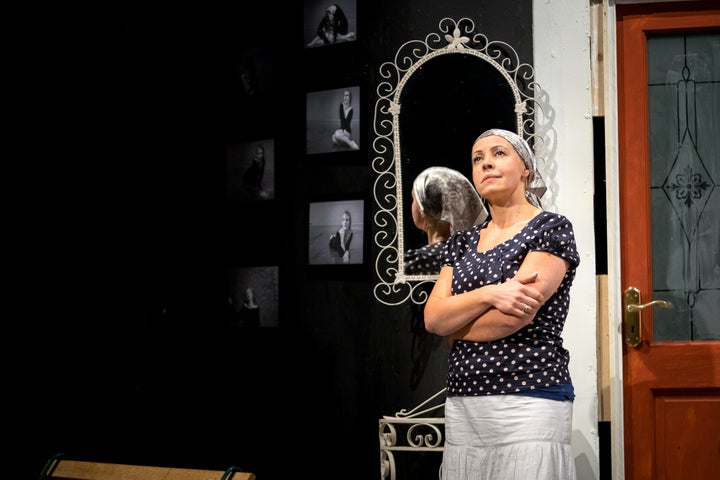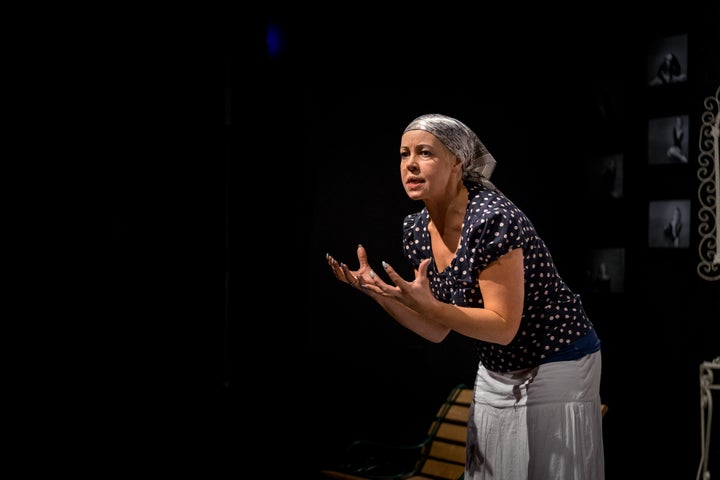 Vida has been damaged by her experiences. When Soviet tanks and troops attacked the newly elected Lithuanian parliament and the television and radio towers on the night of January 13, 1991, she went into premature labor. Her baby was born too soon. As she struggled to raise a premature baby during times of intense hardship during the economic blockade, her husband drank. When he grew up, her son left for England, leaving her alone. Now she is determined to wrestle whatever happiness she can out of life.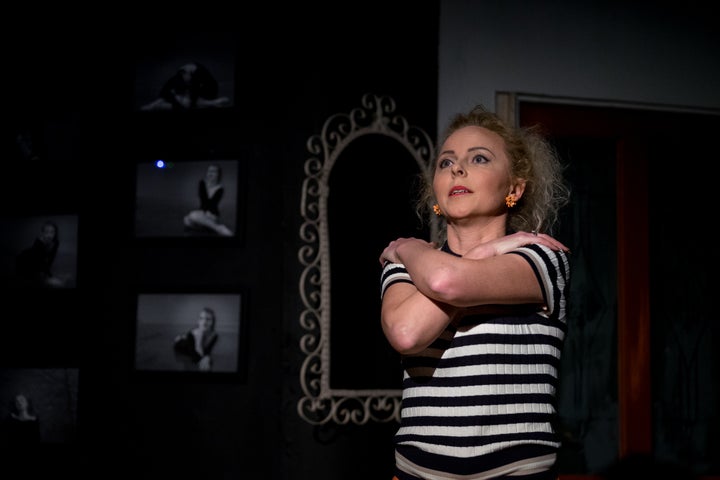 Goda, a talented psychologist, is on a never-ending quest to find her soul mate, despite the fact that its a little late for her in life and stigmas against middle-aged women in Lithuania discourage dating. Goda believes that all problems in life can be solved with love. Her friends consider her a hopeless romantic, but Goda is wiser than that. She proves to be a real sage.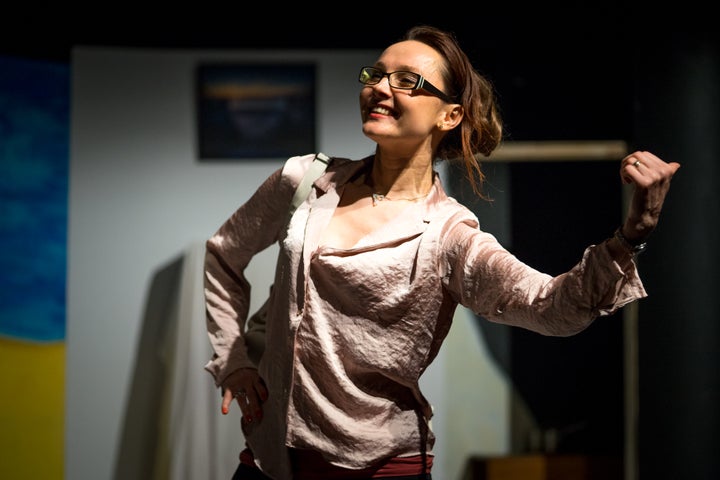 Jurgita is a family doctor who has made it her life's mission to take care of everyone else's health, especially Vilija's. She can't even take off for the weekend without her elderly father calling to check up on her.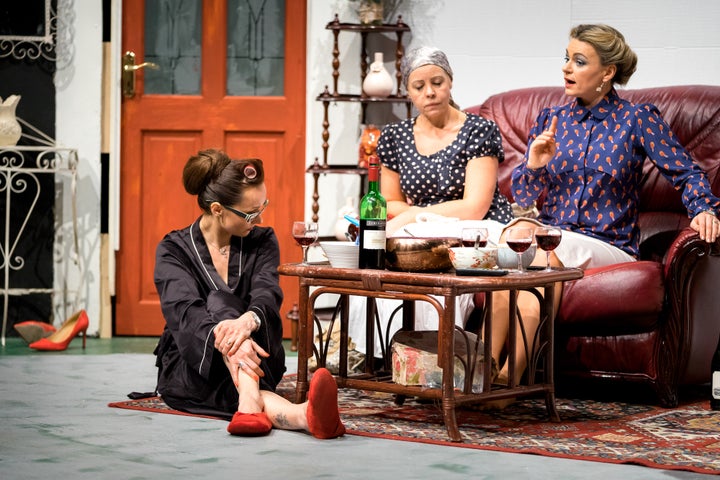 As a student Kotryna ditched her studies in psychology and took advantage of Gorbachev's perestroika to open her own cafe. She has never looked back since. The only problem is that she enjoys tasting her own baking just a little too much. She blames her weight on her hormones, but her girlfriends know better.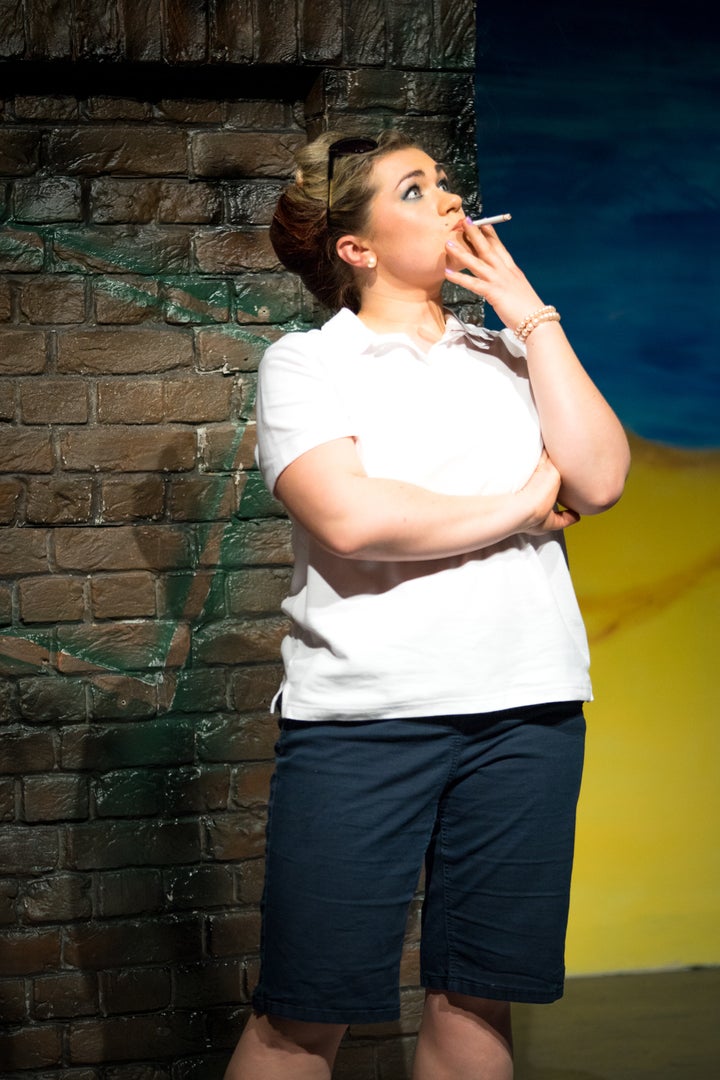 Through economic hardships, divorces, empty nest syndrome, coping with aging parents, these women have stuck together, forming a type of "new family." However, their patience starts to grow thin after Vida deserts Vilija on the hike after she loses her shoe and turns back to look for it. The other women turn around in solidarity with Vilija. They find the shoe and end up at a bus stop. The only problem is that the bus passes through very infrequently. They decide to hitch-hike back to their accommodation. And this is where the fun begins...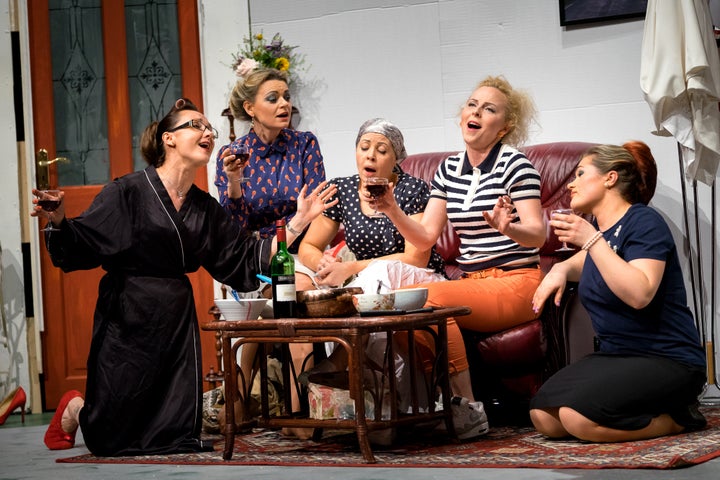 I was delighted when theater director, Laima Prokofjevienė, reached out to me from Dublin and requested permission to stage A Hike at the Seashore in Lithuanian at the Tallaght Theatre in Dublin. This is the first play that I have written completely in Lithuanian. I wrote the play last summer while visiting Lithuania. An old friend called me and invited me to join her and her university girlfriends for a hike along the Baltic coast. I was struck by the comraderie and the caring these women shared. I also thought they were incredibly funny. I decided to write a play that would show how single women in Lithuania cope by forming tight friendships. The characters I created for my play are not biographical and do not resemble the women I hiked with. Instead they are prototypes of professional women in today's Lithuania.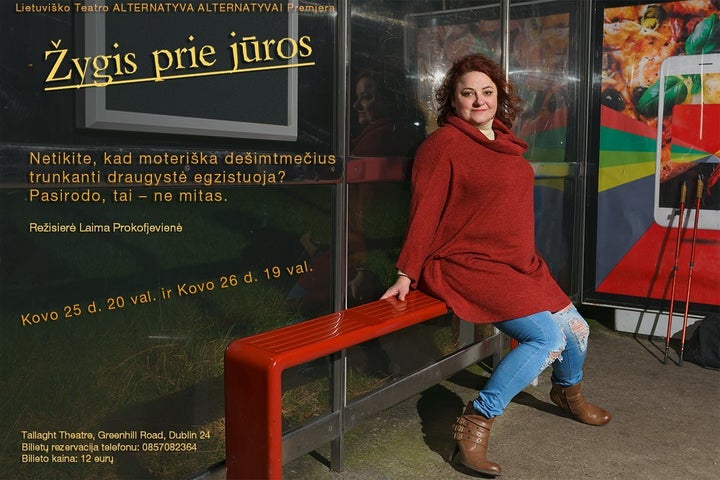 Laima Prokofjevienė started the immigrant theater group Alternatyva Alternatyvai seven years ago. Her goal was to bring Lithuanian immigrants in Dublin together to participate in drama, an art form that has historically been well-loved in Lithuania. All the actors, the set designers, the lighting crew, are not professionals. They donate their time to stage plays in Lithuanian for a Lithuanian audience. They rehearse in Laima's tiny apartment and rent the Tallaght Theatre for performances. Often they do fund raisers to support causes, such as a cancer fund for children. They are supported by donations from sponsors who are fledgling Lithuanian businesses in Ireland, such as the Lithuanian bread baker, Dublin Duona or Irena's Cakes or Elona Dance Studio. They are also supported by ticket sales.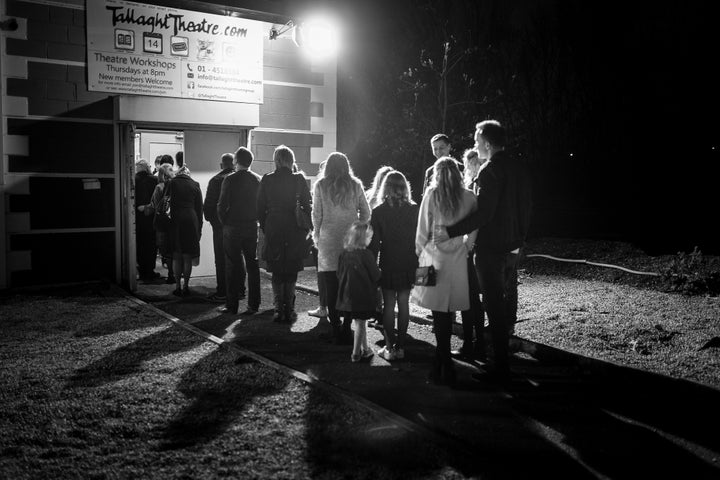 Laima Prokofjevienė is a talented director and organized theater manager. She has not received formal training in theater. She works from intuition. Laima is passionate about theater and is exceedingly detail oriented. I was amazed at the set she designed and built for A Hike at the Seashore. She created a fully furnished appartment, complete with rugs, lamps, knick-knacks, a kitchen, dishes, and even tasteful art photography decorating the walls. She made an authentic provincial Lithuanian bus schedule by hand for the bus stop scene. In the stage directions the women prepare borsch for dinner. Laima had the actors actually make borsch from scratch on stage and serve it in bowls and consume it!
Like many Lithuanian women in Ireland, Laima cleans houses and does whatever work she can to get by. Laima is raising a daughter on her own and is familiar with all the challenges life can throw at a woman. She and the other actors connected with the characters in the play because their lives and their challenges accurately reflect those of their own daily lives.
According to Laima, she created Alternatyva Alternatyvai as an alternative. Indeed, the name of the theater translates to "Alternatives to Alternatives." Laima says, "I started this theater as an alternative to sitting at home alone in the evenings. There is always an alternative. If you don't want coffee, drink tea. If you want to spend time alone, wave your friends good-bye. The theater is an alternative to loneliness. Not to mention that it's an amazing positive way to develop your talents!" Laima also adds, "Actually, the members of our theater right now are mostly people who are raising families. They balance work and family and need a creative space where they can express themselves and discover who they are as creative artists." The theater group is more than just theater; they are a community.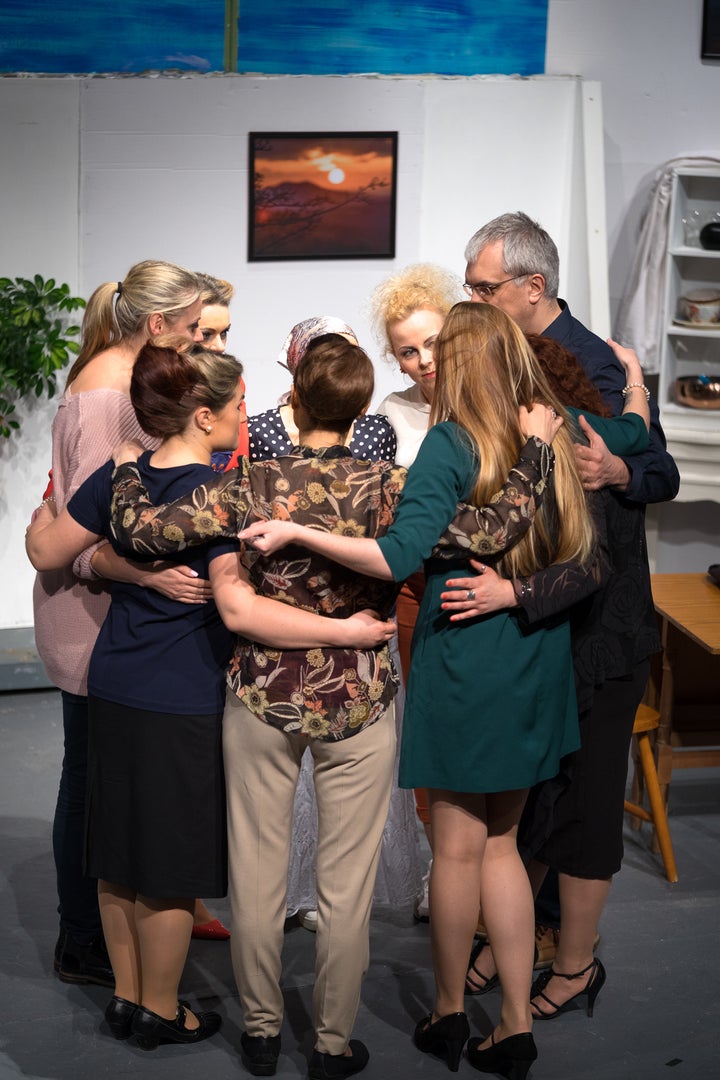 According to the Lithuanian Embassy in Dublin, there are roughly 70,000 Lithuanian immigrants in Ireland. These families and individuals have chosen to build new lives in Ireland mostly for economic reasons. The majority of the Lithuanian immigrants in Ireland come from Lithuania's depressed provinces and small towns and cities. They come to build a new life. They come to earn a living wage. Unfortunately, although many Lithuanian employers can now afford to pay their workers and employees salaries commensurate with those paid in Western Europe, they choose not to, choosing instead to hoard profit for themselves. One Lithuanian immigrant in Ireland explained to me that in Lithuanian a person working in a supermarket will earn roughly 300 Euro a month, while working the same job in Ireland a person will earn 1,500 Euro a month and upwards. Other Lithuanians in Ireland told me they came to Ireland in the early years of independence when their start-up businesses failed and they were left with debt they could not possibly pay back. Others lost their homes. Quite a few people have started successful businesses of their own in Ireland.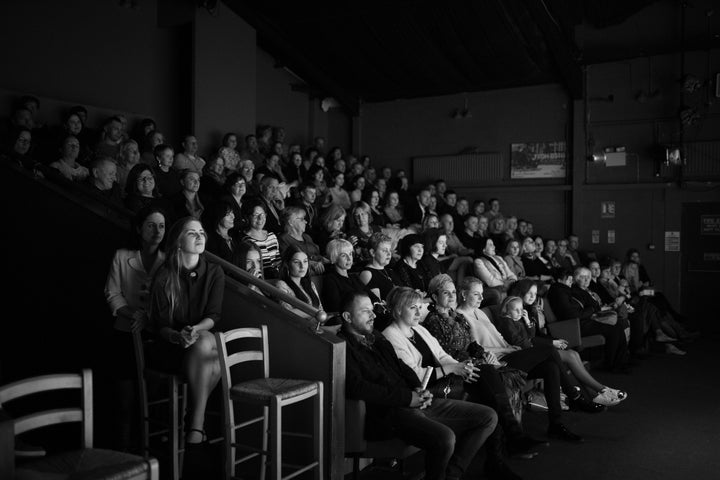 For Lithuanians in Ireland, the Alternatyva Alternatyvai Theatre group fills a much needed hunger for cultural events similar to those they would have experienced back home.
Here are some excerpts from the play in English translation:
GODA: Remember what I told you about positive thinking, Vilija. You will conquer the cancer. You just need to think positively.
VILIJA: I'm doing everything you told me to, Goda. Only (sighs) I don't know if its really worth my effort. Maybe I've lived long enough already. Why should I prolong this life? Thank God I don't have children. My husband is long gone. There's no one at home for me to take care of other than myself. I don't want to be a burden to anyone. I think it may just be time for me to move on.
GODA: Forget that, will you? Don't talk like that. So, he left. He's gone. But, honey, that happened twenty years ago. Do you understand? Twenty years ago.
(GODA stands and begins to pace)
GODA: I know it's cruel to say this to you, but I'm saying it because I love you. I'm saying it to help you. He's forgotten you. The Americans have this saying,"moving on." He moved on. He forgot about you. These days it's one click and you're gone. Don't be such a romantic. Times are different now.
VILIJA: But if only I had a child, or a grandchild, I'd have someone to take care of now. I'd have someone to love.
GODA: Love yourself! Do something radical and love yourself.
GODA: Yes, love yourself. In this godforsaken country no one teaches us women how to love ourselves. From the day we are born we are taught to love and serve others! First we are taught to be loving and accommodating girlfriends, then loving wives, then mothers, then self-sacrificing grandmothers, and then finally the day comes when we drop into our graves from exhaustion. So when do we take the time to love ourselves? Men are very good at loving themselves. Just look at them.
JURGITA: Yes, they do have it good.
GODA: I was at a conference in Germany. Wow. German women know how to love themselves. They value themselves. They are so good at it that the Germans had to make a law to protect men's rights from women! Imagine! Women take high positions, and then the men complain that they can't get jobs. They need a law to protect them. The government actually has to protect men from women! I wish we had that problem here in Lithuania.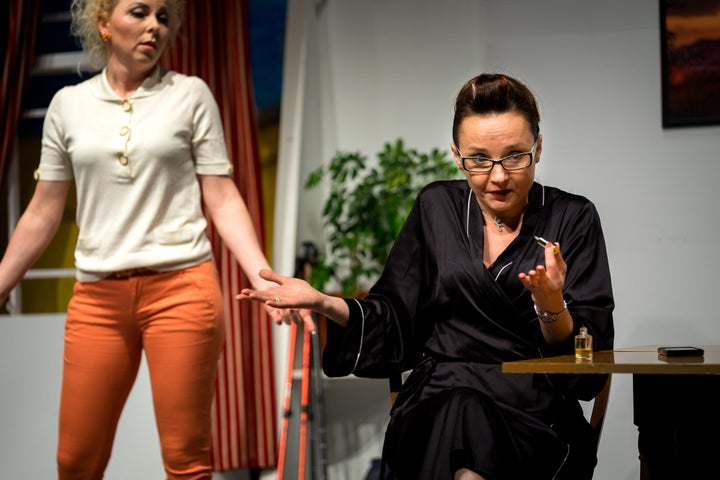 (VIDA walks to the kitchen area and returns carrying a tray laden with sausage and cheese.)
VIDA: Hey, girls, have a snack. It's our best product line.
JURGITA: Another Maxima commercial (she reaches for some cheese). Very tasty!
GODA: Well, she's got some stiff competition now. They opened up a Lidl in Vilnius. Did you see on the news? Can you imagine, people lined up and stood waiting for hours to get inside the supermarket! And once they were inside, they lined up and waited again to check out!
KOTRYNA: Well, they probably miss the good old Soviet days when we spent half our lives standing on food lines.
(They all laugh and snack on the sausage and cheese. They pour each other more wine.)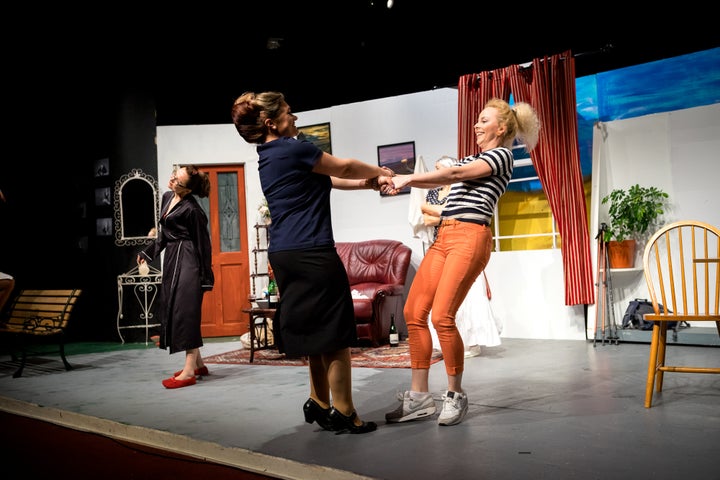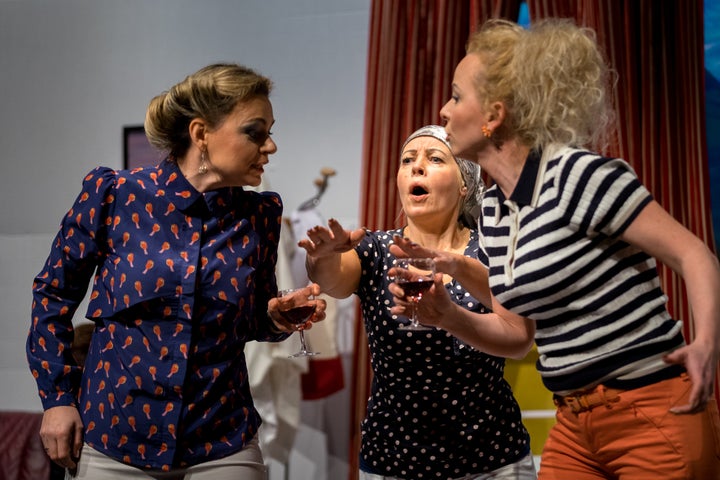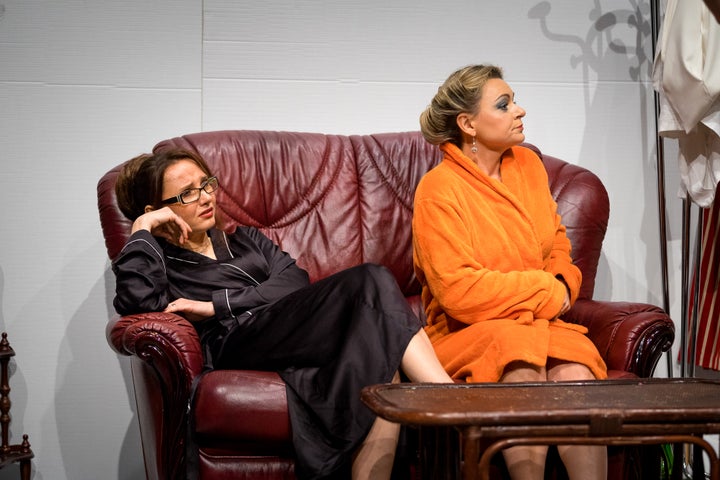 (VIDA steps away from the others and faces the audience.)
VIDA: I told myself long ago, Vida, be strong, be strong. I remember when my Rimas was born. It was back when we were fighting for our independence. It happened the night the Russians attacked the television tower. We lived beside the soldier's barracks back then. When the tanks began to roll down the street even the floor in our apartment began to shake. And I went into labor. It was too soon. Much too soon. My poor baby was born premature because of those tanks. Oh, and the hospitals were crowded that night with the wounded. There was a medicine shortage. We had nothing. And then when I was released from the hospital and brought my baby home there was no heat because of the blockade. And there was no food. I'd wrap my baby in blankets and tuck him inside my coat and go out and stand on the food lines. I would wait all day to buy a single hotdog and when my turn came, even the last hot dog would be gone!
(VIDA walks over and picks up one of the Alpine sticks. She twirls it nervously.)
VIDA: And where was my husband? He was drinking. Out drinking. Always out drinking. Everything was on my shoulders. Then he leaves and I raise my son alone. The government almost took him away when I had no work. I never told you that. I was so ashamed. And when my son grew up, when I could finally take a deep breath and relax because I had a grown man at home to help out, he takes off for England. So, what do I have? No husband, no son, nothing.
(VIDA turns around and faces VILIJA)
VIDA: Oh, Vilija, please forgive me. I'm too harsh. It's just that I've gone numb. I've taught myself not to feel anything anymore. And then when you want to feel something, you realize that you just can't anymore.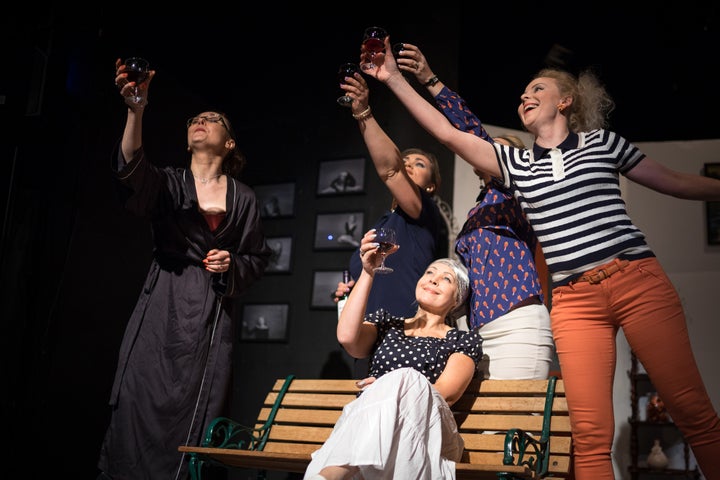 GODA: We could marry her off somehow (chuckles). When I was a student I worked in the Soviet Marriage Palace. Half the week I'd marry couples. The other half I'd divorce them.
GODA: Easy. Couples would come in to get a divorce. As a psychology student it was my job to talk them out of it, to counsel them.
JURGITA: Did you? GODA: No! (laughs). I even encouraged them. Besides, if there weren't any children involved it was easy. In those days nobody owned anything. It was quick and easy to get married and quick and easy to divorce.
KOTRYNA: That's right. I remember now. People used to order wedding cakes from me through you.
GODA: Yup, you were in the blackmarket wedding cake business back then!
JURGITA: Oh, now I remember that long black official robe you used to wear.
GODA: I was a servant of the Lithuanian Soviet Socialist Republic. I was even a dissident.
JURGITA: Now you're talking nonsense, Goda.
GODA: No, really. You see, during a ceremony I had to rattle off this long speech: In the name of the Lithuanian Soviet Socialist Republic, blah, blah, blah, I marry you and so on and so forth. Sometimes I was too lazy to say the whole thing. Especially after a night of partying. So, sometimes I'd shorten it by saying, 'In the name of the Lithuanian Republic.' Well, one time I did that and it turned out the father of the bride was a high-ranking communist! He gave me such a scathing look that I was afraid I'd be sent off on the next train to Siberia.
JURGITA: (Incredulous) And because of that you consider yourself a dissident?
GODA: Well, yes. In those days they deported people to Siberia for much less. Hum, I ought to request a special pension. What do you think? Would it work?
JURGITA: Now you're really talking nonsense.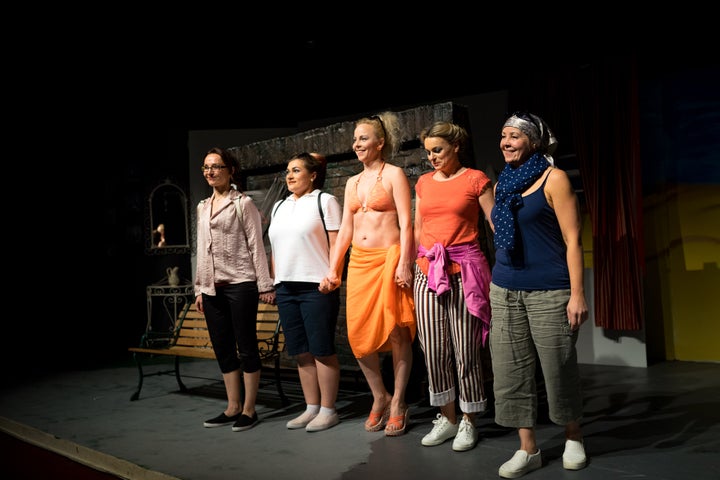 To order a bilingual Lithuanian and English edition of the play, please follow this link:
Popular in the Community