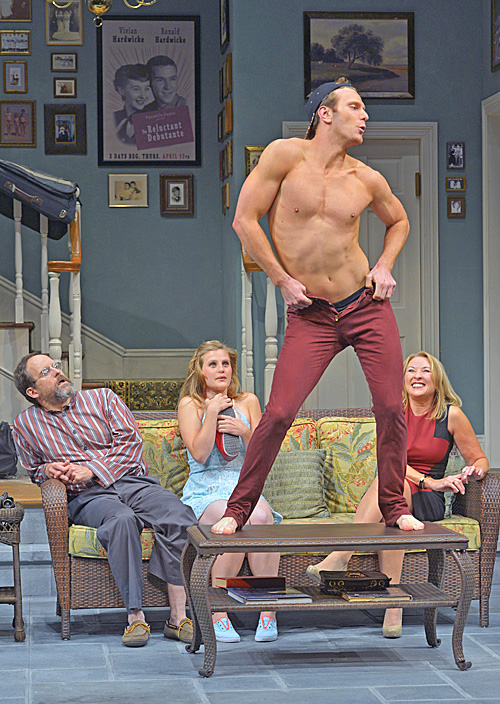 Getting dressed is an eye-popping event: From left, Anthony Fusco, Caroline Kaplan, Mark Junek, Lorri Holt.
Photo by Kevin Berne
How's this for a proven recipe for hilarity: Start with a few bitter morsels from The Cherry Orchard, add a dollop of self-pity from Three Sisters, toss in a scoop of angst from Uncle Vanya and a dash of hope from The Seagull, sprinkle the whole Chekhovian concoction with a bit of fairy dust from Walt Disney's Snow White and the Seven Dwarfs and then, once you've steamed and solidified the whole woeful mixture, skewer it with a voodoo needle.
Christopher Durang did just that in Vanya and Sonia and Masha and Spike and came home with Broadway's Tony Award for the best play of 2013. Berkeley Rep brought it to the Bay Area a few days ago to open its 46th season, gathering roars from start to finish.
You don't need to know Anton Chekhov's melancholy classics to giggle and guffaw at Vanya and friends, though some familiarity doesn't hurt. All you really need is the ability to laugh at human excesses, foibles and vanities.
The show gushes with them, and the production boasts performances that play ridiculousness to the hilt and performers who seem to revel in every moment of it. If it has any weakness, the staging by Richard E.T. White at times pushes so hard for laughs that it dissipates some of the compassion that Durang's characters deserve.
Despite the excesses, the three central figures in the six-character play rise above mere caricature. Beneath all the fun and frolic, they're capable of redemption and affection, as Chekhov's people were. And the other three deliver a superabundance of silliness through speech, movement and mugging.
Durang set the tale in Bucks County, Pa., in a rural manse occupied by siblings Vanya (Anthony Fusco) and Sonia (Sharon Lockwood), both middle-aged, forlorn and too listless to change out of their pajamas without good reason.

Most of the time their only company is a housekeeper who is their opposite in every way, bellowing pronouncements that range from the mundane to the mythological, and predictions that draw only disbelief until they come true. Her name, naturally, is Cassandra, and she radiates enough energy to add to global warming. Heather Alicia Simms delivers the heat, stealing just about every scene that she enters.
The names of Vanya and Sonia, like that of absent sister Masha, can be ascribed to deceased parents who were both professors and performers, with a special affection for Chekhov. Their legacy also included the family's fieldstone home, a gorgeous creation by designer Kent Dorsey.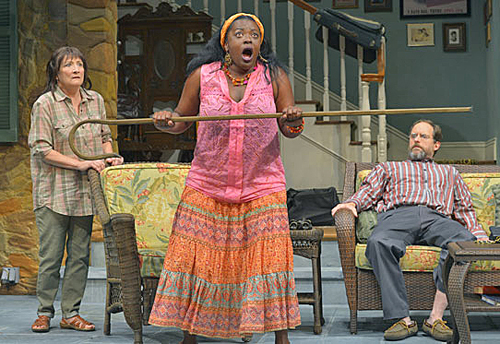 Cassandra (Heather Alicia Simms) predicts a fearsome future; Sonia (Sharon Lockwood) and Vanya (Anthony Fusco) react with silence and skepticism.
Photo by Kevin Berne
When Masha (Lorri Holt) comes to visit, high-energy hysteria uproots every trace of ennui. Masha is an over-the-hill movie star, brimming with self-infatuation, whose baggage includes an aspiring actor named Spike (Mark Junek). He's about half her 50ish age and more than her match in vanity and exhibitionism.
What he gleefully exhibits at every opportunity may be the trimmest, buffest and most agile male body seen in these parts since the last visit of Cirque de Soleil. He peels, he wheels, he soars, he floats, usually wearing only undershorts; he defies gravity and exudes sensuality. And he, too, steals most of his scenes.
But, much as Spike and Cassandra and a lovely young neighbor named Nina (Caroline Kaplan) seize their moments, they're just delightful window dressing. The play belongs to Sonia, Vanya and especially Masha, whose return transforms all for at least one shining moment, and perhaps longer.
Using her leverage as the source of her siblings' income and security, she insists that they break out of character and attend a costume party at the home of a well-heeled neighbor. She, of course, will hold center stage in the family entourage, dressed as Disney's Snow White. The others, she demands, will come as her attendants, the dwarfs.
Things don't work out quite as she planned, though Vanya is content to play along. Sonia, perpetually repressed and bemoaning the fact that love and excitement have eluded her throughout life, has no intention of squatting in anyone's shadow. She'll attend as a regal Maggie Smith, on her way to claiming an Oscar in California Suite. And she shines.
The upshot is fury, transformation, hilarity and ultimately contentment, with an epiphany that Chekhov would have appreciated. Life will go on, perhaps a bit better than before, with understanding and hope all around.
It's a wonderful start to the season.
Vanya and Sonia and Masha and Spike runs through Oct. 27 in Berkeley Repertory Theatre's Roda Theatre, 2015 Addison St., Berkeley. Tickets are $29-$89, with various discounts available, from 510-647-2949 or berkeleyrep.org.
Related
Popular in the Community