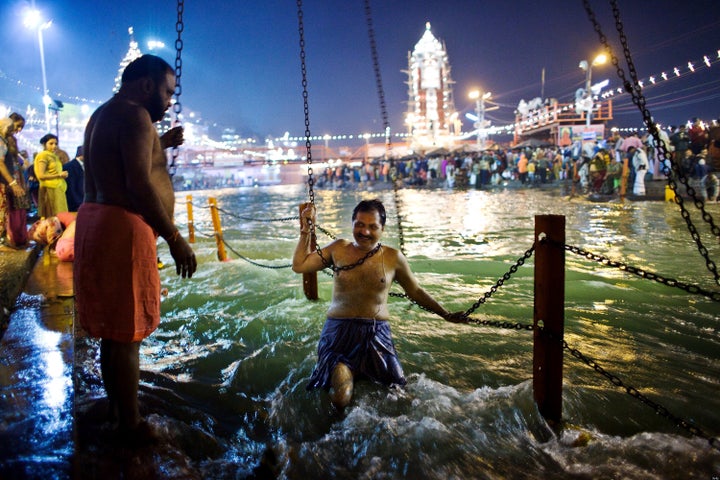 I arrived in Hinduism's holiest city on Judaism's holiest day. It doesn't get more auspicious than that for a nice Jewish boy from New Jersey who has been falling on and off the meditation cushion since the mid-70s.
This was my fourth trip in three decades to Benares (a.k.a. Varanasi), the holy city where the Varuna and the sacred Ganges Rivers join, gaining spiritual momentum as their currents rush to meet their destiny in the Bay of Bengal. I was excited to meet the family of the tabla master (India's classical drums) who more than 30 years ago taught me that my march to the beat of a different drummer was also my destiny.
But how was I to spend Yom Kippur, a solemn day of atonement and fasting at the 5-star Nadesar Palace, a 10-room boutique property the Taj Hotels has restored to more luxury than it even had as the guest house for the local Maharajas? I was already feeling that most Jewish emotion: guilt. Can one observe abstinence and opulence simultaneously?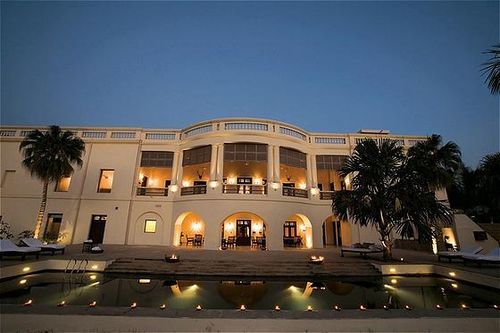 Ah, me of little faith! In fact, it turned out to be one of the most spiritual 24 hours I can remember. It began with aarti ("toward virtue" in Sanskrit), the Hindu sunset worship, at the very small Nandeshwari Temple on the grounds of the hotel. Nandeshwari is the consort of Lord Shiva, Hinduism's all-powerful god of creation and destruction. I could not be in better multi-denominational hands.
After lighting candles whose wicks are soaked in purified butter, the priests chant and blow a conch shell; the sounds are said to emulate the creation of the earth from the ocean depths and meant to scare off demons. This coincided with Kol Nidre, which begins 24 hours of fasting when Jews ask God's forgiveness for the preceding year's sins and other meanderings off the path of righteousness - which forgiveness He readily bequeaths to those who simply ask. There's also a blowing of the shofar, the ram's horn, which commemorates the beginning of creation. It's believed that when the shofar is sounded, Satan will be completely disoriented. The similarities between the two rituals were uncanny.
The next morning, instead of a day of praising the Lord and beating my chest in a Jewish synagogue, I arose at 5 a.m. and joined hundreds of other tourists in small wooden boats floating down the Ganges alongside the ghats (steps) where Hindus dunk and bathe in the waters. They also bring deceased relatives to be immolated, then strew their ashes into the river to assure them an auspicious reincarnation. I could not think of a Jewish analogy except that I would rather have been in synagogue than smelling bodies burning.
By late morning I was off to visit a very small colony where the Taj Hotels has commissioned master weavers to make gorgeous staff uniforms and saris sold in Khazana boutiques currently at eight Taj hotels throughout India. One example of the Taj's corporate social responsibility programs, this one has kept many families employed during tough economic times that have hit down to the lowest levels in India. I was both humbled and inspired to meet these weavers.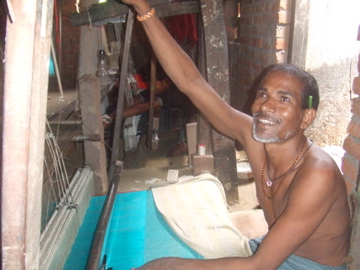 By early afternoon, I headed down a back alley of Benares to meet the famous Mishra family of musicians whose elder, Panchu Maharaj Mishra, had been my tabla teacher in the mid '70s. I lived in his house in that neighborhood for a while with a handful of family members, most of them studying dance or an instrument. I was not surprised he'd passed away but I was surprised to find his nephews did remember me as "the American guy who had natural rhythm."
Indian musicians are almost like holy people, such is the place of honor music holds in Hinduism. All music, they believe, tunes into the universal note, called Om. After singers, tabla players are considered among the holiest of all since they keep the beat of the universe, without which time would stop. I myself had experienced a rhythmic synchronicity in Benares 30 years before that set my personal metronome to a new beat.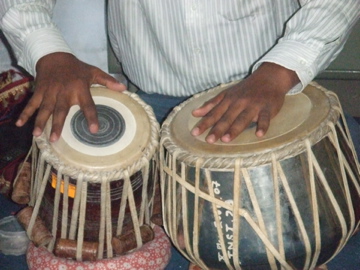 Returning to the Nadesar Palace, I was ready for the next phase of my Hind-Jew soul cleansing -- at the Taj Jiva Spa.
I got the signature treatment called Abhisheka, a ritual bathing ceremony. I stepped into a small tiled pool in the treatment room. The practitioner first doused Ganges water over my head, then milk. Then she scrubbed a mixture of five oils (panchamruta) into my skin. After I rinsed off and sat in a steam bath, the practitioner gave me a deep tissue massage, backed by the soundtrack of Hindu chanting praising the seven sacred rivers of India. I could swear her strokes were in rhythm with the chanting.
To break the 24-hour fast, I chose from several set menus at the Nadesar based on a sattvic diet, which is organic vegetarian food designed to bring clarity and equanimity of mind. It's recommended you chew slowly and eat modest portions. I chose the culinary selections from the Benares "aristocratic families" -- after all, I'm a prince, albeit a Jewish prince, and mine are the "chosen people."
After dinner, I sat on the hotel terrace, overlooking 40 acres of finely manicured gardens, smelling air sweeter than what you get used to in India. Serenaded by an Indian playing a wooden bansuri flute, I felt as pure as I ever have. It was the perfect time to dive back into sin: I ordered a really fine shot of 18-year-old Glenlivet single malt scotch, sipping it with great clarity and equanimity of mind. What better way to get right back on the wheel of eternal reincarnation, known to Hindus as samsara and to Jews as guilt?
Related