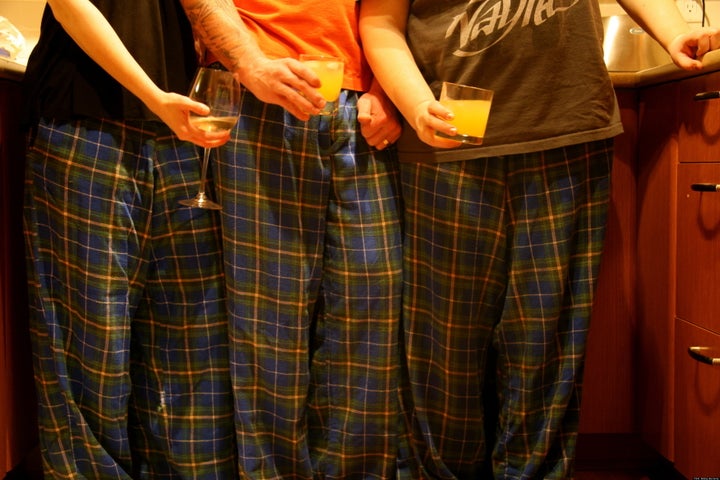 For those who prefer to wear jammies all the live-long day, it can be hard to decide what's appropriate to wear for important holiday occasions. This handy guide lets you know: Pajamas? Yea or nay?
1. Holiday Shopping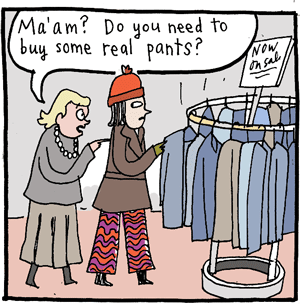 If shopping seems like a chore, it's tempting to throw your coat on over last night's loungewear and head out the door. Sweatpants are okay for this occasion, though they'll only earn you stares, not discounts. If someone questions your choice of dress, remind them that the fashion police usually end up on Santa's naughty list for "excessive criticism."
2. Cookie Baking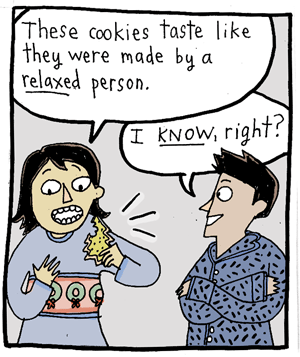 Pajamas can really shine on this occasion! Plan ahead, so you can fall asleep in the same clothes, and smell like gingerbread all night long. Try to choose a dark or richly patterned pair that will be forgiving of any spilled crumbs from those treats you're bound to sneak.
3. Caroling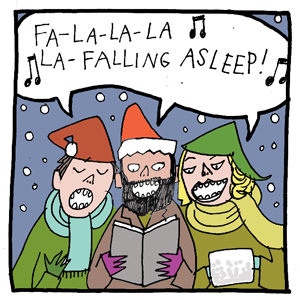 If it's cold outside, you might want to skip the PJs, and take your "real pants" out for a spin. However, if weather permits, perhaps you can get a group of folks to go "strictly jammies," maybe even sporting jaunty old sleeping caps. Limit your song choices to tunes about "silent nights" and "hitting the snooze button."
4. Once a Year Church Outfit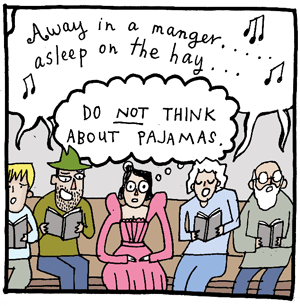 Infrequent visitor to the chapel? It's still best to steer clear of sleepwear. If religion makes you uncomfortable, choose uncomfortable clothing to suit the occasion! Start by asking yourself, "What would I never want to fall asleep in?" This increases your chances of choosing an ensemble your grandmother would categorize as "nice clothing."

5. Christmas Morning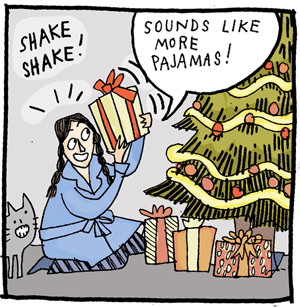 Don we now our flanneled apparel! This is one of the few times a year pajamas are EXPECTED in photo ops. Live it up! However, it's strictly advised to wear pajamas meant to be pajamas, not those weird loose jeans and stained sweater you keep sleeping in. Hopefully Santa knows you well enough to not give you any new belts this year.

6. Holiday Dinner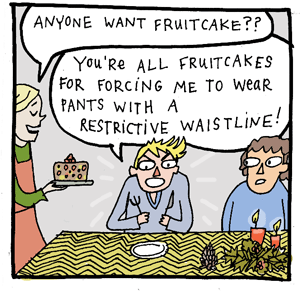 Unless you have a super understanding family that knows you hate wearing "responsible adult clothes," it's best to stick to the unwritten dress code of nice dinners: matching socks and pants with zippers. Such universally "understood" rules may be annoying, but this is your one time of year to show relatives you can be classy when forced to.
7. New Year's Eve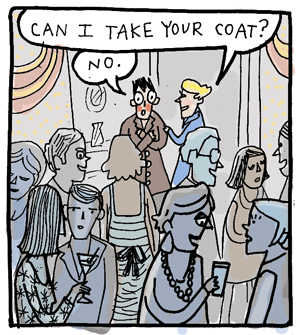 Warning: People DO expect you to dress up to ring in the New Year. But don't let that stop you from bringing along a spare pair of polka-dotted longjohns, so when the clock strikes 12, you can slip into something that represents your true self. It's best to start off the new year on the right foot, and for some of us, that requires footie pajamas.

REAL LIFE. REAL NEWS. REAL VOICES.
Help us tell more of the stories that matter from voices that too often remain unheard.