Last July I met Tim Janis. First by e-mail and then by phone, which is, besides Twitter and Facebook, the normal way to meet people today. One morning in his usual, "A pleasant morning to you," cheerful voice, my dear friend Lew Brown of Hartford, Connecticut called and began to tell me about this musician, song writer and conductor with legions of fans from here to China. Lew and his wife April just returned from a festival in New Hampshire where he had heard the melodies of Tim Janis for the umpteenth time. "Yvonne," Brown said, "You gotta to talk this guy Tim. He is a musical genius and everyone who hears his music falls in love with him and his work. Tim's music heals."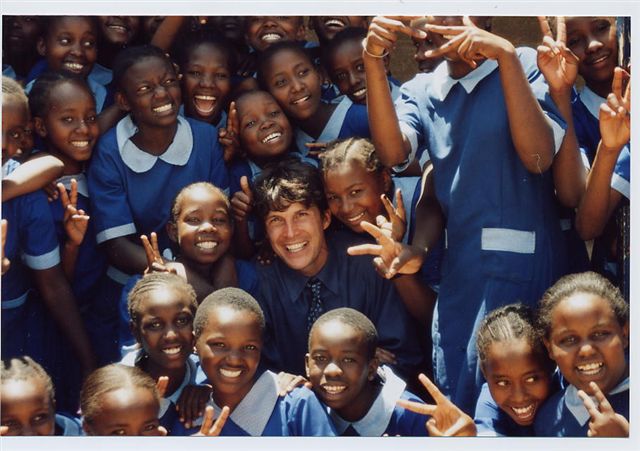 Never do I question anything Lew tells me, but instead of reaching out to Janis right away, I chose to wait a week before e-mailing him. I Googled and Yahooed him, finding various bits and pieces of information. The YouTube clip that captured my soul was his collaboration with R&B recording artists Tina Turner and Lisa Fischer. Janis wrote, scored and produced "Beneath the Wings of an Angel". All of the proceeds from his song were used to raise money for Public Television.
I e-mailed Janis. He replied and later we spoke. Humble, he sounds like a boy excited about returning to his beloved York, Maine. Home to the Nubble lighthouse, Janis invited me for the weekend to experience another piece of God's country and his music.
After, playing in New York's famous Carnegie Hall, to thousands in cities and towns across the heart of America and in places like the Czech Republic's Philharmonic in Prague, it appeared his greatest joy was just going back home to Maine to play at the First Parish Church Sunday morning.
A native of New York City, this tall, handsome square-jawed man sported a hint of Jim Morrison and was a complete throw back to the Archie comic book days when Jughead used words like "groovy" and more valley terms like "awesome," when he spoke. Everything just swell, Janis is a full-head-of-hair ageless 42.
He tells me his music is about healing and helping others become happy. He says he looks to find kindred spirits who want a better world; I suddenly feel I am in a "Heal the World" video by Michael Jackson.
As we talked, we found we had a mutual passion -- Africa. In 2006, Janis went to Nairobi, Kenya to record his song "Children of the World". With over 5000 of the poorest children singing, Janis teamed with NGO and Faith-based leader Church World Services (CWS) to bring awareness to the plight of children living in poverty. Giving everything from money to toys, books and his time, Janis spent sleepless nights traveling up and down Kenya meeting, greeting and even hanging out with the Masai Warriors. Janis wanted to stay with one of the families for an evening until CWS Director of Development Bill Wildey whispered to him that staying overnight meant the man of the home must offer his wife to Tim for a night of pleasure as his way of good Masai hospitality. Janis quickly changed his plan and managed to maneuver his way out of this. All of the proceeds from the song he recorded were donated to raise money for CWS efforts in Africa.
Back in Maine, The elderly ladies come early to the church on Sunday to get a glimpse of their brand of Jon Bon Jovi rehearsing with his trio before the services begin. Dressed in black and white or their Sunday best, each woman who came made sure Tim smiled at them. As if he were flirting with them, he beheld each of them as though they were the only girl in the room. For a moment, it seemed as though these women had flashbacks to their first loves. Known in York for her amazing photography, Willene, a short plump elderly woman with a cute Texan accent uttered, "Tim is my friend. He is so special." Later, Janis shares with me that he and Willene usually sit together in the back of the church and cut up.
When the concert begins, everyone sits attentively toward Janis. With his eyes closed, his head sways like a blind man. Feeling the rhythms, he strokes his keyboard like the body of a love-starved woman. Cinnamon, his faithful flutist of many years, is studying to be a "woman of the cloth." She sings the melodies of his songs with her instrument. An unsaid love affair of music between the two occurs when she and Tim's eyes meet dozens of times during the concert. Since it is in a church setting it must be a Song of Solomon thing.
In Maine, Janis is a rock star. Everywhere you go in his Honda Accord, people want to touch him, take photos, get an autograph or just be seen talking to him. He is beloved by the Bush family of Kennebunkport. Former First Lady Barbara Bush narrated a book he wrote for children under the age of five, called "Shine like a Light House". All of the proceeds from this book are being donated to The National Foundation for Cancer Research.
Nearly everything that Tim Janis does involves giving to others. His Celebrate America Tours with PBS includes tens of thousands of high school student choirs around the United States singing traditional songs and original ones by Janis. Money raised from the concert tours goes to PBS stations across the U.S. to help keep them on the air. Janis is a Top 10 Billboard artist multiple times over and has worked with the likes of James Earl Jones, Paul McCartney, Ray Charles, Maya Angelou and George Clooney, all in the name of giving to causes related the search for cures of cancer, heart disease, HIV/AIDS, and poverty.
Janis' music has been widely reported by many throughout the world to have healing qualities. Played in dozens of hospitals with the children and adults in cancer wards such as the Mayo Clinic in Rochester, NY and Columbia Presbyterian in Manhattan, it is claimed by hundreds in letters and emails that Janis' music is a healer. Patients and families swear to witnessing various miracles. A few testimonies include:
Dear Tim,
Almost ten years ago, when I was being scheduled for surgery, I read an article in the Boston Globe about the calming and pain-reducing effects of your music. I bought your CD "Along the Shore of Acadia" and listened to it many times while I was recovering from surgery. In
the past few years I've had severe asthma, and there are days when it is frighteningly difficult for me to breathe. At those times (after I've taken all of my asthma meds at the maximum allowed doses) it truly helps me to sit quietly with my eyes closed and listen to your music.

I own five of your CDs now, and I listen to your music often. Recently a dear friend of mine was going through a very difficult and stressful time. I bought one of your CDs and sent it to her as a gift and she said it really helped her when things got especially rough for her.

Thank you for your wonderful music!
Amy M. Westwood, MA
Dear Tim,
My Mom and I enjoyed your music when we first saw your PBS special "Beautiful America".
After contacting you about getting more of your music, my Mom became seriously ill.

Your music videos have been a huge blessing. She watches them to help her deal with her health issues and finds them most helpful. (We listen to your music CDs in the car when we go to the doctor's appointments.)

I have told all my friends and their families about the positive influences you are making because of your music.

Please continue on your path of making great music. It helps so many people.

Thanks.
K. Wolf, Houston, Texas
Dear Tim,
I discovered your music years ago during my first full-time teaching job. I love kids and enjoyed my job, but in many ways it was a stressful first year.

There were countless days I would leave frazzled with a splitting headache, but on my ride home I would play your music (Flowers in October is still my favorite) and the stress would melt away. Once I was married, my husband quickly learned to read my stress signs and would simply turn on your music knowing it was the 'medicine' I needed. Now years later we have two beautiful adopted daughters from China. Our first daughter's transition home was very difficult and she would often have night terrors. We began playing your music softly each night to lull her to sleep and it not only was helpful to her, but relaxing for us as well.

Though she still had night terrors we were better able to ease her through them and she'd drift off again easily.
P. Foster, Stonington, CT
Dear Tim,
I remember first hearing your music in 2004, I believe on QVC. Our son had been in Iraq with the Army for just a few months. I had never dreamed of having a son at war and now was experiencing the most difficult year of my life. Our son lost many close friends that year and my faith was being tested every day, wondering if we would lose our son.

That year they were playing your CDs on QVC and one song in particular moved me to tears and strengthened my faith. At that very moment I knew our son would come home safe and sound. That song was "Coming Home." That year was still a difficult year but our faith was stronger and hope was more reassuring thanks to your music. Yes, I did buy a four CD set.

I remember sitting down and immediately sending you an e-mail, thanking you for such beautiful and reassuring music.

Our son has since served another tour in Iraq, was wounded in November of 2006, but again returned home safe and sound. He has just recently graduated from Officers Candidate School and continues to serve his country and make his parents proud.

Thank you again for making music that can touch the heart and soul and put you in God's hands at the moment you are listening to it.

And also Mr. Janis, thank you for your support of our troops with your music and video "Celebrate America".

Sincerely,
M. Smith,Bartlesville, Ok.
Evoice Team Leader
Soldiers' Angels
http://www.soldiersangels.org
This fall Janis went back to Kenya to work with Church World Services again. This time he planned to record 1,000 Kenyan school children -- many of whom were orphans and and living with HIV/AIDS. Kids with death sentences sing with so much joy on their faces. They crowded Janis; giving him very little space to move. He donated his personal keyboard to the Muranga School so that the students can continue to practice singing in their choir. Nothing else mattered to Janis but touching the lives of these children through his music. Kenyan CWS coordinator Sarah Turn and Bill Widley marveled on the trip at Janis' energy. They knew his childlike quality brings about the laughter and natural four-part harmony sung by the children. It took three days to get all of these children on tape; Janis got it done. All of the proceeds from his new song, "Move Mountains" will go to Church World Services to continue their work.
His dedication does not stop there. He feels completely at home with his sisters, the nuns. Although he's not a Catholic, he says he can't refuse nuns when they come to him from all over New England, and ask him to play a benefit concern for the needy. Last month, New York City's Mayor Michael Bloomberg got in on the act with Tim and the Nuns in the Bronx for the Little Sisters of the Poor benefit event. This Christmas, Janis and his ensemble will visit with Seven Orders for benefit concerts.
It's a wonder if or when Tim Janis gives to himself. He's nomadic. With very little on his back and his health bars serving as meals too much of the time, Janis is constantly in the studio creating original music that can be used for healing. Janis deflects when you get too personal. He plays a word game, kindly telling you that you are getting too close. He immediately switches back to the next time he can give to others. He knows some of the most famous and powerful people around. But his joy comes from having a simple breakfast with his mentor, lighthouse man Bill Thompson, or stopping by to see Bed & Breakfast owner Richard Leigh. He recently sent Editor-at-Large Gayle King of Oprah the O Magazine a beautiful gift basket with salt water taffy, chocolates and nearly all of his CDs because he is a fan of hers and thought she could get some relaxation and healing through his music. She wrote him back graciously thanking him.
Giving to others once again -- now to the Huffington Post and its readers, Janis set up a free download of one of his CDs at http://www.timjanis.com/gift/ type in the word "Peace" under the code and get the download.
He feels if he can't give to others, than what is his purpose? When asked about his future, his reply is to "play a small role in helping to heal others through beautiful music."
Calling all HuffPost superfans!
Sign up for membership to become a founding member and help shape HuffPost's next chapter