I come across a variety of products throughout the year and only the ones I actually like and find value in, get to be featured on Hayo print, online or any other of my media partners. There's so much good stuff out there that I wanted to give our readers a comprehensible list of things I have fallen in love with.
1. Gifts for the practical traveler
I have found products that are the ultimate travel hack when it comes to womenswear. For more you can see here.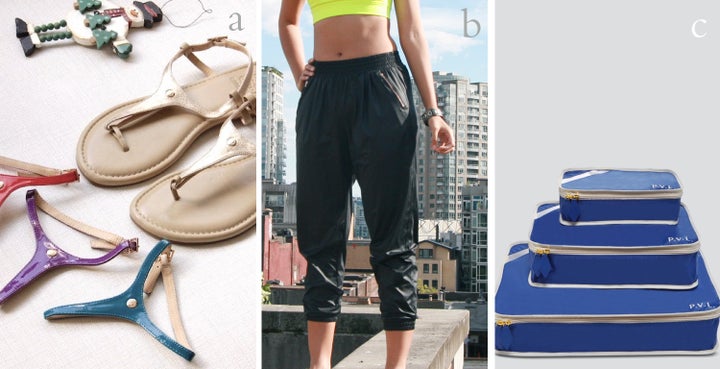 I've written about the sandals before and they are a MUST have in my packing bag. The Cambiami sandals are perfect for warm weather travels. They allow you to switch straps in a few minutes and have a different color shoe that you can match with anything you are wearing. I have the basic and the pop of color packs and with those two I'm totally set. www.cambiami.com
I use the ADAY Trackpants in any weather and can dress them up and down as I please. The fabric is soft, doesn't wrinkle, and also doesn't get dirty as easily. If you get a spot, it's super easy to clean and I when I wear them I get compliments all the time. www.thisisaday.com
My recently discovered packing hack. I don't know how I made it this long without these cubes, they are the best! I bought a cheap set on Amazon and I've been using them all the time. They are perfect for separating your clothes if you're heading to multiple climates or to divide pants from dresses or shirts and make it easier to find your clothes in your bag. The different sizes help you fit as much as you can in the cubes and they compress the area that the clothes occupy so you end up with more space in your bag. I'm eyeing some more fancy ones on Paravel now that I have tested the cheap ones. www.tourparavel.com
2. Gifts for men
Although, women can still get their hands on these, of course!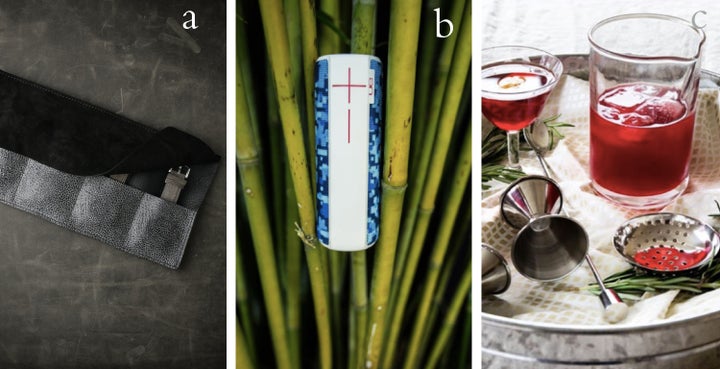 a) Watch rolls by Bas & Lokes
A man, one with a good sense of style, has more than one fancy watch and transporting jewelry is never easy. This Australian brand, made by Bas & Lokes, creates beautiful handmade leather goods and has a sense of class and elegance I hadn't seen in other leather brands before. I have yet to see them in person, but I'm eyeing one for my partner. www.basandlokes.com
A waterproof speaker, light enough to travel with, and a battery that lasts for 15 hours is every man's dream. At least my man's for sure. He can't put that thing down, not even when we are at home. Showers with it, wanders through the house with it, always keeps it next to his bedside. By now you can get a sense of how useful the UE Boom 2 can be for a music lover. ultimateears.com/en-us/ueboom2
c) Barware by Bull in China
Some men like beer and some others prefer cocktails. For those that always order a Negroni to get the night started, Bull in China is a Portland-based company created by bartenders for bartenders, so these guys do know what they are making. Everything is handcrafted in Portland, the quality is exceptional, and you are gifting a man (or woman!) some pretty sexy tools for their own bars. www.bullinchinapdx.com
3. Gifts for art lovers
In my opinion, there's not one item that could work for every art lover because art is very subjective but I can give you a list of things I'm liking.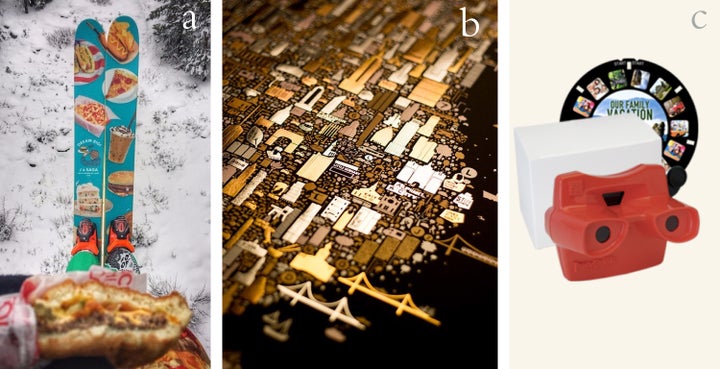 Not that long ago, Ello launched an online shop where you can find things their artists have created. You can find all kinds of things in this store, from jewelry to prints to clothing to accessories, there's a great selection of artsy, edgy, and cool curiosities. ello.co/discover/shop
b) Iconic New York Illuminated print
I love New York and I also love Klimt and this print by New York-based studio Alfalfa is an homage to his work. Rendered in radiant gold and silver foils and luminous metallic inks, Iconic New York Illuminated celebrates the lights and landmarks of this city at night. Masterfully printed and stamped on velvety black premium paper, this poster shines as brightly as the city itself after dark. I mean, it's just out of this world. www.alfalfanewyork.com
Art lovers, curious minds, nostalgia fans, this gift is for you! I remember having and loving one of those when I was a kid. So entertaining to look through the lenses and see photos pass by. With this RetroViewer, you can customize your reels and add any photos you want. I think this is a perfect gift for an artsy friend that loves photography and old school paraphernalia. Even their ads and branding are still vintage looking! www.myretroviewer.com
4. Gifts for the mindful & health conscious
Since my doctor (read traditional medicine doctor) prescribed me more meditation and yoga to balance some of stress issues, I've been more open to this idea. Here are a few awesome finds.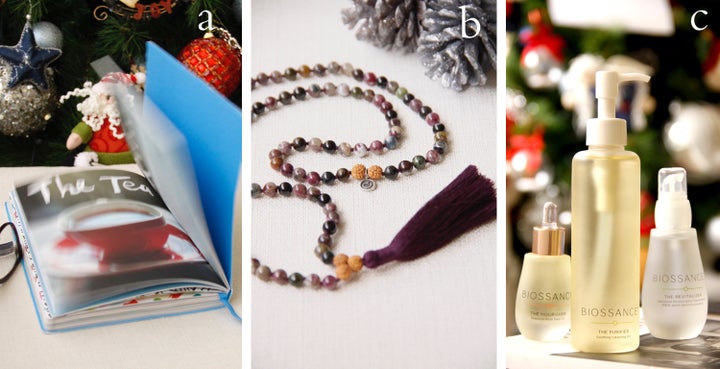 a) Calm meditation book and sleep stories
Calm is an app that guides your meditation so it's easier for you to take the first step. They have released a book with mini stories, workshops, and reflexions that should help you calm and fall into a deep and natural sleep. I've rarely had trouble sleeping but I like the stories and challenges that it brings you in order to make more headspace. You can get it here. www.calm.com/book
I remember when I was a kid and used to go to mass, I would see old ladies holding a rosary and touching every bead for every prayer. Well, this is the same thing but for meditating. Mala Collective has necklaces, bracelets, meditation kits and all sorts of stuff to help you find a calmer mind and healthier spirit. I got the "I Am Radiant" necklace and I love it. I still have to learn how to meditate with it, but one step at a time, right? www.malacollective.com
c) Biossance, beauty products made with biotechnology
This is a very new find for me. I've been testing their essential kit and so far I'm loving how gentle it is on my skin. Especially when you travel, your skin can suffer from the airplane's dry air, the change of weather and the cold or hot temperatures, so you always need help to help bring your skin back to normal and there are instructions on the back. Biossance's biotechnology means that their scientists created a breakthrough by deriving squalane from sugarcane instead of olive or shark liver. www.biossance.com
I love the idea of finding something more creative for your friends or lovers, even if it's just a Holiday card. You can always send me your ideas to info@hayo.co or submissions@hayo.co - Happy Holidays!
Related
Popular in the Community