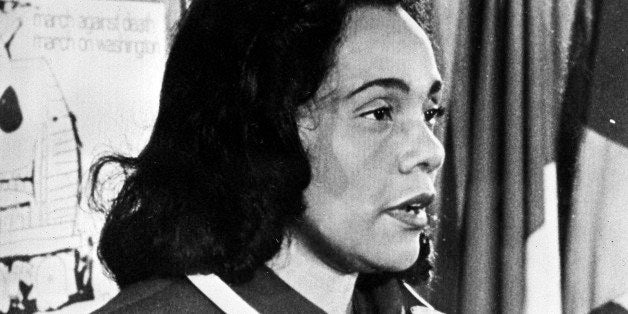 Today, April 27th, we celebrate my mother, Coretta Scott King's, 88th birthday. It has been a holiday in my heart for as long as I can remember, a day when I give thanks to God for the blessing and privilege of being her daughter.
My mother made countless sacrifices so that her children -- and all children -- could grow up in a better nation and world. In addition to her numerous activities as a public figure, Coretta Scott King was a wonderful mother who nurtured her four children with unflagging dedication. We knew that we had her complete attention whenever we needed it, even as she continued to carry forward our father's unfinished work and build The King Center (which we called "her fifth child") from an idea to a reality.
My mother was the strong wife, partner and co-worker Martin Luther King, Jr. needed to be an effective leader, and he said so on many occasions.

In his first book, Stride Toward Freedom, my father wrote, "Most of all I am indebted to my wife Coretta, without whose love, sacrifices and loyalty neither life nor work would bring fulfillment. She has given me words of consolation when I needed them most and a well-ordered home where Christian love is a reality...She gave me the reassurance that can only come from one who is as close to you as your own heartbeat...To her this book is dedicated."
In another book, Why We Can't Wait, he shared this about my mother: "She had been my strength and inspiration during the terror in Montgomery. She had been active in Albany, Georgia, and was preparing to go to jail with the wives of the other civil rights leaders there, just before the campaign ended."
In chapter 5 of The Autobiography of Martin Luther King, Jr., my father states, "My devoted wife has been a constant source of consolation to me through all the difficulties. In the midst of the most tragic experiences, she never became panicky or over-emotional. I have come to see the real meaning of that rather trite statement: a wife can either make or break a husband. My wife was always stronger than I was through the struggle...Corrie proved to be that type of wife with qualities to make a husband when he could have been so easily broken. In the darkest moments, she always brought the light of hope. I am convinced that if I had not had a wife with the fortitude, strength, and calmness of Corrie, I could not have withstood the ordeals and tensions surrounding the movement."
In the same chapter, he adds, "She saw the greatness of the movement and had a unique willingness to sacrifice herself for its continuation. If I have done anything in this struggle, it is because I have had behind me and at my side a devoted, understanding, dedicated, patient companion in the person of my wife. I can remember times when I sent her away for safety. I would look up a few days later, and she was back home, because she wanted to be there...She was always a deep consolation to me, supporting my every move. I didn't have the problem of having a wife who was afraid and trying to run from the situation. And that was a great help in all of the difficulties that I confronted."

My mother refused to be intimidated by the many threats, acts of violence, having her home bombed on two occasions, or even the assassination of her husband. Never did she waver from her and my father's shared determination that America must honor its sacred promise of equality and justice for citizens of every race.
When my father was assassinated, he was one of the most hated men in America, and now he is one of the most loved men in the world. This change was not just because of his charisma, oratory or his leadership of one of the most significant movements of world history, but because of the daily dedication and tireless effort of Coretta Scott King in advancing my father's message and teachings and shaping the King Legacy for our world. His iconic stature is very much a direct result of her efforts. She laid the foundation for everything that has been done to honor my father, including "The King Memorial." That's why I now describe her as "The Architect of the King Legacy."
Among her many accomplishments, my mother is often identified as the leader of the Martin Luther King, Jr. holiday movement. She organized commemorative programs marking my father's birthday every year after his assassination and provided hands-on leadership of the successful lobbying effort that enacted the holiday bill.

She spearheaded the creation of The Martin Luther King, Jr. Center for Nonviolent Social Change, which has become a place of pilgrimage and nonviolence education for people seeking hope and inspiration from every nation. She not only conceived The King Center out of her imagination. She also raised the funds to build it and shaped the nonviolence educational programs that have taught people all over the world about my father's philosophy and methods of nonviolent social change and peaceful conflict-reconciliation, which we refer to as 'Nonviolence 365.'
In addition to the MLK holiday, she worked tirelessly for a broad range of critical social justice reforms, and she helped lead numerous movements for freedom and human rights. In 1985, I joined my mother in a protest against apartheid in which we were arrested at the South African embassy in Washington, D.C. And she was at President-elect Mandela's side in Johannesburg when he claimed victory in South Africa's first free elections.
She spoke out repeatedly against the arms race and war. Decades ago, she supported health care reforms that would cover every person and every illness. She fought for fair employment opportunities for people of color and women and advocated increased investments in education, jobs, housing for the homeless and human development.

But her compassionate concerns and generosity were not confined to the public arena. She felt that it was important to do something to help people in need on a personal level, and she did so almost every day. Everything from helping out strangers as well as friends with financial assistance to counseling King Center staff persons who were struggling with difficult family issues. No one ever asked her for help and went away empty-handed.
Although her funeral was attended by four U.S. Presidents and dozens of members of congress and much of her work was extensively covered by the media, I sometimes wonder if the public really had a chance to know Coretta Scott King. Like many public figures, she protected her privacy as much as possible, and generally did media interviews only when she felt that "it served the cause."
In commemoration of my mother's 88th birthday anniversary, today The King Center will host a special program "Mothers in the Movement -- from a Daughter's Perspective" (live-streaming at 11:00 a.n. EST right here).I will be joined by the daughters of other civil rights leaders in a day of interactive discussion about the role of women in the American civil and human rights movements, past, present and future.

And as we celebrate the contributions of Coretta Scott King and other mothers in the Civil Rights Movement, we resolve to emulate their legacies by reaching out to lift up the forgotten and disinherited, by offering a helping hand to the poor, oppressed and disadvantaged and striving to create a nonviolent society, in which all people can live together with freedom and prosperity.
Bernice A. King is Chief Executive Officer of The King Center.
Popular in the Community