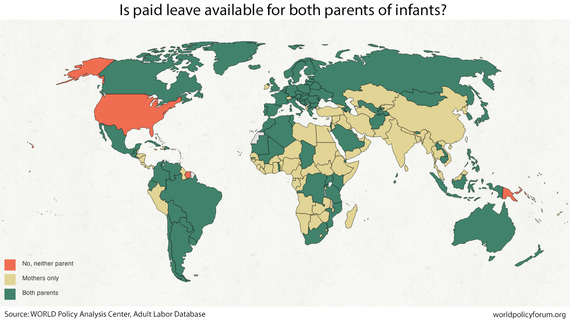 Co-authored by Aleta Sprague
One day a year, we celebrate dads. Chances are, that's one day more than they had to celebrate becoming a father.
At least that's the case in the U.S. - along with nearly 100 other countries around the world that don't provide any paid leave to new fathers.
In recent years, the United States' failure to provide paid maternity leave has met with scorn from everyone from U.S. senators to late night comedians. This is well deserved: the U.S. remains the only industrialized nation that doesn't guarantee at least some paid leave to new moms, despite its proven benefits for both maternal and child health.
Yet the bigger issue globally is paternity leave. Today, while 96% of countries provide paid leave to mothers, only 49% provide any leave to fathers--and among those that do, it's often for two weeks or less.
By granting leave only to mothers, governments worldwide have embedded inequality in the law. When caregiving is presumed to be solely a mother's responsibility, women don't have equal chances at work, and men don't have equal chances at home. What's more, these laws not only further stereotypes, but also fly in the face of evidence showing that paid paternity leave has significant benefits for families' wellbeing. Fathers who take paternity leave report greater satisfaction with their relationships with their children, and are more likely to be involved with their children after the leave ends. Paternity leave may also reap dividends in children who perform better in school. Importantly, paternal leave with more equal sharing of responsibilities is also associated with lower rates of post-partum depression among new mothers.
The economic benefits of paid parental leave are great. For both parents, paid leave increases employee retention, and reduces turnover and its significant costs for employers. Providing leave for fathers has also been found to markedly increase women's earnings: in Sweden, for every month of leave taken by her partner, a woman can expect to see a nearly 7% boost in her income, while in Quebec, a five-week leave quota for dads has increased women's pay by up to 25%. The net effect is to substantially increase women's earning potential and attachment to the workforce--key ingredients for economic growth. By contrast, failing to provide leave can have large-scale consequences. In the U.S., the lack of "family-friendly" policies has contributed to a five-point drop in the percentage of women in the labor force over the past fifteen years, while rates in other OECD countries continue to rise; across the OECD, if women participated in the workforce at the same rate as men, overall GDP would rise 12%.
Caregiving policies continue to matter well beyond the first year of a child's life. For example, at some point, every child will get sick and need to stay home from school, and parents will need access to time off. In five countries, paid leave to meet children's health needs is exclusively reserved for mothers, further perpetuating the idea that women are solely responsible for childrearing. Yet equally troubling are the over 100 countries that don't provide leave to either parent, paid or unpaid, specifically to care for an ill child. When leave is unavailable, women are more likely than men to risk their jobs and income to provide care, which both reflects and further exacerbates the gender wage gap.
Paid leave for fathers is not a men's issue or a women's issue. It's a family issue and an economic imperative. This Father's Day, spread the word: the WORLD Policy Analysis Center has designed a unique set of Father's Day cards to raise awareness of the gender disparities in access to paid leave around the world. Share them with a dad in your life to bring us one step closer to making paternity leave accessible worldwide--which would truly be an occasion to celebrate.
Related