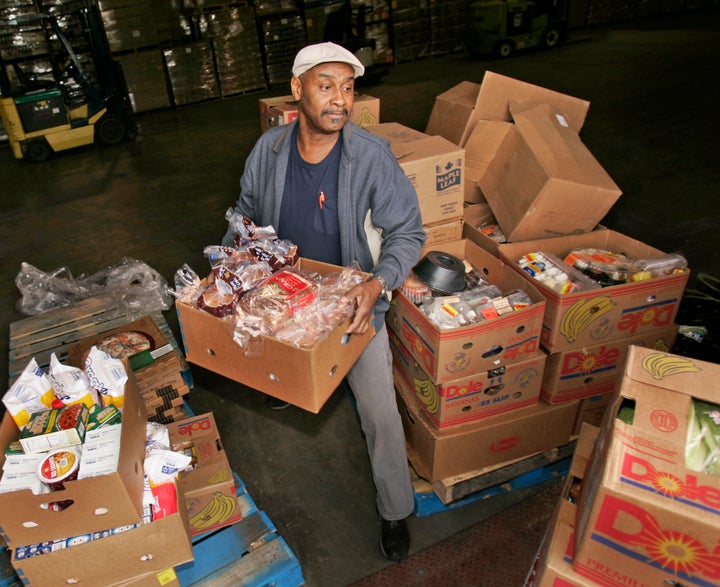 Childhood hunger is invasive and real in America today. Sadly, hunger affects our children in all too staggering numbers, quietly eroding the hopes and dreams of America's youth before they can even learn about the opportunities in this, our "land of plenty." The stark reality is that nearly one of out four children in America faces hunger. Studies show that children who experience hunger face significant stress and challenges that can have a lasting effect on their physical, cognitive and behavioral development. From birth to age 3, chronic under-nutrition is most harmful because proper nourishment is essential to support this critical period of rapid growth. That is why it's vitally important to understand the impact of hardship and public policies, including food insecurity, to improve the health and well-being of children.

Last week, I had the distinct privilege to visit a project that the Greater Boston Food Bank is working on in partnership with Children's HealthWatch and the Grow Clinic in Boston, MA. The mission of Children's HealthWatch is to improve child health by bringing evidence and analysis from the front lines of pediatric care to policy makers and the public. The Grow Clinic is an outpatient facility at Boston Medical Center that provides comprehensive medical, nutritional, developmental/social services and dietary assistance to children from the Greater Boston area referred with Failure To Thrive (FTT) by their primary care physician. Located in the heart of Boston, the clinic provides a safe for area youth to receive medical attention and related services that their families could not otherwise afford due to pervasive poverty and the related absence of health care benefits.

Under the able oversight of the Founder and Principal Investigator of Children's Health, Deborah Frank, M.D., who is also a Professor of Pediatrics at Boston University School, the Grow Clinic is a cutting-edge institution in the fight against hunger. It is apparent that Dr. Frank embraces the business and societal imperatives that guide the work of the Children's Health Watch and other organizations that fight valiantly to eradicate hunger and poverty. Simply put, Dr. Frank is a kindred spirit who fully appreciates the sustained and positive societal change that we can make once those imperatives are integrated into holistic services that reach individuals in need. By way of example, the Grow Clinic maintains a food pantry, which currently serves an incredible 7,000 individuals every month. In addition to much needed traditional medicine, the clinic's service protocol offers patients prescriptions for the food pantry and maintains an onsite demonstration kitchen where families can learn to prepare healthy meals with the food they receive. This creates the platform for sustainable lifestyle changes that can give our youth and their families a real chance to escape from the unforgiving grip of hunger and poverty.

One moment that stood out during my visit was the opportunity I had to talk with a young patient and his parent who were there for a medical appointment. Upon first glance, there did not appear to be anything wrong with the child. However, I soon realized to my dismay that this toddler tragically weighed in at half the expected weight for a child of his age. The significance of this heart-wrenching reality hit me like a brick. I couldn't help but think about how hidden hunger is if you aren't looking for it. It fortified my resolve to tirelessly press forward to eradicate hunger in our life time through combined efforts of Feeding America, volunteers and organizations like Children's Health Watch and the Grow Clinic that exist across this nation.

Feeding America's cornerstone strategy is to actively engage and seek collaboration from a wide range of partners in the public-private sector, including corporations, academia, and healthcare. That's why I was so excited to visit this innovative model that builds upon the strengths of so many amazing partners. The Greater Boston Food Bank helps provide the food for the pantry, Children's Health Watch conducts research about the impacts of food insecurity for families seeking medical care, and the Medical Legal Partnership provides patient advocates helping connect families with federal benefits, like SNAP. It is my hope that the holistic-care model of service demonstrated by these amazing organizations in Boston will be replicated in other geographic sectors of the nation to further engage and integrate the business, education and medical communities as partners in fighting hunger.

Among other things, the data and service records from this holistic model may be used to help us shape and inform critical public policy and funding debate around hunger and poverty issues. It was ironic that were standing in this clinic where the effects of hunger were so visible, at the same moment when cuts to federal safety net programs were being debated in Washington. Ultimately, the House voted to cut nearly $800 million from crucial food assistance programs. We simply cannot afford the consequences of allowing nearly a quarter of our children to face hunger.

The healthcare community as a whole would be well served to take heed of the holistic care vision implemented by the Boston Grow Clinic and Children's Health Watch, adopting its innovative and bold framework to fully engage America's plentiful resources to ensure that families lacking access to sufficient healthful foods, lack no more.
Calling all HuffPost superfans!
Sign up for membership to become a founding member and help shape HuffPost's next chapter