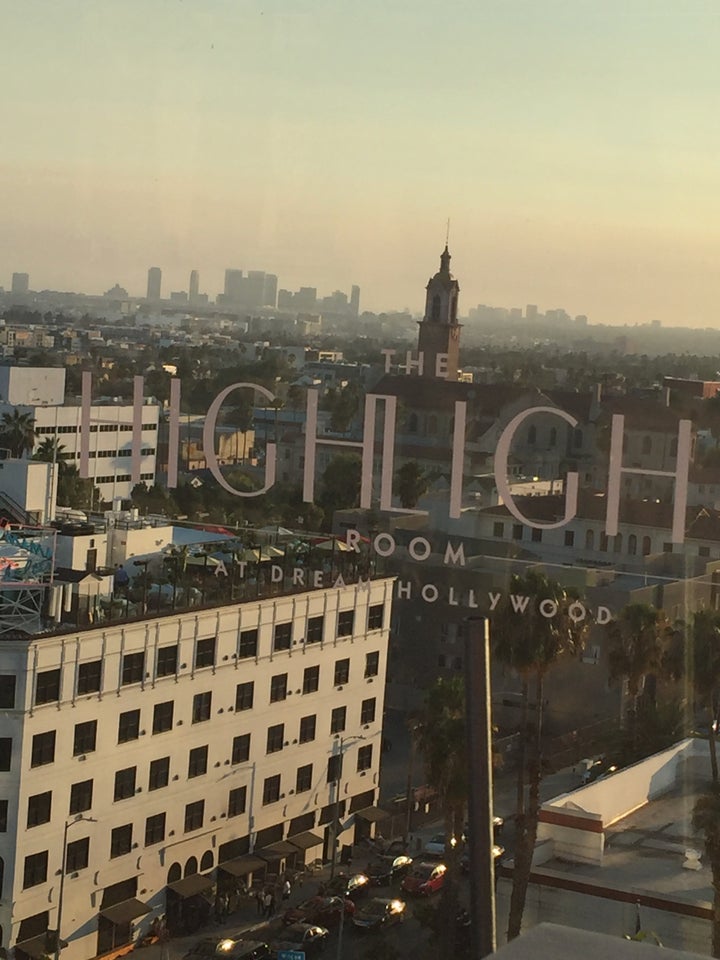 For anyone well familiar with Hollywood, the revitalization and reimagining of the Cahuenga corridor by the TAO Group is staggering. The one-time seedy corner of Cahuenga and Selma began improving some years back, but now, it has exploded into the hottest and most posh part of town. And the opening of Dream Hollywood, the group's chic boutique hotel sporting 178 modern guest rooms, is the epicenter of all the action culminating with The Highlight Room, an 11,000-square-foot outdoor rooftop, lounge, pool and grill.
And you can bet that the TAO Group is banking that The Highlight Room's modern sundeck will be the ideal destination to relax by the pool on plush loungers or in luxurious (pricy) private cabanas, while enjoying California fare and handcrafted libations. Dream Hollywood, and by default the swanky Highlight Room, was built with the intention of being party headquarters. Flanked by TAO Los Angeles, Beauty & Essex, Luchini Pizzeria & Bar, and Avenue nightclub, all of which are mere feet from the hotel, the area has been rebuilt into a must-see, must-experience attraction. Now celebrities, revelers, hotties and gawkers all crowd the area, as do car service and ride sharing vehicles making Hollywood a crazy hotspot once again.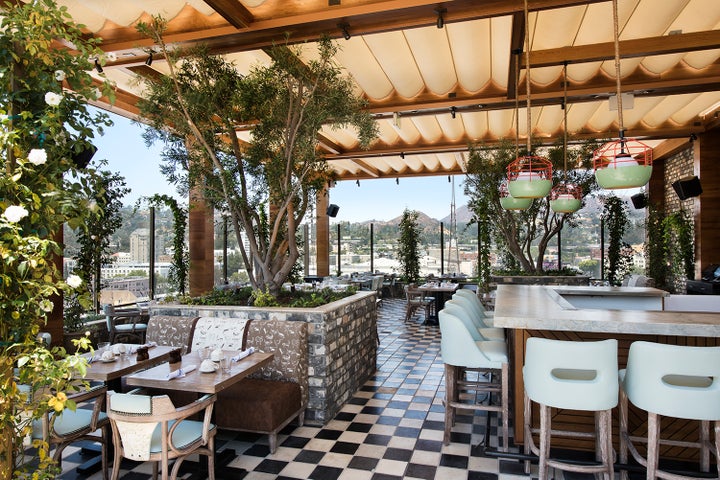 Weekends are all about pool parties and brunch at The Highlight Room. The rooftop is actually only available to hotel guests on weekdays until 6pm when it opens to the public. And weekends, when the rooftop opens at 1pm is a maddening free-for-all.
Unlike the other TAO Group venues, which have offshoots in Las Vegas and New York, The Highlight Room, as well as Luchini, is a unique property. For now, The Highlight Room is one-of-a-kind space with a California forward menu put together by TAO corporate chef Marc Marrone that serves breakfast, brunch and dinner.
"We really went for a menu that was light and bright to match the menu and environment of the rooftop," explains Chef Marc. "We wanted to tie in as much market fresh produce, made in Los Angeles, and fresh seafood as we could as well. As we do in all our other venues, we try to create food that matches the venue décor and experience. The Highlight Room is super light, bright and very natural looking, so we created dishes that featured a lot of citrus, herbs, and grilled items. I was very inspired while cooking, with the gorgeous views, the weather and the great local products around us."
Brunch items run the gamut from fresh baked pastries to a very California-leaning Acai Bowl where the secret is freezing the fresh fruit, to omelets, a hearty breakfast burrito, pancakes, to a decadently delicious waffle with duck leg confit—move over run of the mill chicken and waffle.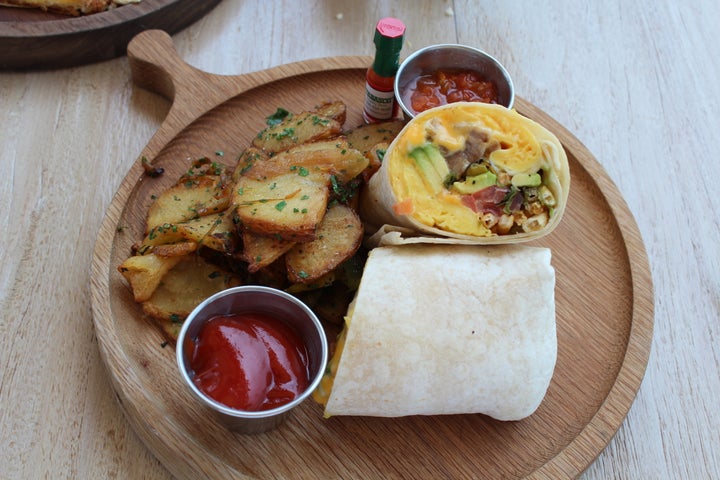 While the cocktails are not revolutionary, they are refreshing, which gets the job done when you are poolside, especially the Watermelon Mint Lemonade with Absolut Elyx Vodka and cold pressed watermelon, and The Hemmy—a nice gin drink perfect for day drinking. You won't find brunch staples like the Bloody Mary or Mimosa on the drink menu but of course they'll make them for you. It's not brunch unless you're drinking (at least one Bloody Mary).
Other regular menu highlights include the Avocado Toast, again very California, as well as the Jumbo Shrimp Cocktail (jumbo being the key word here), the Walk of Fame Burger (Wagyu sliders are served around the pool), Chef's award-winning Crispy Chicken Sandwich, and the very satisfying Brick Oven Chicken.
I asked Chef Marc to list his must-have menu items.
"For breakfast, my favorite item is our Duck and Waffles. It's a crispy fried duck confit with herb waffles, espellete butter and bourbon maple syrup, which is outside the box of normal breakfast offerings.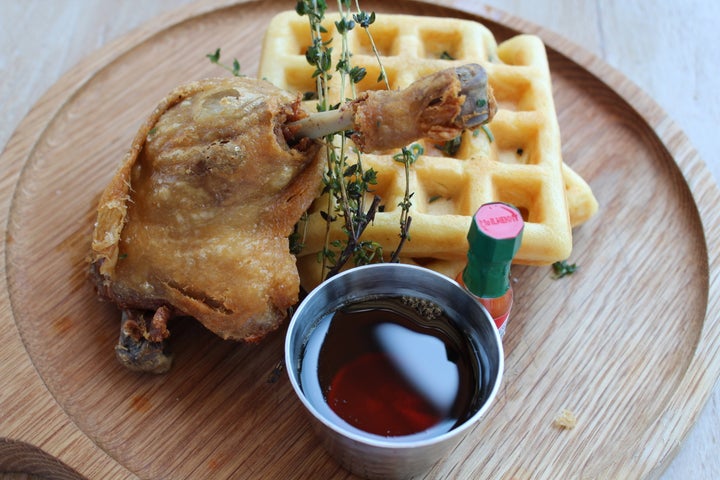 For lunch, The Brick Oven Chicken with smashed potatoes, salsa verde and baby gem salad is my go-to. We have great market salads and a killer Crispy Chicken Sandwich that a lot of guests like to get. For dinner, you can't go wrong with starting your meal off with our oysters and shrimp cocktail. For the main course, the grilled Meyer Farm Prime NY Strip with a baby gem salad and shoestring fries with our special fry sauce will definitely satisfy you."
Of the menu items that I tried, you can't go wrong with the breakfast burrito or the duck and waffle for brunch, and the Crispy Chicken Sandwich and Brick Oven Chicken later in the day. These are savory and very pleasing plates.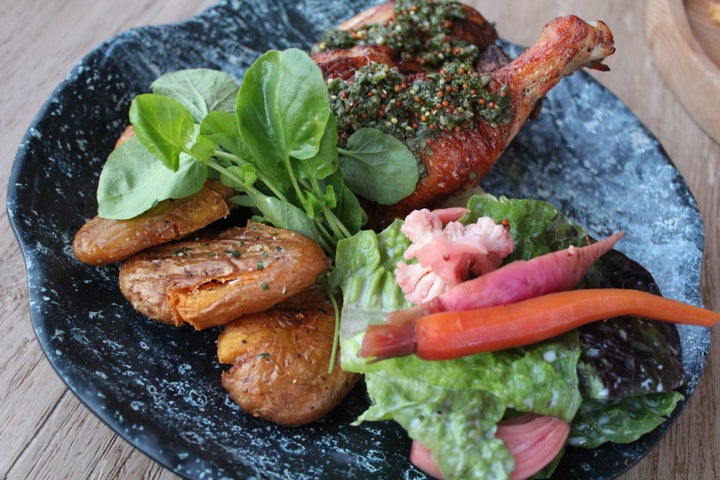 Kudos to Chef Marc for coming up with a menu of California-inspired cuisine, especially breakfast, set in a sunny, outdoor environment, which is very different from most of the menus he oversees.
"It's a similar approach," Chef says of designing a breakfast menu. "We have items that are great for sharing but also we have great healthy options like our Acai bowl and house made granola. We make an awesome bread pudding brûlée French toast and an organic egg omelet so, like a nighttime menu, we have something for everyone."
I can't think of another place in town where brunch morphs into a wild and crazy pool party or where the the view at dinner is as stunning. I joked to a friend that those who can't dream have to seek shelter at the rooftop at nearby Mama Shelter, which is dwarfed by comparison. What was hot becomes cold and for the time being, the TAO Group and its plethora of venues all centered around Dream Hollywood is what is sizzling in L.A. And Chef Marc wouldn't have it any other way.
"I really want people to feel like they are truly relaxed, taking in great food that matches the views and great weather. It really is an oasis and I want people to feel they can really let loose and layback."
The Highlight Room at Dream Hollywood is located at 6417 Selma Avenue.