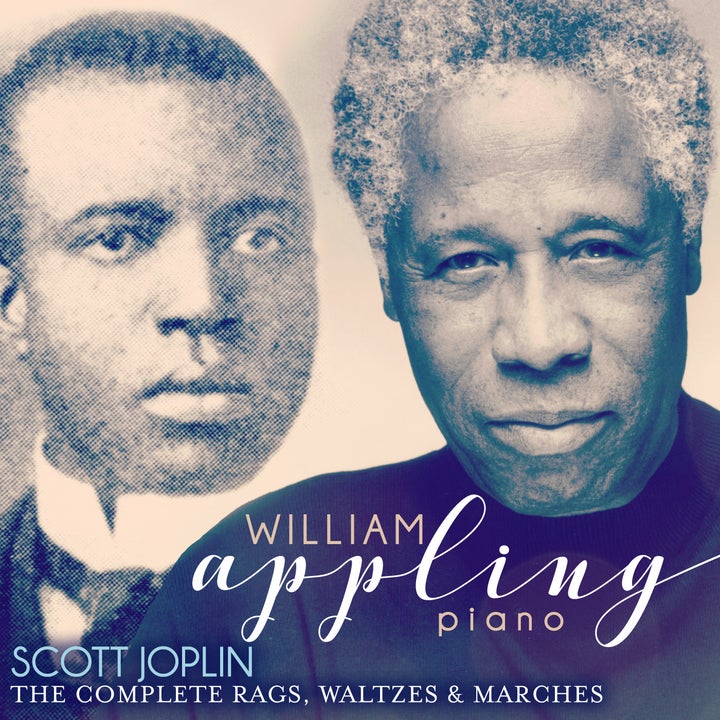 Composer anniversaries are often a big deal in the world of classical music, but sadly, the centenary on April 1, 2017 of the death of Scott Joplin has mostly gone by, at least thus far, with very little notice. Except for a terrific feature by Stuart Isacoff in this week's Wall Street Journal, I haven't seen any other major-media tributes to "The King of Ragtime," who, to quote Isacoff, "shepherded an American musical genre to new heights of sophistication."
My big Joplin moment came back in the early 1970s when, like millions of Americans, I left the premiere of the now classic Robert Redford/Paul Newman film The Sting humming Joplin's "The Entertainer" (trying to master it on the piano became a near obsession in the months, if not years, afterwards). Here was music of irresistible charm and joie de vi·vre, with its trademark rhythms and lilting gait — an all-American original! But I suspected there was more to this music than met the ear.
Fast forward nearly thirty years, when I received a call from an industry colleague, Toby Tumarkin, who was also a student of William Appling, a beloved choral conductor, pianist, arranger and educator. Knowing I was a music promoter, he asked me if I would do him a favor and meet with Bill, who was working on a big Joplin project that might be interesting to hear about. Soon after, I met Bill for lunch, and I immediately fell under his spell. He was wise, soft-spoken, gracious and brilliant, and he knew just about everything about Joplin, whose music he had discovered relatively recently. "I want to perform and record all of it," he told me. "This is the music of a genius, and more Americans need to know about it." There was nothing I could really do to help him at this point—there was nothing yet to promote—but for a few subsequent years we would get together on occasion for another meal, another brainstorm, and another long talk. His insight into music, his gentle ways, his deeply spiritual aura, and so many other qualities, touched me greatly. But then, for a long while, I didn't hear from him, and in 2008 I learned from Toby that Bill had passed away.
Fast forward again, this time to December 2016, when I received a note from Bill's friend and colleague William McClelland, who told me the most extraordinary news: just before his death, William Appling had indeed finished recording of all the rags, waltzes and marches of Scott Joplin. McClelland—a composer and pianist himself, as well as the founder of Bag Snaggers, a company which manufactures the only patented tool ever designed to take plastic bags out of trees!—knew and worked with Appling for many years, producing four recordings by William Appling Singers & Orchestra on the Albany and New World record labels.
The new four-CD Joplin set will be released on April 1, exactly 100 years after the Texas-born composer's death, at age 49, in New York City. In the Q & A below, McClelland tells us more about William Appling and why his revelatory new recording might connect a new generation of listener's to Joplin's indisputable genius.
Q. There's something of a Hollywood quality to the story behind this recording. Late in his storied, five-decades-long music career, a musician and beloved teacher named William Appling re-discovers the music of Scott Joplin and fulfills a dream to record all of the composer's piano music. He does this just before he dies. Then, some of the pianist's friends come together to get the recording out just in time to mark the 100th anniversary of Joplin's death. How did you get involved in this project and what has been your role in it?
A. I learned about William Appling's "discovery" of Scott Joplin shortly after it occurred in the early 2000s. Joplin was a composer he had never thought seriously about until one afternoon he found a copy of the collected piano works in his basement library, a volume that a student had left behind years earlier. Reading through it, Bill had what can only be described as an epiphany. He realized that Scott Joplin was a major, world-class composer, yet a composer who remained vastly underrated by most of the musical world. Virtually overnight he decided he would work to change this, and he began planning an ambitious, three-part project he called "Celebrating Scott Joplin." He would learn and record all the piano music and songs; he would stage a full production of Joplin's opera Treemonisha; and he would hold symposiums and events throughout the country where Joplin's music would be discussed, analyzed and performed by scholars and musicians. Unfortunately, due to serious illness he was able to complete only one element of the project before his death in 2008—the recording of all 46 piano works. This alone, however, was a remarkable achievement.
Q: And how did you get involved?
Over the years, Bill and I discussed the project frequently and he would often play me pieces he was working on, but my "official" involvement really didn't begin until the recordings were close to completion. Because illness prevented him from doing more than one or two takes of the last pieces he recorded, there was a certain amount of editing needed, and Bill enlisted me, along with his recording engineer, George Faddoul, to bring everything to a finished state. When the recordings were finally ready, we began the work of putting together the complete 4-CD set and the extensive 32-page program book which is included. Our intention was to make this something that was both worthy of Scott Joplin's extraordinary music and up to the exacting standards William Appling insisted upon for everything he did.
Q. I have very vivid memories of attending a matinee performance of The Sting with my older brother in 1973 and hearing Joplin's music, especially the rag called "The Entertainer," for the first time. I totally obsessed about that piece, and worked feverishly for a while to try to play it on the piano. Very few films are more associated with a particular piece of music like this film. In any case, do you remember the first time you discovered Joplin?
A. My discovery of Scott Joplin actually predated The Sting by a few years. My older brother was not a musician, but he had a voracious interest in all types of music, particularly early American folk music, blues and jazz. I visited him once in the late 60s when he was at college and I was still in high school. He had recently purchased a copy of They All Played Ragtime, by Rudi Blesh and Harriet Janis, the first important history written about it, and he said, "You have to read this." Printed right in the book was the complete score of "Maple Leaf Rag." There was an upright piano in his dorm room and I spent the next few days driving my brother and his roommates nuts by doing almost nothing but trying to learn it. I got completely hooked and have been a huge fan of ragtime ever since, even writing a few rags myself. I was so gratified when Bill told me he had discovered Joplin, but I couldn't resist kidding him by asking, "What took you so long?!"
Q: William Appling had a long and extraordinary career in music, working for more than fifty years as a conductor, pianist, arranger and educator. Why was this project so important to him?
A: Bill had amazingly eclectic musical tastes. His concert programs would range from plainchant and early renaissance works to J.S. Bach and William Billings to Brahms and Schubert, then to his own arrangements of Negro spirituals and American hymns to Charles Ives and Benjamin Britten and then to demanding new works by living composers. I think the fact that he had somehow "missed" Scott Joplin until late in his life was both surprising and frustrating to him. He would often ask, "Why didn't I know about this man before?" I think his perception of Joplin had been clouded by the way the music was usually performed—very fast and often with little nuance or subtlety—so he had simply dismissed it. When he realized how brilliant and rich and complex the music actually was, he became fired with a single purpose: to get Joplin "out there with the best of the well-known European and American composers."
Q. The packaging for this recording is really beautiful and informative, as well as thought provoking. There are extensive notes that tell you lots about the music, but also the backstory of Appling's discovery of it. I was particularly moved by Patricia Oldham's extensive essay on the world that Joplin was born into and how he, a man born in the turbulent era of Reconstruction, was able to surmount so many obstacles that a black man was forced to endure in Jim Crow America. What emerges from listening to the recordings, and reading the notes, is a sense of Joplin as a true American visionary, a singular artist who made an invaluable contribution to American culture. Do you think William Appling saw being the first African-American to record the complete solo piano works of Joplin as an opportunity to set the historical record straight and give the composer his full due?
A. Absolutely. The more he studied and played Scott Joplin, and the more he learned about this man and the challenges he faced, the more Bill came to realize that Joplin was expressing a profound, many-faceted life experience in his music. Not only had Joplin written joyful and exhilarating syncopated tunes that electrified the country and got it dancing like never before, but he also composed deeply reflective, poignant works like "Solace" and "Wall Street Rag" that revealed an emotional depth the equal of Chopin or Shostakovich. In fact, Bill and I spoke about how Joplin's experiences paralleled in many ways those of Shostakovich—how they both lived through a time of horrible suppression and discrimination and how Joplin felt his music needed to put on a "good face" to keep it popular and allow him to survive as a composer. As an African-American, particularly one that was trying to make his way in the almost exclusively white world of classical music in the 1950s and '60s, William Appling identified closely with Joplin's struggles, and he was determined, as you say, "to set the historical record straight." Hearing these performances and reading Pat Oldham's brilliant essay in the program book will give listeners an understanding of Joplin and his music that they may never have had before.
Q. What are some of your favorite tracks on this beautiful new four-CD set?
A: I have many favorite tracks, but I'll mention a couple that may be a little less familiar. "The Strenuous Life" is a gem. Its title was taken from a famous speech by Theodore Roosevelt and may have been written as a tribute to Roosevelt's inviting Booker T. Washington to dine at the White House shortly after he became president. It's a beautiful rag and the last two strains, in particular, are sublime. I also love "Combination March," which has a section that Joplin biographer Edward Berlin believes was inspired by a passage in one of Johann Strauss, Jr.'s operas (which shows Joplin's musical literacy). Like "The Strenuous Life" and so many others, "Combination" rewards you with each listening. And to note just a few other masterful compositions and performances: "Solace," "Wall Street Rag," "Pleasant Moments," "Scott Joplin's New Rag," and the brilliant "Stoptime Rag," which features Bill's unique "foot" stomps (called for in the score) and his spoken commentary at the end.
Q: What did you learn about William Appling and Scott Joplin working on this project?
It would take much more space than we have here to even begin to describe how much I learned about these two great men, and how much I learned from them, while working on this project. The passion that WIlliam Appling had for music was overwhelming. When he stood on stage looking at the musicians, about to conduct a performance, the intensity could be felt to the last seat in the house. As Ian Frazier, the New Yorker writer and long-time friend of Bill's, once wrote, "He held attention with the gleam of his shirt cuffs." This project gave me an even deeper appreciation of that intensity. Working with so much of Joplin's music, discovering one masterpiece after another, made me realize why Bill spoke with such respect about this incredible body of work. He said, "Just when I think I've figured him out, I find something else, there's more . . . I find myself going deeper." I hope listeners will do the same.
Popular in the Community