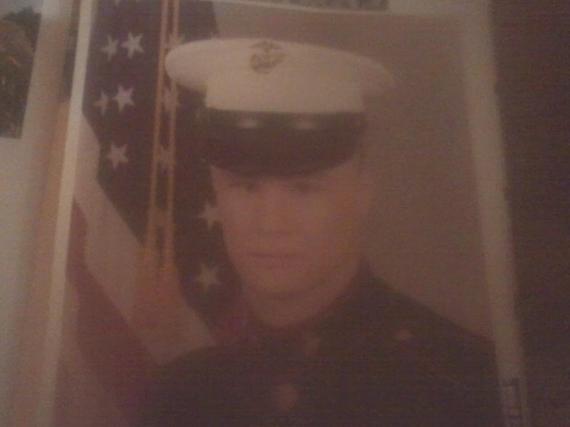 High on a steel beam with the city sprawled below, Corporal Robert (Bur) Pulliam, RT, is far above the homeless camps and streets he once called home.

"Climbing up the beam and waiting for the column to come in," he told us, "I love it. It's quiet up there."

Like many professions, iron working is feast or famine. When there is work, Bur could make as much as $100,000 in a year.

In 2008 he was living and working in the Chicago area when the economy tanked. Suddenly, there was no work to be found.

"I got the rug yanked out from under me," Bur said. "I filed unemployment for the first time in my life."

When the benefits ran out, he turned to his savings account. By the time that was drained, Bur's wife filed for divorce, and his house was foreclosed on. His two daughters were grown and gone and he had lost touch with his brothers after their mom died. He was out of choices.

"So I packed a few things up and went for a walk. I didn't know it was going to last 18 months," he said.
Without an address and unable to find work, Bur divided his time between the city and the country. He says he preferred to be "out in the sticks" where he could set traps and didn't have to worry about police or other kinds of harassment. There was, however, a significant benefit to being in the city: the company of other homeless veterans.

Corporal Pulliam, RT, joined the Marine Corps on Dec. 27, 1979 and served until 1985. Before he was an ironworker, he was traveled the world as a Field Radio Operator with the Corps.

Thirty years later, he was one of thousands of homeless veterans living on the streets. He says it wasn't hard to find others.

"You could tell just by looking at them they were vets," he said. "You could tell by the way they carried themselves. It's the weird things. You can tell when someone's been in the military, especially another jarhead."

The veterans would stay together for a while, sometimes as many as a dozen of them at once. Bur says they ran a regular military setup, taking turns watching.
"When you're together like that, the cops hassle you," he said.

There was always the risk that they'd be arrested for vagrancy, so they didn't stay together long. The veterans would go their separate ways - Bur would head to the country - for a few months until they'd run into each other again.

Looking back now, Bur says what stays with him most about his time on the streets was being around the other veterans, and the problem dealing with police. Although he always managed to "flee and elude," not all the vets could.

"I saw cops beat the crap out of a couple guys just for being there," he said.
One day, finally, help came. The Honorable Robert L. Miller, Sr., a former judge and retired lieutenant commander in the U.S. Naval Reserves, founded Miller's Vets, an organization and center for homeless veterans in South Bend, IN. Bur stayed there with other veterans who were trying to get back on their feet.

His VA social worker in South Bend, Hope Heritz, helped him find a HUD-VASH apartment to rent, but he was stuck in the shelter because he couldn't move in without a security deposit and his share of the first month's rent.

Only $650 stood as the barrier preventing him from crossing the threshold into his own home.
With funding raised through John Mellencamp's role as honorary chair for Operation Indiana, three minutes after Hope submitted the request for Bur's deposit on our cloud-based referral system we approved the $650 and the check was mailed to the landlord the same day.
Bur had come home.

Now with an address, he was able to reinstate his union iron-working card and get back on the beams. On weekends he also does the high stage rigging for many of the very same bands and artists who have helped Veterans Matter raise money and awareness. When he isn't working, he visits with his daughters, Dina and Delaney, and his two young grandchildren, Morgen and Davin.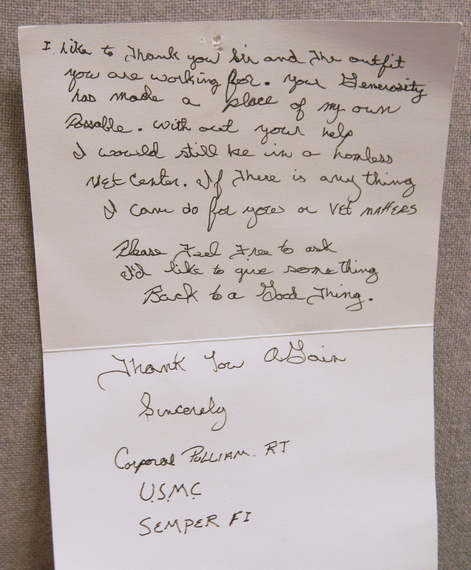 I called to thank him for the kind gesture and we hit it off instantly. He often sends me pictures from his "office" that day, usually from up on high.
April 24, 2015 Bur sent me a text wanting our address to repay the money we provided to finally get him under a roof. I told him it was a gift from the American people to say thank you for helping us keep our domestic tranquility. It was the least we could do.
I told him it was gift, a token of appreciation from the American people for his service to his country. It was the least we could do.

I will finally meet Bur on May 14 in Ann Arbor. We will be speaking at a fundraiser there in an effort to house even more veterans. Called the Silver Star Event, it is hosted by Jordan Reses Supply Company, a truly compassionate organization that has donated over $200,000 to help us house nearly 300 of our 1,000 veterans nationwide. Bur, along with Dr. Chad Audi, a hero to many as CEO of the Detroit Rescue Mission Ministries, will be speaking at this event simply because he says he wants to give back and help other vets.

He is painfully aware that there are others, just like him, who are still on the streets. They, too, will need to have that one last barrier removed that is preventing them from coming home.

On behalf of Corporal Pulliam and all of the veterans who are homeless no more, we thank you America.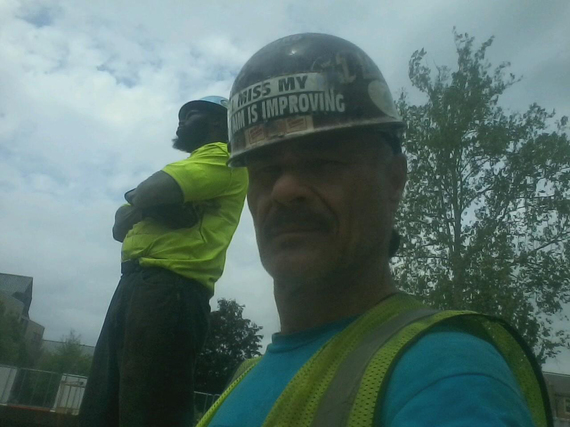 Calling all HuffPost superfans!
Sign up for membership to become a founding member and help shape HuffPost's next chapter