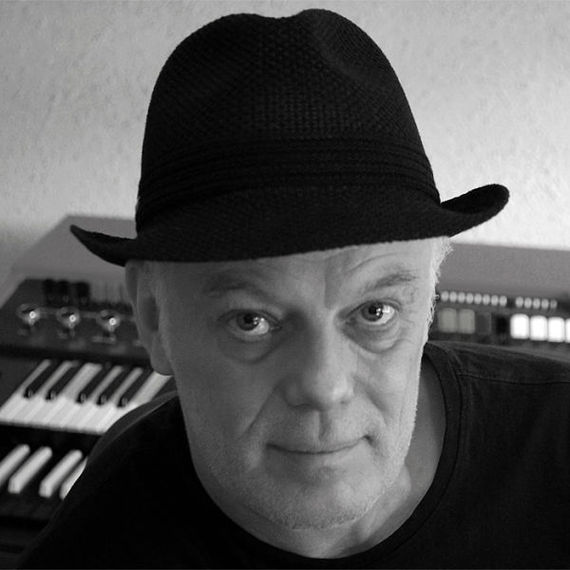 "Oh, it was certainly the most exciting time, considering I was a young lad of twenty-three, discovering the USA for the first time and the joys of rock and all that goes with it!"
Rock stars come and go, however one is about to make his triumphant, albeit low key return -- which will be the absolute reverse manner in which he forged his legendary larger-than-life Big Apple debut in the waning days of Nixon's America and Watergate. Morgan Fisher was the pianist extraordinaire when Broadway's Uris Theatre (now the Gershwin Theatre) was host to Mott the Hoople's historic run on the Great White Way in May of 1974.
How magnificent was Mott? Queen was their opening act, and Freddy and his mates just may have nicked the idea for their groundbreaking "Bohemian Rhapsody" from Ian Hunter's five minute opera "Marionette" - which broke ground the previous year on a gem of a phonograph record entitled The Hoople (1974).
"That is possible, but I will never be sure how much they'd admit it" proclaims Mr. Fisher from his adopted home in Japan. He elaborates "after I formed my prog-rock band in '71, Brian May (Queen guitarist) used came to see us play numerous times at The Marquee Club in London - and you know Brian - doctor of astronomy and all that - he was probably studying us!"
Seek out "Marionette" on the music platform of your choice and be the judge - and I advise you listen closely to Morgan's piano artistry on both the live and studio renditions of the aforementioned track.
"Brian has said that he felt 'in the presence of something great, something highly evolved, close to the centre of the spirit of rock 'n' roll, something to breathe in and learn from.' I'm sure he and his band got something from touring with us, and listened very attentively to all our albums."
Forty years after Mott lit the bright lights on Broadway, Morgan will hold court in New York City at The Drom in the East Village on Monday, October 6, 2014 for an interactive performance aptly entitled Mott the Hoople & Me: Before, During, After.
Recalls Morgan "this seemed like the pinnacle of our "glam" era - a word I use with reluctance actually - it's really for Slade, Sweet, Marc Bolan, Roy Wood .... I think it must have been one hell of a show to watch, what with the puppets, mannequins, lighting, smoke, clowns and jugglers in the lobby, and the mad interplay between Ian and Ariel. And that new young band who opened for us - what was their name? Ah yes - Queen. They almost upstaged us on occasion - it was obvious they were about to become very, very big. It was actually quite a small theater but it felt majestic, stupendous at the time, and being ferried from the legendary Gramercy Park Hotel daily in a vintage white Cadillac limo was no small thing either! I just wish our manager had had the insight to film the show, dammit! There is a little footage shot by a fan and I will present some of it at my New York City show."
Though Ian Hunter and Mick Ralphs embarked on Rock 'n' Roll Hall Fame worthy careers after Mott's untimely demise, Morgan Fisher took the route less travelled. He followed his muse. Morgan immersed himself in the punk scene; he founded a record label and studio which recorded and released music that spanned punk to ambient; he helmed the keyboards for Queen on their 1982 European tour; he collaborated with Yoko Ono among many others; inspired by meditation and spirituality he migrated to Japan, where he now lives, to compose music for films, art videos, television, and "Light Painting" events; and he's an accomplished photographer with several acclaimed solo exhibitions to his credit.
There's more to New York City's rock 'n' roll history than The Brill Building, CBGB, and The Ed Sullivan Theatre. There was Mott the Hoople on Broadway. Just ask Morgan Fisher.
Calling all HuffPost superfans!
Sign up for membership to become a founding member and help shape HuffPost's next chapter