I have had the good fortune of staying at some seriously incredible hotels and resorts around the world, but this past weekend at The Pierre hotel in New York City takes the cake.

After my boyfriend and I spent all week in NYC seeing far too little of one another--he was working around the clock, and I was working and running around visiting old friends--we decided to indulge ourselves for our weekend in the city together before we headed back to the west coast.

So on a rainy Fall day, we were welcomed into the gorgeous Pierre lobby--replete with designer floral displays and an enormous glass vase full of chocolate truffles--by a row of kind greetings and smiles from the welcoming staff at the concierge and front desks. It was no time at all before we were checked in and personally escorted to our room--a space so indulgent for such a crowded city that the bathroom alone nearly eclipsed the size of my bedroom back home in San Francisco.

I was in heaven with the regal bedroom, plentiful closets (three!!), divinely comfortable bed, and towels so white and plush it was as though I had been transported to the beginning scenes of The Little Princess.

But it was the view that won me over. That view was something else.

We looked out at Central Park and the uptown cityscape, a perfect shock of green against that grey urban jungle. It was mesmerizing in that way that fire is--it was almost hard to look away.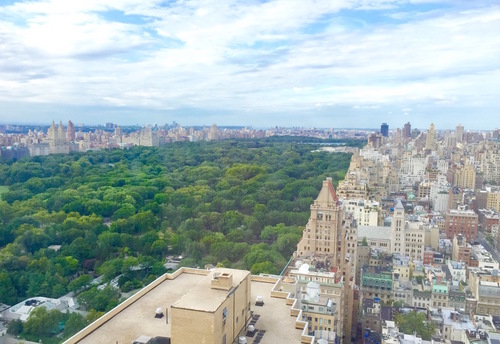 And have I mentioned the white-gloved elevator attendants? Or the house car--a beautiful new Jaguar--that was waiting for guests outside the lobby, ready to deliver us to wherever in the city our hearts desired? Or the IT man that showed up at my door at the first sign of my trouble with the Internet (trouble that was resolved before he even reached our room)?

And I haven't even started on the live music in the hotel's Two e Bar, or the tuna tartare at the hotel's Perrine restaurant. And frankly, the chocolate truffles in the lobby were so good they're almost worth mentioning again.

Typically, I see to it that my time in my beloved New York City is spent wandering the city streets, eating at my favorite restaurants, seeing shows, and discovering new bars.

But this past weekend, we got our Carnegie Deli matzah ball soup to go and had an afternoon picnic in our room, turned in early after dinner to crank up the music on our room's Bose sound system and soak in the twinkling city lights from the cozy comfort of our suite, and even slept in extra late thanks to our room's blackout curtains.

It is certainly not every day that you come home to find your charger cords wrapped up perfectly, slippers ready on either side of the bed, and toiletries arranged in an orderly fashion on the bathroom counter. This carefully curated service and attention to every last detail went far beyond my wildest expectations.

"Don't get used to this!" my boyfriend half-joked as we reluctantly rolled our luggage out the door on Sunday morning.

"Oh, I plan on getting used to it," I replied. It was going to be hard to adjust back to real life.
Later that night as we unpacked back at home in SF, it seemed he wasn't entirely ready to let go either, as we both pulled out Pierre slippers, and maybe a few chocolate truffles, too.
Alexis is on a mission to help people live their dream life, too -- check out her free Fall interview series, The Borrowed Wisdom World Summit. She's picking the brains of the world's top experts on how to manifest a life you love. Click here to register for free!