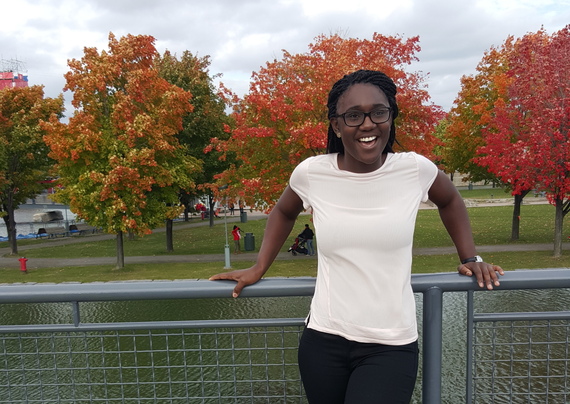 Seven is my lucky number. Seven was also the number of Black students in my 400-person graduating class in high school. I never found myself held back academically on account of my skin color. But it was difficult not to be keenly aware of the fact that the individuals sporting a complexion "closest" to mine were of Sicilian descent.
Beginning college as a chemistry major on the honors track, I once again found myself a minority, not only because of my mocha complexion in a sea of vanilla, but also due to my lack of testosterone. I made friends both in and out of the classroom, but as time passed, I felt like something was lacking in my social spheres. So I went in search of others more "like me."
As a first generation Ghanaian-American, I discovered a home in the Ghanaians at Cornell (G@C) community. I found people who cooked Jollof rice like my father and pronounced "HE-PO-PO-TAY-MUS" like my mother. Yet while I have been to Ghana on several occasions, the others in the organization were mostly international students whose upbringings differed immensely from my own.
I also ventured to the Black Students United (BSU), where I began attending sister circles and general body meetings about the status of interracial relationships and "selling out." Within BSU, I found a community of people who were born and raised in the U.S. like me and who shared many of the same experiences I had in high school.
As I navigated the two organizations, I discovered that much of the difficulty I was having with my own identity was due to the inherent separation between predominantly Black-American organizations -- such as BSU -- and predominantly African organizations -- such as G@C, the Nigerian Students Association, and the Coalition of Pan-African Scholars.
As someone who is Ghanaian-American and also Black, I recognize that these two groups are not mutually exclusive. In our increasingly global world, Black-Americans and Africans are seen externally as the same. Our hair and our skin color, regardless of our country of origin, draw us together as one. Many of the same adversities faced by one group are faced by the other.
Having never been in a situation where there were enough Blacks for divisions to form, I was caught off guard when I got to college. When we talk and read about being Black in America, absent from the conversation is the fact that we, as a people united by our complexion, are divided amongst ourselves.
We separate into team "light skin" and team "dark skin." We separate into Afro-Caribbeans, Africans, and Black Americans. We continually fragment our presence into smaller and smaller pieces.
I've found, for example, that very few people attending BSU events self-identify as African. Even if you ascribe to the notion that Black Americans are not African, the reverse is not true. One cannot deny that the majority of Africans are indeed Black. So why is it that so few Africans participate in Black Students United? Why is there no greater effort to truly unite?
As a co-host of my school's BSU radio station, I have attempted to change the narrative through open discussions about race and the adversities we face as a community. I have discussed cultural appropriation and what it means to be Black. I have used BSU Radio as a platform for discussion within the Black community, including "talking White," movements such as Black Lives Matter, and the struggles of being Black in a predominantly White institution, to name a few. I have interviewed Black professors and students to share their stories and experiences, hoping that these conversations serve to unite rather than divide. I challenge you, as readers, to reflect on your experiences in the Black organizations you are a part of and observe whether they perpetuate division or bring all our people together. As written in Mark 3:25, "If a house is divided against itself, that house cannot stand."
Calling all HuffPost superfans!
Sign up for membership to become a founding member and help shape HuffPost's next chapter