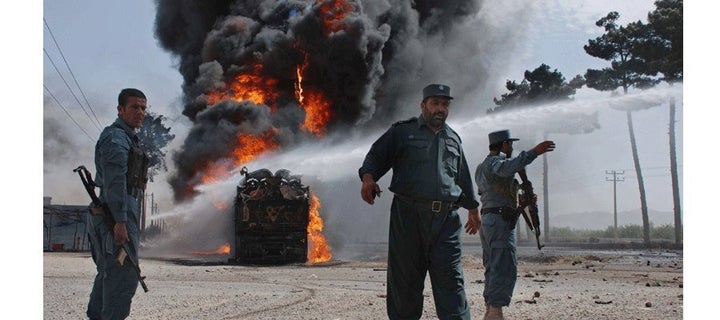 On July 1, 2010, there was a vote on the floor of the House of Representatives which, if you were a Democrat representing a Democratic district, was as revealing of who you are on issues of war and peace as a TSA porno-scanner. The McGovern-Obey-Jones amendment, among other things related to congressional oversight of the war in Afghanistan, would have required the president to establish a timetable for military withdrawal (by that time, president Obama had announced that troops would begin to be drawn down in the summer of 2011, but had said nothing about when withdrawal of US troops from Afghanistan might be complete.) Politically, for House Democrats, it was a vote of no-confidence in president Obama's then-policy of open-ended war.
While a future initiative may well take a different form due to changed circumstances, for Democrats, where people were on July 1 is likely to be a very strong indicator of what they might be willing to do in the future.
Only 9 Republicans voted yes. But 61% of House Democrats voted yes.
The vote on the McGovern amendment was an X-ray of House Democrats on the war because it was a clean policy vote. It was not tied to the renewal of unemployment compensation. It was not tied to funding of the military.
Moreover, there was no House Democratic leadership position on the vote: for Democrats it was, as they say in parliamentary democracies, a "free vote," a vote of conscience. House Speaker Pelosi, in a rare move (the speaker doesn't usually vote), voted yes. Steny Hoyer voted no. Barney Frank voted yes; Howard Berman voted no.
It could certainly be argued that if you were a Democratic incumbent in a Republican-leaning district facing a tough re-election fight, it was not a free vote in an electoral sense; there was a chance, perhaps, that your Republican opponent might accuse you of "not supporting the troops" because you supported a timetable for military withdrawal. Although this accusation would be intellectually silly, that doesn't mean it couldn't hurt you. (We all look forward to living in the world in which intellectually silly accusations can't hurt you politically, but, unfortunately, we are still far, far away.)
Even in a Republican-leaning district, the risk that voting yes would affect the outcome of your re-election bid was arguably small, since Afghanistan was not a salient issue in the election; but just like people don't generally get rich by giving money away, people don't generally get re-elected to Congress in competitive districts by taking political risks. A small risk here, a small risk there, pretty soon you're a former elected official, as Senator Dirksen might have said.
But if you were a Democrat representing a Democratic district, there was essentially no risk in taking a position in favor of a timetable for withdrawal, since that position was overwhelmingly popular among your constituents, since it was not a major issue in the campaign, and since your prospects of being defeated were in any case small. If you look at which Democratic incumbents were defeated in the recent election, overwhelmingly it was Democrats in Republican-leaning districts.
And that is why, although of course it makes a significant difference who controls the House, at the level of how individual members vote, the recent election didn't change that much in the House with respect to the war in Afghanistan. The typical Democratic incumbent who was defeated was a Blue Doggish Democrat representing a Republican-leaning district, not a McGovernish Democrat representing a Democratic district. While 61% of Democrats voted for McGovern on July 1, among the returning Democrats in the next Congress, 73% were pro-McGovern.
Of the 162 Representatives who voted for the McGovern-Obey-Jones amendment on July 1, 2010, 139 will be returning in the next Congress.
Of the 23 McGovern-Jones yes votes who are not returning, 4 of them are Democrats who will be replaced by Democrats and 2 of them are Republicans who will be replaced by Republicans. 13 McGovern Democrats were defeated in November by Republicans (Perriello, Hall, Dahlkemper, Grayson, Schauer, Wilson, Kagen, Shea-Porter, Kilroy, Hare, Oberstar, Maffei, Kanjorski.) Four McGovern Democrats retired and were replaced by Republicans (Berry, Stupak, Hodes, Obey.) So, of the 21 McGovern Democrats who are not returning, 17 were truly lost in the November election. Of the 13 who were defeated, 5 were from Democratic-leaning districts (Kanjorski, Maffei, Oberstar, Hare, Kilroy.)
The four McGovern Democrats who will be replaced by Democrats are ("PVI" below stands for "Partisan Voting Index," a measure of how Democratic the district is compared to the national average, using the spread between the presidential vote in the district and the nation):
- Diane Watson will be replaced by Karen Bass (California 33rd, PVI D+35.)
- Carolyn Kilpatrick will be replaced by Hansen Clarke (Michigan 13th, PVI D+31.)
- Patrick Kennedy will be replaced by David Cicilline (Rhode Island 1st, PVI D+13.)
- Bill Delahunt will be replaced by Bill Keating (Massachusetts 10th, PVI D+5.)
The two Jones Republicans who will be replaced by Republicans are:
- Vern Ehlers will be replaced by Justin Amash (Michigan 3rd, PVI R+6)
- Ginny Brown-Waite will be replaced by Rich Nugent (Florida 5th, PVI R+9)
In addition, there are three new Democrats who replaced Republicans in Democratic districts:
- Joseph Cao will be replaced by Cedric Richmond (Louisiana 2nd, PVI D+25)
- Charles Djou will be replaced by Colleen Hanabusa (Hawaii 1st, PVI D+11)
- Michael Castle will be replaced by John Carney (Delaware At-large PVI D+7)
So, if the above-mentioned seven new Democrats were to vote with McGovern, that would be a net loss of 14 McGovern votes as a result of Democrats being replaced by Republicans, and Republicans being replaced by Democrats.
In addition, three co-sponsors of the McGovern bill (same basic idea as the amendment) were not voting on July 1, 2010 (Conyers, Gutiérrez, Woolsey.)
In addition, two co-sponsors of the McGovern bill voted no on July 1, 2010 (Welch, Whitfield.)
In addition, Eddie Bernice Johnson and John Campbell voted for the (much stronger) Kucinich resolution earlier in the year.
So, there are an additional 7 people returning who did not vote yes on July 1 but did something else in 2010 indicating the same sentiment.
Thus, disregarding for the moment any changes on the Republican side as a result of new members or increased skepticism about the war from returning members of either party, the baseline for the most popular initiatives against the war in the new House is in the range of 139-155, not so different from the 162 of July 1. This baseline in the new House is about 60-70 seats shy of a majority.
Of course, ignoring potential changes on the Republican side is a big exclusion regarding what may actually happen, as polls show increased opposition to the war, including among Republicans; and the failure of the current military escalation, as reflected in the National Intelligence Estimates, think tank reports, and journalists' accounts, leads more Republican members to question the policy.
But the argument for focusing here on the Democratic side of the nation's congressional districts is that this is the arena where Americans opposed to wars have historically had the most potential influence. "Turn every stone" is correct, as always, but as a practical matter, the dynamics that would produce another Walter Jones (R+16) or Ron Paul (R+18) or Jason Chaffetz (R+26) are largely beyond the immediate geographic and political grasp of most war critics, who don't tend to live in those places or have much reach there. In a local organizing sense, the dynamics that produce possible skeptics like Rep. Mike Rogers (R+2), the incoming chair of the House Intelligence Committee ("It may be time to consider a smaller troop footprint") may also be beyond war critics' immediate grasp.
So, then: from an organizing point of view, what is the possible path to 218 votes in the House against the war?
This is a question that ought to inform organizing efforts over the course of the next two years, even though we don't yet know what the Obama administration is going to do when it has to decide what kind of drawdown to begin in July 2011 -- a "token" drawdown, as advocated by some in the military, or a "substantial" drawdown, as advocated by Vice-President Biden; certainly we have no way of knowing if withdrawal by 2014 will turn out to have been an "aspirational goal" (Pentagon) or when we will leave "come hell or high water" (Biden.) There are two key reasons why this question will remain important.
The first key reason this question will remain important is that political developments are fundamentally anticipatory. By the time President Obama took office, the fundamental parameters of the Iraqi drawdown were set by an agreement between the Iraqi government and the Bush Administration; nonetheless, the anticipated election of Obama was a fundamental cause of the agreement which preceded the realization of the anticipated event. The dynamics were unusually clear in this case, as Iraqi Prime Minister Maliki openly intervened in the U.S. election campaign (turnabout is fair play!) and publicly endorsed Obama's withdrawal plan. Seeing the handwriting on the wall, as it were, the Bush Administration, which had been stubbornly resisting the establishment of a timetable for withdrawal, threw in the towel. And of course the fact that "timetable for withdrawal" was Obama's position did not fall down from the sky; it was an outgrowth of the fact that "timetable for withdrawal" was the "Democratic position," something that was established by the electoral and other political struggles of 2006-8, including the Lamont campaign, Iraq summer, the Congressional battle over a timetable for withdrawal, and the Democratic presidential primary campaign.
So, in practice, the Afghanistan war almost surely won't last until we get 218 votes in the House against it, because Washington will anticipate. If 218 House votes against the war is the direction of movement, Washington will almost certainly move to end the war before we actually reach that point. By working to prepare 218 votes against the war, we create the situation where 218 votes will likely not actually be needed to end the war. In particular, we help create the situation where the Obama administration will move in the direction of ending the war when it decides on the July 2011 drawdown.
Furthermore, folks who are hoping to get elected to Congress in November 2012 are likely to be thinking seriously by early 2011 about their plans; and anyone who wants to have substantial influence over what kind of candidates appear on the ballot in November 2012 would be wise to begin recruiting and organizing now, if they have not already begun.
The second key reason that this question will remain important is that while from a policy point of view, ending the war in Afghanistan and preventing future wars -- with, say, Iran, just to take a far-fetched, hypothetical example -- are different issues, from the point of view of organizing in congressional districts, they are largely the same issue. Once the political battle is joined, the more-war and less-war people are largely the same folks on either side from war to war, regardless of where in the world the more-war and less-war are scheduled to take place, whether you're talking about voters, activists, groups, protesters, think tanks, analysts, newspaper columnists, or members of Congress. A Democratic member of Congress who voted for more war on July 1 when Speaker Pelosi was voting for less war is a Democratic member of Congress who is not likely to be a reliable ally, in the absence of some conversion experience, in 2013-4 if a President Palin or President Romney demands that the US go to war with Iran.
There is no reason to be fatalistic about the prospect of facing a President Palin or President Romney in 2013-4, nor about the prospect that either could successfully engineer a preparation for military confrontation with Iran. But, given recent history, a prudent person who wants to avoid more war would not discount the possibility, and would prepare for it. The neocons are working now to lay the political groundwork for a future war with Iran, demanding that the US adopt a policy of regime change, and working to block any plausible diplomatic agreement with Iran that would prevent a future war, just as neocons began to lay the groundwork for the 2003 war with Iraq with the Iraq Liberation Act in 1998. By the time millions marched against the impending war with Iraq in February 2003, it was arguably too late. As the neocons are beginning to prepare for this confrontation now, so too their opponents must prepare. The best way to win the confrontation is to prevent it from coming to pass, by creating and maintaining the conditions under which the neocons won't be able to prevail.
Therefore: given that we are currently about 60-70 votes short of a House majority against the (Afghanistan) war, what are the 60-70 congressional seats most likely to be converted to a vote against more war, either by persuasion of the current occupant, or by the replacement of current occupant by primary or general election, bearing in mind that credible efforts to accomplish the latter (replacement) are likely to be a mighty aid to accomplishing the former (persuasion)?
Excluding any of the districts mentioned earlier, here are the 51 most Democratic districts in the country (by descending PVI) currently represented by someone (or whose predecessor) who opposed requiring the president to establish a timetable for military withdrawal from Afghanistan on July 1. The columns are: State; District; partisan lean of the district, with Democratic lean being positive; who represented the district in the 111th Congress; their partisan affiliation; who will represent the district in the 112th Congress; their partisan affiliation.
And here are the 17 districts (by descending PVI) lost by Democrats in which the incumbent supported a timetable for withdrawal:
These are districts -- particularly the more Democratic ones -- which deserve special attention in the new year, both in the form of increased efforts at persuasion of the current occupant, and in the form of efforts to recruit and run a credible challenger in the spring and/or fall of 2012 who will vote for less war.
Related
Popular in the Community