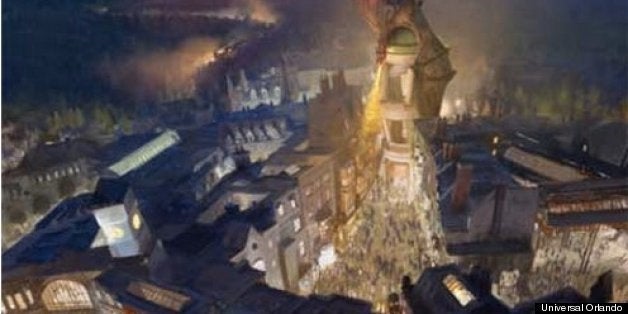 Ever since The Wizarding World of Harry Potter first opened at Universal's Islands of Adventure back in June of 2010, thousands of people have entered Hogsmeade and -- after spotting that stationary version of the Hogwarts Express (which was parked at the entrance of this theme park land as a photo op) -- exclaimed: "Oh, wouldn't it wonderful if we could climb aboard that train and actually go someplace like London or Diagon Alley."
Well, as you can see by this exclusive piece of concept art, starting in the Summer of 2014, that dream will finally become a reality. Building on the success of Hogsmeade, Hogwarts Castle and the award-winning "Harry Potter and the Forbidden Journey" attraction, Universal Orlando Resort and Warner Bros. Entertainment today announced an expansion of historic proportion with the addition of an entirely new themed environment, The Wizarding World of Harry Potter - Diagon Alley.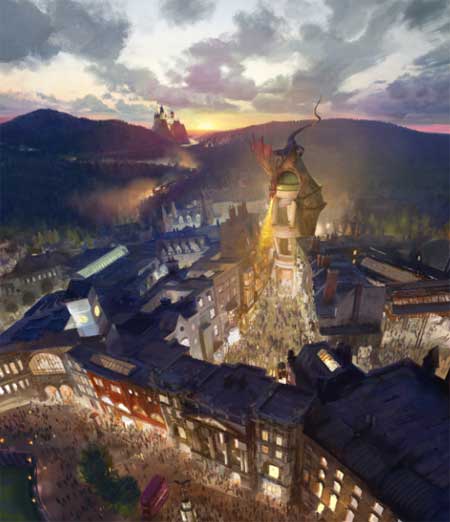 According to Mark Woodbury, president of Universal Creative (i.e. the division of Universal Parks & Resorts that develops rides, shows & attractions for their theme parks), it was only weeks after The Wizarding World of Harry Potter - Hogsmeade opened that Universal & Warner Bros. officials first began toying with the idea of bumping out the borders of this super-popular theme park land.
"Given the strong response that we got from our Guests as well as from Harry Potter fans, we knew that we had done something truly special in bringing to life this great body of fiction with such a high level of detail and authenticity," Woodbury explained. "But even so, we knew that there were other great Harry Potter-related tales to tell. That there were stories, characters and experiences that we just hadn't been able to fit into Hogsmeade & Hogwarts Castle."
"So we then began to wonder: Given that we had these two great theme parks sitting right next to each other, could we maybe turn that to our storytelling advantage?," Mark continued. "By placing Diagon Alley & London at Universal Studios Florida and Hogsmeade & Hogwarts at Islands of Adventure, could we maybe use the distance between these two theme parks as a way to echo the natural geographic separation that the readers find between Hogwarts & Diagon Alley in J.K. Rowling's own stories?"
Now you have to understand that no one has ever attempted to do something quite this bold & ambitious at an entertainment destination resort before. Taking a world-renown intellectual property like Harry Potter and then creating two separate lands set in different theme parks that are then connected by a transportation system. With all three of these elements then coming together to tell one single immersive story on an epic scale. But that's exactly what Universal Orlando & Warner Bros. Entertainment are planning on doing with Hogsmeade, Diagon Alley and the Hogwarts Express.
So was Woodbury and his team ever daunted by this challenge? More to the point, what did Ms. Rowling have to say when Universal Orlando & Warner Bros. Entertainment officials told her that they were planning on building the world's first centrally themed, multi-park experience around the characters that she'd created?
"Those meetings are fascinating and wonderful opportunities to have, to be able to talk and collaborate directly with J K Rowling and the Warner Bros. film-makers. This was a big idea. And everybody immediately saw that when we initially laid it all out. And the fact that we wanted to continue to tell the Harry Potter story, the places that we had chosen to develop -- Diagon Alley & London & Gringotts & Hogwarts Express -- were really big ideas and bold moves, I think that the ambition behind that was very much appreciated," Mark stated.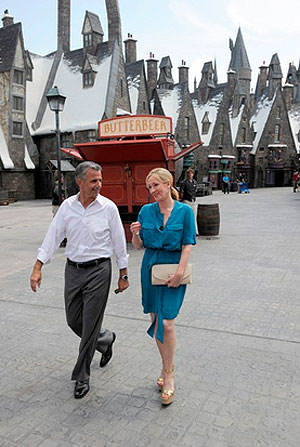 So with steel already rising up at the Diagon Alley construction site and tracks for the Hogwarts Express already being laid backstage at Universal Studios & Islands of Adventure, is Woodbury worried that -- what with The Wizarding World of Harry Potter - Hogsmeade now considered (by many in the themed entertainment business, anyway) to be the absolute gold standard when it comes to successfully translating an IP to a theme park setting -- that Guest expectations for this Potter expansion project might be hard to meet?
"As we went into this project, the folks at Universal Orlando & Warner Bros. Entertainment set the bar very high and we weren't about to compromise. We knew that London & Diagon Alley & the Hogwarts Express had to be equal to and better than Hogsmeade & Hogwarts Castle in every way and at every level. And that's exactly how we approached this expansion project right from the get-go," Mark said.
"Our goal here is to fully immerse people into the Harry Potter stories. So the architecture plays a big role in that. And starting with the London area, which is totally authentic and recreates & captures the essence of the iconographic parts of the fiction in that space, we went big," Woodbury continued. "And then we find our way into Diagon Alley in much the same way you do in the books and movies. And that's a totally different environment that gives Guests an even deeper immersion into the world of Harry Potter. And those buildings are big as well. Four and five stories-tall in some places."
And though Mark -- in addition to the rest of the team at Universal Orlando & Warner Bros. Entertainment -- are now being somewhat close-mouthed about which shops & restaurants Harry Potter fans can expect to find as they wander through the streets of Diagon Alley next year, Woodbury did admit that he had one specific aspect of this expansion project that he was most looking forward to seeing UOR Guests experience.
"After teasing people with that static version of the Hogwarts Express in Hogsmeade, we're now going to give them the opportunity to climb aboard that train and go on an actual journey. And we're not going to do the usual theme park thing, where you get on an attraction that promises to take you on a journey, but then when you exit your ride vehicle, you're actually back in the exact same spot where you began that ride," Mark enthused. "After people climb aboard the Hogwarts Express at Universal Orlando Resort next year, as they exit that train, they're going to find themselves in an entirely different environment, in a completely different place. Whether they've journeyed from London to Hogsmeade or visa versa. And we've made sure that even your train trip aboard the Hogwarts Express will be part of the ambitious immersive storytelling experience that we're trying to create for our Guests with this Potter expansion."
This is why -- for the past year or so -- Woodbury has gotten a kick out of going over to The Wizarding World of Harry Potter - Hogsmeade and then listening in as people talk out loud about how they wish they could climb aboard that stationary version of the Hogwarts Express and then go visit some other spot in the Pottersphere.
"When I hear Universal Orlando Guests say things like that, I just smile and think about how we're working on that right now," Mark concluded. "How focused we are on creating the next great place for Harry Potter fans to go visit."
Popular in the Community