In Harry Potter and the Sorcerer's Stone, J.K. Rowling describes the Leaky Cauldron as being this:
... grubby-looking pub. If Hagrid hadn't pointed it out, Harry wouldn't have noticed it was there. The people hurrying by didn't glance at it. Their eyes slid from the big book shop on one side to the record shop on the other as if they couldn't see the Leaky Cauldron at all. In fact, Harry had the most peculiar feeling that only he and Hagrid could see it.
Well, the folks at Universal Creative have certainly stayed true to Ms. Rowling's original vision for the Leaky Cauldron. For -- as I made my way into The Wizarding World of Harry Potter - Diagon Alley yesterday in a very special luncheon -- I damn near walked right by the entrance of the Leaky Cauldron.
"Which is completely understandable," said Ric Florell, Senior Vice President of Universal Orlando. "All we've got out in front of this restaurant to indicate that the Leaky Cauldron is actually here is a very simple sign. A witch standing around a cauldron."
But once Florell led me through the Leaky Cauldron's nondescript entrance just a few feet away, this Diagon Alley restaurant became this study in contrast. For while its hyper-detailed interior read as "popular pub and inn that was built back in the 15th century," just behind the Leaky Cauldron itself is a 21st century kitchen. Where -- thanks to digital technology -- your meal starts being prepared the very second the Universal team member who's working the register finishes taking your order.
"Here, we wanted a very different dining experience than guests get over in Hogsmeade Village at the Three Broomsticks. There, people order their food, it's then handed to them on a tray and they have to carry all that out into the restaurant by themselves as they're being led to their table," Ric explained. "Here, we wanted to marry the speed of quick service dining to the table service experience. So as soon as you're finished placing your order, you're handed a candle with a number on it. You're then led into the main dining area at the Leaky Cauldron to be seated. And it's that candle which helps the Universal team member who's actually got your food find your table and then deliver your order."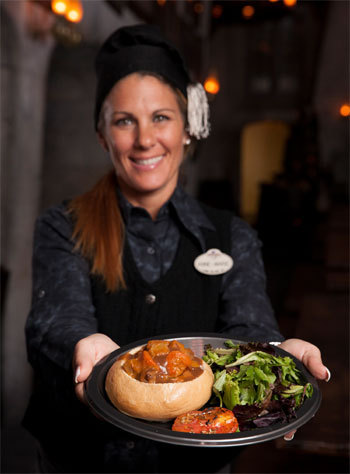 And what sort of food can you expect to find at the Leaky Cauldron? According to Steven Jayson, Vice President and Corporate Executive Chef for the Universal Orlando, it's genuinely authentic British pub fare with a healthful America twist.
"Take -- for example -- our Ploughman's Platter. In our effort to keep thing authentic as possible, this features three cheeses that we're having flown in from Britain as well as a traditional Scotch Egg. Which would probably be the richest part of this meal, given that it's a hard-boiled egg wrapped with sausage which is breaded & then fried. But in an effort to make our Ploughman Batter as healthful as possible, our Scotch Egg is flash fried. It's not in the deep fryer for very long plus the coating that we use on this item is kind of thin," Jayson explained. "We supplement that with a beautiful apple & beet salad, some Branston Pickle Relish plus a field green kind of salad and some roasted tomatoes. So you've got some lighter items in there alongside the authentic British pub fare. You've got some protein with the eggs & the cheese, some carbs with the peasant bread. So in the end, it's a balanced meal."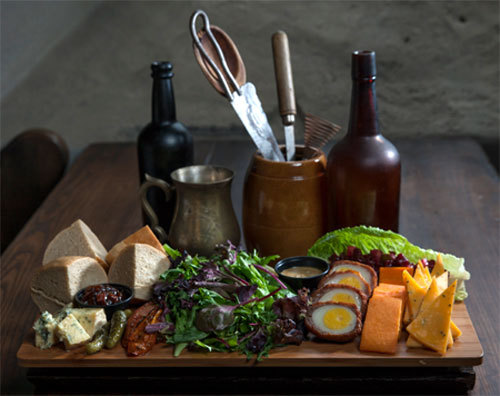 And Chef Steven and his culinary team did the exact same thing with the pies that'll be offered at the Leaky Cauldron. Understanding that Universal Orlando visitors -- especially during those brutal hot summer months -- wouldn't be looking for heavy meals, they actively looked for additional ways to lighten traditional pub fare.
"Take -- for example -- our Fisherman's Pie, which has three different types of fish in it. Some beautiful Scottish salmon, some of the fresh cod we have flown in every day from Alaska and some shrimp. It's topped off with a crust of potatoes and we have some peas mixed in with it," Jayson continued. "We then pair this dish up with a salad to kind of get that balance and then add a nice oven-roasted plum tomato."
Mind you, if you're visiting Diagon Alley between October and February when it does actually get kind of cool in Central Florida, then you may be looking for something a bit more hearty and substantial when you visit the Leaky Cauldron. Then you might want to consider trying some of the authentic British pub fare that's on the menu like Toad in a Hole or bangers and mash with minted peas. Or -- better yet -- a sampler plate that allows you to try miniature versions of both the Fisherman's Pie and the Cottage Pie.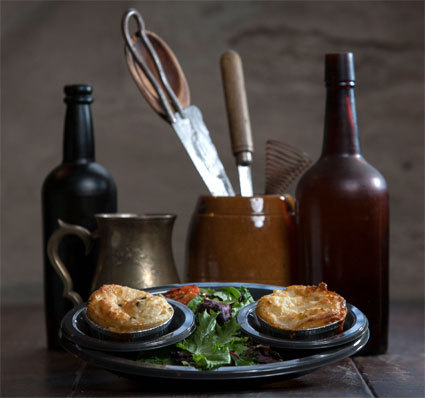 But -- of course -- since the Leaky Cauldron is a pub, there are all sorts of beverages to try.
"Now we knew that we were never going to be able to top Butterbeer. Which is still going to be served here at the Leaky Cauldron. So we thought that we'd try and create some other new beverages which would then take their inspirations directly from the 'Harry Potter' movies. So we have things on tap here like Peachtree Fizzing Tea, Tongue-tying Lemon Squash and Fishy Green Ale," Florell enthused.
Fishy Green Ale -- in particular -- may turn out to be the Leaky Cauldron's I-dare-you-to-drink-that break-out hit. Given that it's a mint-flavored beverage that you have to sip through a huge black straw. Since -- at the bottom of every glass -- there's a handful of faux fish eggs which are actually these small gelatin balls filled with this blueberry-flavored liquid. And as soon as you suck one of those faux fish eggs up that straw, it immediately bursts in your mouth. And the combination of the blueberry and the mint then gives Fishy Green Ale this refreshing, clean, crisp flavor.
As you might expect, the Leaky Cauldron does feature a few dessert offerings. These include a sticky toffee pudding which will be served warm with a scoop of ice cream on top as well as a chocolate potted cream with a bit of black cherry sauce that chocoholics are just going to die for. But if you're truly hankering for sweets, the one spot in Diagon Alley that you just have to visit is Florean Fortescue's Ice Cream Parlour. Which is right up the street from the Leaky Cauldron, just across the way from Gringotts Wizarding Bank (which is home to Diagon Alley's must-do thrill ride, Harry Potter and the Escape from Gringotts).
Now they were still putting the finishing touches on Florean's as Ric and Steven led me into this ice cream parlor yesterday afternoon. A painter was still working in the corner applying a butter creme-colored coat of paint to this shop's interior as we strode up to the counter and began sampling flavors. And as good as the clotted cream (which had this nice subtle citrus flavor. It kind of tasted like ice cream & sorbet had had a baby) and the Earl Grey- and lavender-flavored ice creams were, there was one flavor that Florell and Chef Jayson insisted that I had to taste.
And -- no -- it wasn't the chocolate- and chili-flavored ice cream that Florean Fortescue's offers. This mystery flavor arrives in soft serve form. So I took a bite ... and then my eyes bugged out.
"No," I exclaimed. "You didn't ..."
"Yes, we did," both Ric & Chef Steven beamed.
"You guys actually invented Butterbeer-flavored ice cream?" I said as I went for another spoonful. "Oh my God. It's like someone invented a new flavor of crack."
So let me make a quick prediction here. When The Wizarding World of Harry Potter - Diagon Alley opens later this summer, the longest lines in the places won't be for "Harry Potter and the Escape from Gringotts," the Hogwarts Express or for even the Leaky Cauldron. No, the place where people will be standing in lines that will probably reach all the way over to another Central Florida destination resort where a certain Mouse-Who-Shall-Not-Be-Named hangs out will be Florean Fortescue's Ice Cream Parlour. Just so these Universal Orlando visitors can then get their hands on Butterbeer-flavored ice cream.
Popular in the Community