If there's one thing the usual gang of idiots is even remotely okay at, it's mildly humorous political satire. With John Boehner ruining the country one weepy tear at a time, MAD Magazine saw fit to immortalize him in a portrait that's much more honest than most other portraits of the Speaker of the House.
John Ficarra, Executive Editor of MAD Magazine noted, "Boehner crying was the most disturbing thing I've ever seen on 60 Minutes ­with the exception, of course, of Andy Rooney."
Perhaps the biggest problem with Boehner is that he'll cry because of the hapless corporations being picked on, but won't cry about all the children he wants to strip health care from. My hope is that gently poking fun of him will get him to see the error of his ways. You know... Since talking rationally and using logic and reason doesn't seem to work...
Anyway, without further ado:
John Boehner: Weeper of the House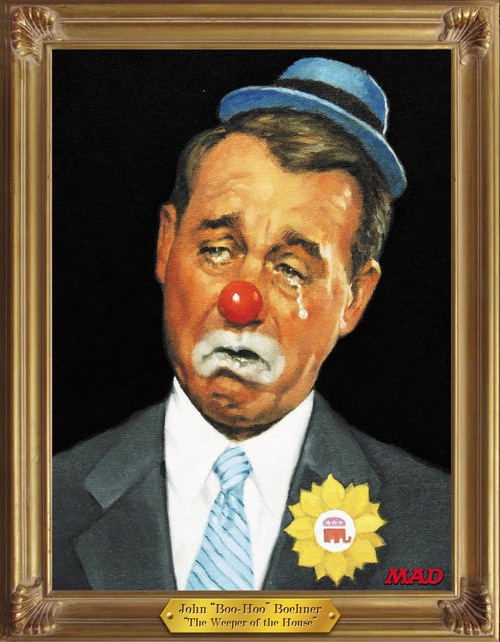 The issue of MAD featuring this portrait hits newsstands and subscribers this week.
Bryan Young is the editor of the geek news and review site Big Shiny Robot!

REAL LIFE. REAL NEWS. REAL VOICES.
Help us tell more of the stories that matter from voices that too often remain unheard.