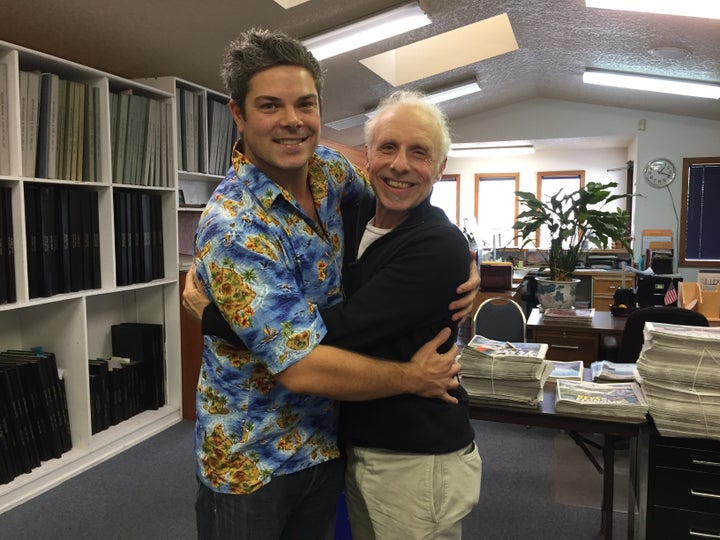 SEASIDE, OR — Where do you start, with the tsunami or with the cuddling?
Seaside native Cameron McKirdy is dedicated to the welfare of his fellow human beings. He's the founder of a quirky survival website. Now he's cuddling strangers. My thought is that he wisely realizes after a catastrophe we're going to need all the emotional support we can get.
McKirdy, 32, lives in his Chevy G20 Van — something you can observe on YouTube, where the "vandwelling experience" is one of 281 videos on his channel. He's so successful at drawing web traffic that YouTube sends him checks.
"YouTube is where it's at," McKirdy said. "I have about 6,000 YouTube subscribers on the Survival Bros. channel. It's not really anything to brag about right now, but it should be a source of income in the future."
McKirdy's creative roots began in Seaside. As an eighth-grader at Broadway Middle School, McKirdy and classmate Kevin Irish co-wrote a column, "Shark Bytes," for the Seaside Signal. His father Kelly McKirdy taught history in the Seaside School District and mom Brooke worked for the hospital and as a wedding coordinator. Younger brother Andrew works for an adventure travel company in Seattle and still teams with Cam on special projects, like hot-dog eating contests. The McKirdy brothers were the only siblings on Major League Eating's "Top 50 gurgitators rankings."
"My parents think it's pretty crazy," he said. "Everybody wants me to jump back in line in society and get a job."
Along with survival and prepping tips, McKirdy's Survival Bros. YouTube channel offers advice on how to get free dog food for your pet or locate treasures at the Goodwill store — a technique he calls "extreme thrifting." In one video, he noshes on 26 sample items at Costco.
If you're tired of standard cable fare, consider McKirdy's "Trying fresh elk jerky meat at the beach in Seaside, Oregon," "Using Altoids survival tins for emergency preparedness" and "Breaking car windows with the Gerber LMF II-Knife."
"I'm trying to help people get prepared," McKirdy said.
Saving people is all in the preparation, he said. "Tsunami preparation and awareness now — that's how we can save people when it happens."
McKirdy considers the 2011 Japanese tsunami a precursor of what could happen here. "We've only got a couple days to get it together," McKirdy said. "Then people will be charging $50 for a gallon of water and trading and bartering and wheeling and dealing. If you don't get prepared, then it's going to be hell."
McKirdy offers tips on building tarp shelters and using UV-light purifiers to provide potable drinking water. "It takes 90 seconds to purify it with a wand," he said. "I even have a hand-crank UV-light purifier."
The single most important item in an environmental catastrophe, McKirdy said, is a stainless-steel water bottle for holding water and cooking. "Stainless steel is top on the list."
If the ground started to shake "right this minute," he said, his bug-out bike is ready to roll. "I'd be going straight up 12th. Hit the road and take off."
There's another side to McKirdy as "Cam the Cuddler," who may be found offering hugs on the Prom for a suggested $5 gratuity. His cuddling career took a giant step when he earned "certified cuddler" accreditation at the world-renowned Cuddle Up to Me in Portland. He's been cuddling for the last year.
"I'm trying to get my face out there," McKirdy said. "The cuddling is paying a little bit of the bills. I like it. It's a blast."
McKirdy works for Samantha Hess, founder of Cuddle Up to Me. He's the only male in the house, offering, according to the website, "a kind and gentle soul with an open ear and an embrace that will melt your troubles away. Your session will surely cure what ails you."
Here is an interesting hook: You can play video games while cuddling with Cameron.
"We do free consultations first, and we make sure they know there's nothing sexual about it," he said. "I want everyone to know they are appreciated, and worthy of touch."
McKirdy called the experience "touch positive." Among his clients are introverts, extroverts, people with disabilities and health care professionals, he said. "You really have to tailor a cuddling session based on the individual," he said.
"I did overnight cuddling with a lady who was in an abusive relationship," McKirdy said. "I helped her start dating again after two years. There are others who haven't been touched by a man for over 25 years. I get them used to that concept again and they know I'm a safe person."
Clients become members of his "chosen family." Cost is $1 a minute.
Considering the crazy, insecure and perilous world in which we live, McKirdy aka Cam the Cuddler may be on the right track. He has his eye on Mother Nature and an embrace for his fellow man.
There could be a day when we need all those hugs. And the hand-cranked water purifiers could come in handy, too.
Support HuffPost
The Stakes Have Never Been Higher
Related
Popular in the Community