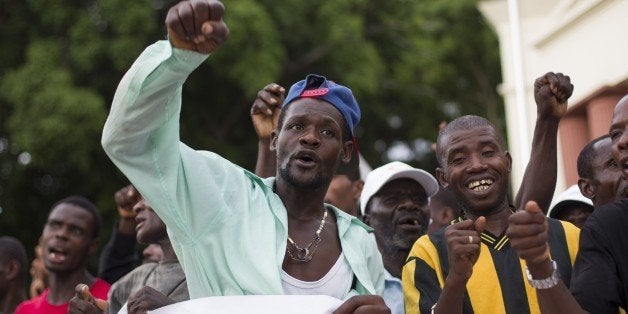 Co-authored by Hanglet Tejeda, Executive Director of CEFASA
Two thousand and fifteen has been the year of the refugee and migrant crisis. Tens of thousands of North Africans are attempting to cross the Mediterranean. Syrians seek asylum in neighboring countries, in the European Union, and over six million are internally displaced. In Southeast Asia, tens of thousands of Rohingya Muslims have fled Burma. As the media and international institutions focused on these stories, the island of Hispaniola quietly tumbled toward its own government-made migration crisis and human rights disaster. As of Thursday, June 18th, we have arrived: the Dominican Republic's plans to register hundreds of thousands of Dominicans of Haitian descent and Haitian migrants have failed, and the government and military are on the verge of arresting and deporting hundreds of thousands of the Dominican Republic's own citizens.

The Dominican Republic and Haiti share the island Hispaniola, and since the early 20th century Haitians have gone to the Dominican Republic--sometimes forced by the countries' mid-20th century dictators to cut sugar cane--to find work. Many Haitians stayed permanently in their neighbor country, having children and grandchildren who, according to the Dominican constitution's application of jus soli before 2010, were Dominican citizens. But over the past decade, a series of legal changes has challenged and eventually revoked the citizenship of over 200,000 of these Dominicans of Haitian descent. In a September 2013 ruling, the Dominican Republic's Constitutional Tribunal denationalized this entire group of Dominicans. After the legal decision, Dominican and international outrage and activism pressured the government to create a process by which denationalized Dominicans could register as foreigners for two years and then reapply for citizenship. The process also allows Haitian migrants living in the country to apply for legal residency. However, after these plans' June 17th deadline, the law states and Dominican leaders assert that those who do not register will be deported, regardless of where they were born.

Our experiences working with Dominicans of Haitian descent demonstrate how the lack accountability for military and police undermine the government's naturalization process, and how lack of due process puts many Dominicans who should be legally protected from deportation at risk of being expelled from their birth country. In February, Wilson Sentimo, a young Dominican man who works for Yspaniola, an education nonprofit, was arrested, extorted, and deported despite having a Dominican birth certificate and having never been to Haiti. He returned only with the help of local and international institutions. During a military raid in Wilson's community the week following his deportation, soldiers held up a young Dominican man of Haitian descent at gunpoint. When he showed his papers, the soldiers insisted, "You're Haitian even if you have a cédula [Dominican identity card]." In these cases, the arrests were made because the young men were of Haitian descent, and "looked Haitian," or were darker than what the arresting officers considered Dominican skin color. On January 27th, the military deported 51 people, including 30 Dominican-born children who were on their way to register in the naturalization process in San Juan de la Maguana. They returned only after intervention by international institutions and the Dominican Minister of the Interior. These abuses flout Dominican and international law and illustrate why the naturalization process, whose initial registration period closed on February 1st, only registered 8,755 of likely over 100,000 qualified Dominicans. Those Dominicans who were unable to register due to the high cost and the risk of military and police abuse during travel will be vulnerable to deportation starting on Thursday.

President Danilo Medina and moderate politicians have made it clear they do not want a human rights crisis this summer. Over the past month, however, government officials in charge of the plans said that the Dominican government will deport between 200,000 and 300,000 people starting this week. To avoid uncountable human rights violations such as illegal arrests, extortions, and deportations, Dominican and international activists, diplomats, and the public must pressure the Dominican government to hold accountable its armed forces, which acts with impunity and little oversight. The government must also be pressured to create a system to process potential migrants that upholds national and international standards for due process; otherwise, in the next few months there could be widespread deportations of Dominicans from their birth country.

This impending crisis also distracts Dominicans from the concrete steps necessary to include their country's most marginalized citizens in Dominican society. When civil society organizations scramble to protect their constituents from abuses, they cannot focus on long-term problem solving. After the Constitutional Tribunal's ruling, there was a moving show of solidarity when Dominicans and the diaspora mobilized to protect their fellow countrymen from an arbitrary and unjust decision, but this energy has waned. Extremists' rhetoric and actions--including lynching a young Haitian man in Santiago--have incited international commentators to make blanket condemnations of the Dominican Republic as a racist country, frustrating and alienating many Dominicans who care deeply for their country, their fellow citizens, and that the migrants who live and work among them are treated fairly.

There are clear, long-term solutions to include Dominicans of Haitian descent in Dominican society, including improving the education system and rule of law, ensuring that access to education is not denied, and ultimately reforming documentation issuance to be fair and non-discriminatory. Until Dominicans, the Dominican diaspora, and the international community can focus on how to empower marginalized communities to advocate for these changes, Dominicans of Haitian descent will continue to be marginalized and denied rights like education, due process, and citizenship. They will live knowing that at any moment, like Wilson Sentimo they can be arrested, extorted, and deported from the country where they were born.
Popular in the Community