"There are no humanitarian solutions to humanitarian problems," as Sadako Ogata, former United Nations High Commissioner for Refugees, famously stated.
This is clearly true of the Syrian crisis, where four years of relentless and bloody war has left 7.6 million people internally displaced and caused over 4 million to flee as refugees, the vast majority of whom are currently being hosted not by European nations but by the surrounding countries of Turkey, Lebanon, Jordan, and Iraq. No amount of humanitarian aid will fix the underlying war in Syria -- only an international political solution can truly stop the crisis.
Even so, humanitarian aid remains a vital component of the response to the crisis in Syria, albeit one that has been buried in the endless discussion of military tactics in the Middle East and political maneuvering within Europe.
While the Syrian crisis may be in the news this month due to the large influx of refugees currently arriving in Europe, it's important to remember that international and local humanitarian organizations, working alongside host nations such as Turkey, Lebanon, Jordan and Iraq, have been struggling for years to address the basic human needs of those affected by the conflict in Syria, and will continue to do so long after the current crisis fades from the headlines. While no amount of humanitarian aid will solve the underlying conflict in Syria, a sustained, coordinated, and appropriately funded humanitarian response in the region will certainly reduce the flow of refugees to Europe. More importantly, it will prevent millions from going hungry and getting sick, saving many thousands of lives.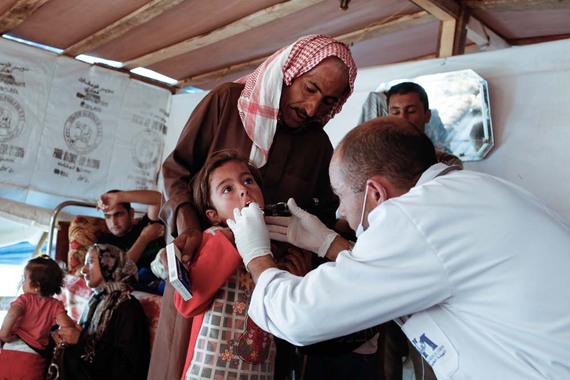 More than just a Band-Aid, appropriate humanitarian intervention can function as a tourniquet to stop the hemorrhage caused by ongoing conflict while waiting for a long-term political solution to develop. Though humanitarian intervention has not prevented the deaths of the 200,000 Syrians killed in the conflict so far, it has prevented the secondary deaths of thousands, if not millions, of others that would surely have occurred due to the breakdown in health, agriculture and sanitation systems within the region. Indeed, we know from prior conflicts in places like the Democratic Republic of Congo that these secondary deaths can often dwarf the number of deaths that occur as a direct result of violence.
Quietly and without great fanfare, numerous humanitarian organizations have been providing assistance to Syrians both inside and outside of the country since the conflict began in 2011. For International Medical Corps, a US-based humanitarian organization that I have worked with for many years, this has included sustained intervention in the neighboring countries where displaced Syrians reside as well as an expanded response to meet the escalating needs of refugees in the Mediterranean and Europe. In Syria itself, the organization has continued to operate out of its office in Damascus despite increasing instability, providing as much health, psychosocial, and water, sanitation and hygiene support as they safely can to civilians affected by conflict.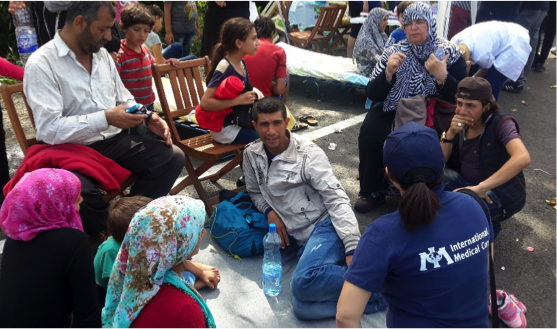 In Lebanon, where a quarter of the nation's population is now made up of Syrian refugees, International Medical Corps is supporting a network of primary health care centers to expand access to health services, while also working with local groups to provide mental health and psychosocial support services to refugees and vulnerable Lebanese communities. In Jordan, International Medical Corps has been providing primary health care and protection services to camp and urban-based refugees, and in Turkey, it operates multi-service support centers where refugees can access a range of services -- from health subsidies and essential goods vouchers, to social and legal consultations.
However, the humanitarian response in Syria is now suffering from a serious case of donor fatigue. So far this year, the United Nations has received only 37% of its $4.5 billion appeal for aid in Syria, a shortfall that has significant repercussions on the ability of both United Nation agencies and other humanitarian organizations that they fund to provide adequate food, shelter, and healthcare for Syrians displaced by the conflict. The United Nation High Commission for Refugees, for instance, has received only 41% of its necessary budget for Syrian refugees in Turkey, Jordan, Lebanon, Egypt and Iraq. Meanwhile, the World Food Program is facing a 63% budget shortfall, leading to cuts in food aid to Syrian refugees by half or more, while the World Health Organization has only received 27% of needed funds for Syria.
These cuts in humanitarian aid mean more refugees fleeing Syria and surrounding countries for European shores, not just to escape the direct threat of bullets and bombs but also the equally deadly threats of hunger and disease.
Though the humanitarian response to the conflict in Syria has not garnered nearly as much attention as the humanitarian response to the Ebola epidemic in West Africa did this past year, it has consumed a far larger portion of the budget of most humanitarian organizations. Though their faces have not (yet) graced the cover of Time magazine, thousands of aid workers inside and outside of Syria have been risking their lives to provide for the basic human needs of those affected by the crisis. These courageous individuals and the organizations they represent deserve both our respect and our continued and sustained financial support.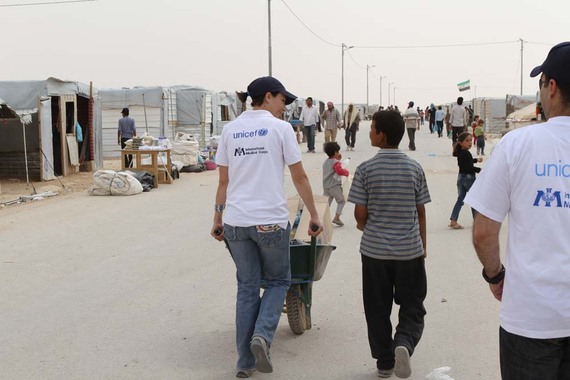 Adam Levine is an Assistant Professor of Emergency Medicine at the Warren Alpert Medical School of Brown University. He currently serves as Director of the Global Emergency Medicine Fellowship at Brown University and Primary Investigator for the International Medical Corps Ebola Research Team. His research focuses on improving the delivery of acute care in resource-limited settings and during humanitarian emergencies.