Where do you go for rejuvenation? Perhaps to a beach somewhere with a good book to read or a stroll along winding backstreets of Paris? Next year, consider something cooler, literally. You might be able to join the 50 or so people that will, in the dead of winter, bicycle or ski their way from Knik, Alaska to McGrath, a distance of some 350 miles.
The Alaska Ultrasport Iditarod Invitational is a human-powered race along the Iditarod Trail, the same route as Alaska's famed 1,000-mile sled dog race. The race offers two options: to ski or bike (or run) for 350 miles to the village of McGrath or to continue on to Nome to complete the entire 1,000-mile route. To walk or bike anywhere for a thousand miles might sound formidable enough, but in potential negative-degree temperatures and unpredictable ice and snow conditions, the Iditarod Invitational is the world's longest and most remote ultra race in the world.
I live along the Iditarod Trail at Mile 198, as locations tend to be identified in roadless and address-less places. I live at the head of an ancient broad valley to the east, a patchwork of rivers frozen into icy stillness in the winter. To the west is the Alaska Range that rises abruptly in elevation and leads travelers through dramatic passes and steep trail edges. Our nearest neighbors are miles away and the nearest automobile is hundreds of miles from here. In that context, it's always remarkable to see someone walking up and knocking on my kitchen door.
My lodge is a checkpoint for the race, making it a place to stop, eat and rest. Racers spend much of their time sifting through and organizing the small bags of survival gear they carry. My long 10-person kitchen table turns into a jumble of snacks, bandages, instant hand heaters and other paraphernalia of the race as people sort through their gear to lighten any extra load. I set a big basket in the center of the table where racers leave supplies another racer might find useful. Racers examine toes and fingers closely, looking for any signs of frostbite. There is always plenty of discussion about boots and socks and newly designed gear. Survival concerns are real, and it is all about staying warm.
Alaska Ultra Sport, a company owned and operated by Bill and Kathi Merchant, qualifies entrants into the race. For those who don't have winter race experience, the Merchants offer a five-day winter snow-biking and camping school as a primer into the world of extreme winter sport biking and camping. Staying organized in extreme weather conditions seems to be a key tenant to success.
The race attracts participants from all over the world. There are usually a few Italians and Germans representing, and there have been racers from as far away as Australia. Next year, our friend Guy Jennings from South Africa will participate. One year, racer Yaer Kellner sent me a cookbook on wild Austrailan cuisine when he returned to Melbourne because he knew I liked to cook. We're all a band of brothers and sisters of sorts, sharing a kind of experience not easy to find in a more civilized landscape.
Why do people put themselves so close to natural elements and push themselves to physical extremes? There are plenty of studies about the adrenaline response in adventure athletes and the euphoria all that brings, but from my perspective, there are things to see, people to meet and potentially life-altering experiences that just can't be accessed in any other way but to bike or ski or walk along a trail in the backcountry of Alaska in the dead of winter. When I read through racer recounts of their experiences of previous races, one thing consistently came through: the emotion of being there, and, I suppose, a heightened sense of being alive.
What's the reward for winning or finishing the race? It's respect and pride. The 2012 Iditarod Invitational Race is underway now in Alaska. Go to the website www.alaskaultrasport.com and click on to the Iditarod Invitational link to learn more about the race, to follow this year's racers and to sign up for next year.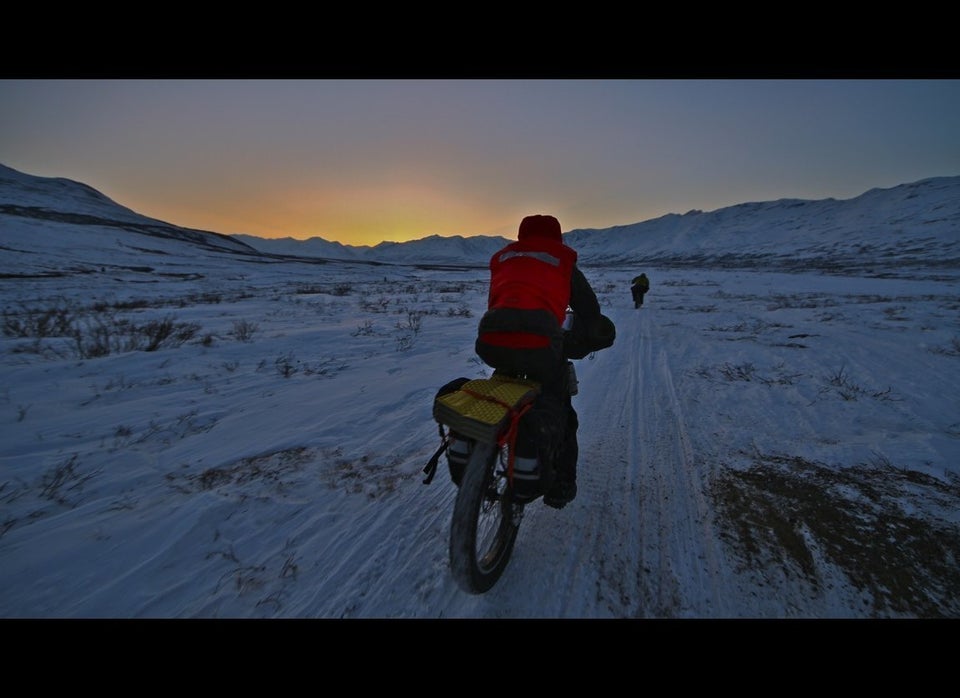 A Human-powered Race Through Alaska