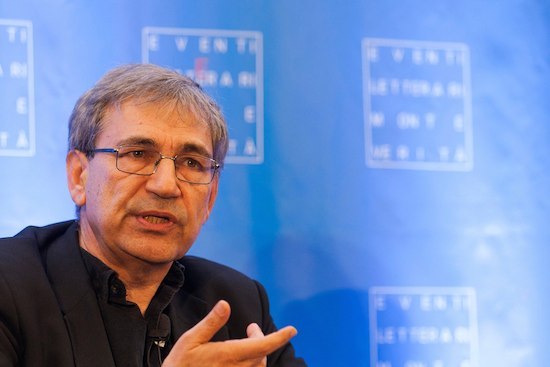 Opening the third Eventi Letterari Monte Verità in Ascona, Switzerland, Turkish author and Nobel prize laureate Orhan Pamuk held a reading from his acclaimed book The Museum of Innocence, after discussing topics like the importance of the notion of "memory" in his work. This year's festival deals with the theme of "Utopia and Memory", and in a relaxed talk with artistic director Joachim Sartorius, Pamuk allowed the audience an insight into his thinking and his way of working. Sartorius stated that he believes Pamuk to be the hardest working author he knows, though Pamuk replied that he does not considers his writing as working, "unless my editor asks me to add paragraphs and commas in my books, or to shorten them, because they think my novel is too long, again," which made the audience laugh.
During the spellbinding evening, Pamuk mentioned that he does not really believe in utopias in general, and said that humanity has created "a hundred tons of memory," but only one hundred grams of utopia. He then talked about various inspirations from building bridges based on Charles Darwin's theory of "memory for survival," to Marcel Proust and the involuntary memory he evidenced in his work. Incidentally, his novel The Museum of Innocence is inspired by the Bagatti Valsecchi Museum in Milan, and in its guestbook Pamuk has written, "I love this house, the idea and the imagination that hide behind these walls."
Imagination is such a forgotten art in the age of Instagram, Twitter and everything else that allows us to share all about our lives, without any thought or care.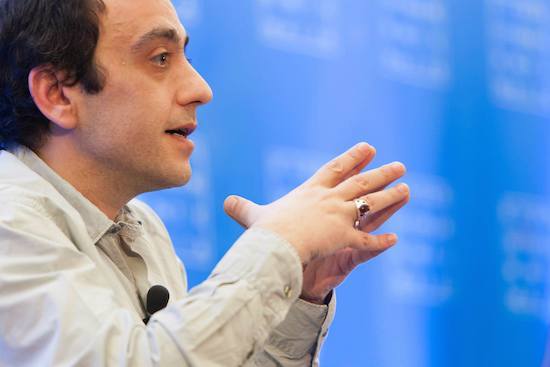 Artistic director Sartorius had stated in an earlier piece published here that he aims to create "a kind of republic of related minds akin to each other" for the festival. Friday, the second day of the Eventi Letterari, saw a reading by famed French author Jérôme Ferrari, who won the Prix Goncourt in 2012. He read from his new novel Le Principe, published this year, about physicist Werner Heisenberg -- a pioneer in quantum mechanics as well as a key figure in the development of the atomic bomb. Quantum field theory, physics and literature are combined in the work of Ferrari, who lives in Paris and works as a translator and philosophy scholar in Abu Dhabi as well.
Also on Friday night, famed German choreographer Sasha Waltz danced a unique piece, accompanied by American percussionist Robyn Schulkowsky, in the small Bauhaus Teatro San Materno in Ascona. Inspired by the dance history of Monte Verità, which dates back more than one hundred years, Waltz developed a piece just for this space, and then discussed her own views on contemporary dance. Approximately 100 people could fit in the tiny but legendary theatre, and everyone attending felt the uniqueness of the moment, amazed to be so privileged in being a part of this extraordinary performance.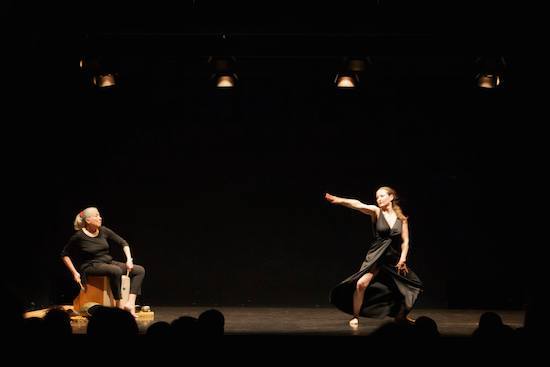 The festival continues through the weekend and will feature readings by bestselling Italian author Paolo Giordano, award winning German writer Terézia Mora, legendary Swiss writer Thomas Hürlimann and Belgian writer, director, photographer and artist Jean-Philippe Toussaint. Toussaint's artwork has been featured in the Louvre in Paris and he is also known for his key work "la mélancolie de Zidane" a lyrical essay on the headbutt administered by the French football player Zinedine Zidane.
Eventi Letterari Monte Verità comes to an end on Sunday with a concert by Swiss experimental musician Nik Bärtsch and his band Ronin. Nik Bärtsch will also speak about the complex interactions of rememberance and music as heterotopia, a paradoxical essence that holds coherent structure and unleashes moments in itself.
But ultimately, the most important effect of Eventi Letterari, the wondrous concept this meet-up of extraordinary minds will have created, is a new foundation on which to build more beautiful, artistic memories.
With a world of chaos and tragedy surrounding us, that's a fresh breath of great news for this optimistic, albeit presently outnumbered writer.
All images courtesy of Eventi Letterari Monte Verità, used with permission.
Calling all HuffPost superfans!
Sign up for membership to become a founding member and help shape HuffPost's next chapter