A lot of inspirational stories have come forth in the aftermath of Hurricane Sandy -- stories of heroic rescues and random acts of kindness. But the tale of one New Jersey man named Mike is the most miraculous story of survival we've heard yet.
According to theFW.com, Christine, a homeowner in Toms River, New Jersey, who had evacuated her house before Hurricane Sandy hit, found a mysterious note upon returning. The letter was hastily scrawled by a person who had broken into her house and taken a blanket and a black jacket to keep hypothermia at bay. The author of the note was sure he was dying.
He identified himself as a 28-year-old named Mike and left contact information so that the homeowner could contact his father and tell him he had died.
Who ever reads this I'm DIEING – I'm 28 yrs old my name is Mike. I had to break in to your house. I took blankets off the couch. I have hypothermia. I didn't take any thing. A wave thru me our of my house down the block. I don't think I'm going to make it. The water outside is 10ft deep at least. There's no res[c]ue. Tell my dad I love him and I tryed get[t]ing out. His number is ###-###-#### his name is Tony. I hope u can read this I'm in the dark. I took a black jacket too. Goodbye. God all mighty help me.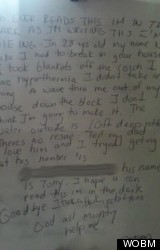 The heartbreaking last words of a Hurricane Sandy victim made its rounds on social media sites like Facebook and Twitter before falling into the hands of a local radio station host. Justin Louis of WOBM decided to call the number listed in the note. On his second attempt Louie was able to connect with Tony, and when Louis mentioned the note, Tony gave him some miraculous news.
"Yeah, that's my son Mike, he's here. Would you like to talk to him?" Tony asked the shocked radio host. Mike had survived his incredible battle against Hurricane Sandy.
In an interview with WOBM, Mike told listeners the harrowing story of how he was swept out to sea and eventually came to write what he believed were his last words.
"I was in water for like four hours. My kitchen went, and I thought the whole house was gonna go, so I walked out the front door, and the current took me all the way into the bay, like maybe a half a mile into the bay," Mike says in the interview. "You know, I opened up the door, to see what the big noise was, and all I saw was the bay. There was nothing there. And I got so freaked out. As soon as I opened up the door, the water rose five feet within three minutes."
Mike was in Green Island -- Toms River's northern-most waterfront community -- when the storm hit and he was swept out to Silver Bay. He tried to swim back to an unflooded house, but the current was too strong and the waves were piling over his head, reports New Jersey radio station 101.5
"Then there was a lady's house, like five or six houses over from me, and I had no clothes on at the time, so I just went in their house, I just had one piece of clothing on me," he continued in the interview. "So I just went in their house, trying to find anything I can. She had towels on the couch. I just wrapped my body with the towels. Anything. I was so thirsty because I drank so much salt water. I didn't think I was gonna make it. I called my father right before all this happened, and I said, 'I ain't gonna make it. Let me please live life.' You know, I was so emotional, I was telling him right over the phone."
Mike spent two hours in the empty house, after swimming in the stormy bay for what he believes to be at least five hours straight.
Then, Mike says he was picked up by an unidentified man named Frank on a waveruner who took him to his house in Bergen County and gave him clothes, shelter, and helped to warm him up, reports Sojo 104.9 radio station.
From there Mike was able to contact a friend on Kettle Creek who picked him up, and eventually Mike's father was able to get to him.
When radio host Louis asked Mike what he thought about his note being posted on the Internet, Mike replied, "Yeah! Yeah, you know, I just wanted to have that note to tell my father, I tried. You know, I wasn't a baby about it. I tried, I did my thing."
"To be honest with you, I'm afraid of the dark now," he added. "I was in the dark for so long with at least 15 to 20 foot waves that with the bay crashing over me. I couldn't even breathe."
Read the full transcript of the interview at WOBM
Related
Before You Go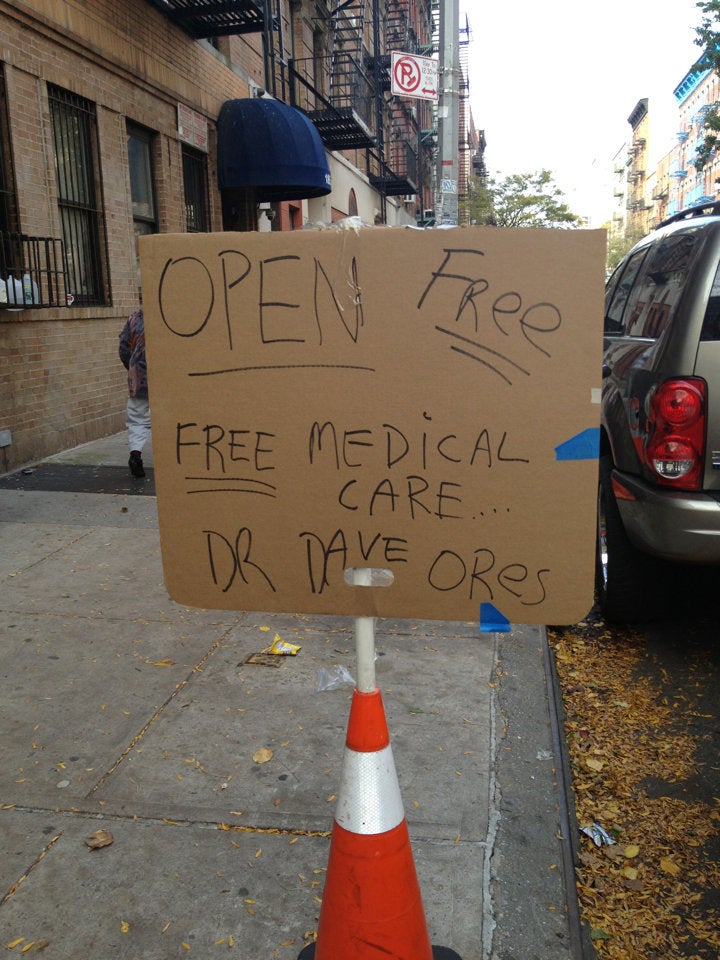 Hurricane Sandy Random Acts of Kindness
Popular in the Community