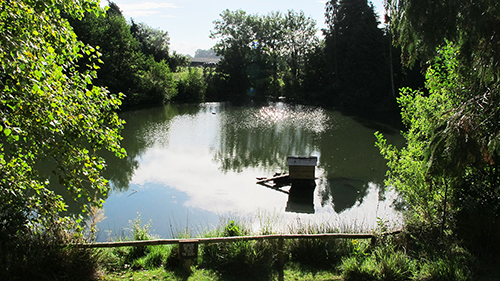 We arrived in the rain. As the taxi took us down a winding country road, the taxi driver said 'I'm from London, where you can be quite anonymous. But over here, everyone knows each other and is really friendly. When you see deer on the road, don't be alarmed, they are really sweet.'
Even in the rain, the last rays of sun casted a soft blue hue against a row of trees in the woodland. The view was dramatic in the evening light.
We came from the city where the constant overstimulation of commuting and working life had tipped our balance. So when we arrived at the hut beside the lake, we knew it was exactly what we needed. Stepping into the shabby-chic hut, bedraggled and exhausted, the thought of spending the next few days in this glorious slice of nature relaxed us instantly.
Our hut , the Shepherds Rest (one of three 20 ft x 8 ft huts owned by an innovative and thoughtful family), was fully equipped with electric heating, fitted country kitchen, double bed, bathroom, breakfast bar, TV/DVD player (with DVDs), solid oak floor, fridge and private outdoor veranda. Storing away our food supply bought from a nearby Waitrose supermarket, we knew that everything we needed to make a decent meal was supplied in thoughtfulness. As night came to us, we fell asleep to the sound of rain tapping on the steel roof.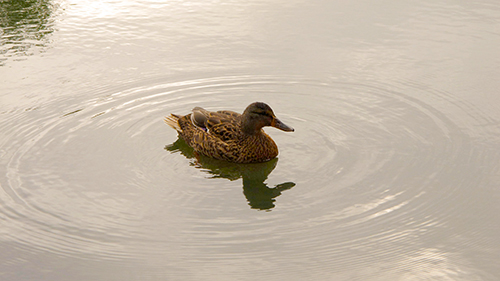 The following morning, as the sun broke into the window through the Red Cedar tree, we woke up to the sounds of water and birds chirping. Sitting on the veranda overlooking the idyllic lake, listening to the sounds of leaves rustling in the wind and ducks swimming gently nearby, we were reminded that every now and then, we all need to recharge in solitude in nature. This romantic wooden cabin was designed with all the senses in mind, where country retreat meets the convenience of modern living in a hut amidst gargantuan trees that one normally sees in the forest. After a long walk through the countryside navigated by torchlight, we lit a campfire for warmth, toasting marshmallows under the starry sky.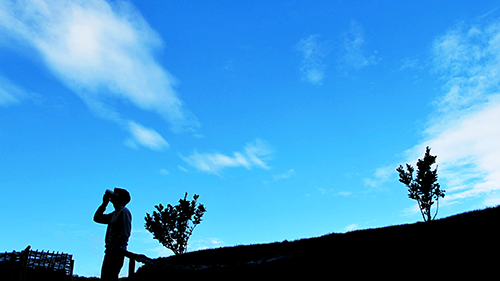 Situated right on the borders of Somerset and Devon, it is easy to explore every corner of this region, with the World Heritage Jurassic Coast only a 30 minute drive away. Even without driving, one can take a walk through the country lanes to the woodland beside Hinton Estate or climb up Castle Hill for a panoramic view of the farm and its vicinity. Take the time to walk to the award-winning Lord Poulet Arms in Hinton St. George for a sumptuous dinner of locally sourced produce. No matter what you choose to do in this haven (where you will have complete privacy and never once see the owners) you will wish that you do not have to leave.