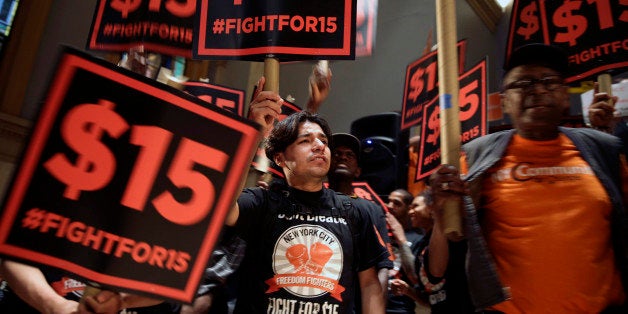 July 22, 2015. Remember this date. It marks a huge shift in mainstream thinking about the economy. It proves that people aren't buying Wall Street CEOs' trickle-down lie any more. It proves that people really understand that workers are the engines of the economy and that paying fair wages to workers based on the wealth that they are generating is what will make a prosperous economy for everyone.
Today, the New York State Wage Review Board, convened by Governor Cuomo, recommended a raise in the minimum wage for the fast food industry. I can't overstate the impact that a $15 minimum wage will have for the almost 200,000 fast food workers and their families in New York who will see a significant bump in their paychecks as it's phased in over the next few years. After years of worker-led organizing, we've achieved the biggest victory yet in the Fight for $15. Just a few months ago it seemed impossible to win here in New York, where Republicans in the state Senate have consistently blocked a minimum wage increase.
If Governor Cuomo accepts the board's recommendations, the immediate effect would be to extend a more dignified standard of living to hundreds of thousands of New Yorkers. Fast food workers and their families won't be forced to choose between paying for groceries and making the rent. They won't have to rely on public assistance just to cover basic day to day expenses. Thousands of parents will be able to provide more for their families and build a better future for their children.
But this victory is bigger than any individual worker. It has changed the national conversation about our economy. It's as big as the movement of workers who came together, organized and demanded justice. And it lays the foundation for an even broader social movement to change the political and economic dynamics in our state and across the country.
Higher wages in the fast food industry mean a stronger economy for everyone. When workers have more money in their pockets, they can spend more at local businesses, driving up demand and creating new jobs. This is really how the economy works -- not the myth perpetuated by Wall Street for decades that allowed them to steal all the wealth that we create through our work. A $15 fast food wage means no more subsidizing the industry's low wages with $700 million in public assistance programs. Instead, fewer people will need to rely on welfare programs and New York will generate more income tax revenue that can be reinvested into our communities. The economy grows when worker income grows.
A $15 fast food wage will create pressure for higher wages for all workers. From adjunct professors to car wash workers, and crossing guards to home health aides -- we won't stop fighting until all workers win higher wages as the movement grows stronger. While the Republican state Senate continues to stall at the behest of industry groups like the Business Council of New York State, the Fight for $15 is winning real, lasting change that will transform thousands of lives.
The Fight for $15 is part of the larger movement moment for social, racial and economic justice. It's no coincidence that at the same moment that workers are fighting for fair wages and union rights, #BlackLivesMatter activists are fighting against the systemic oppression of people of color. DREAMers are fighting for rights for immigrants, and climate warriors are fighting for environmental justice for all. Parents and students are fighting for fair funding for our public schools, while also demanding an end to the school to prison pipeline.
The grassroots strength of all of these battles is growing, and the fights are connecting with each other, because they are mostly being fought against the same target: a political and economic system that intentionally leaves far too many behind, especially people of color. That's why it's not unusual to see workers wearing a t-shirt that says both "I can't breathe" and "Fight for $15," and it's why there's a growing demand in New York, across this country and around the world to stop runaway inequality and end systemic oppression.
This is a historic moment. Workers have won a better life for themselves and their families. We've beat back CEO-backed trickle-down economics. And now we have the opportunity and the obligation to build on the momentum of all of these intertwined movements so that we can create a society that truly works for all of us.
REAL LIFE. REAL NEWS. REAL VOICES.
Help us tell more of the stories that matter from voices that too often remain unheard.