The train trip on Amtrak's Southwest Chief had been a pleasant but long ride of 24 hours from Chicago to Santa Fe. The journey would tire anyone. So on our first full day I thought it a smart idea to have a relaxing massage at one of Santa Fe's many spas and then discovered the Jemez Springs Bath House in the Jemez Mountains. This 100-minute drive west of the city would not only provided a stunning view of the mountains, but it was near Bandelier Monument, a site that hosted the cliff dwelling native peoples centuries before.

After breakfast, my two sister-in-laws, Karen and Tracy, and I excitedly headed out for Jemez Springs. To be efficient in our driving, we took the southerly route toward Albuquerque on I-25 before we headed northwest on US 550.

It didn't take long before we saw amazing vistas where land and sky meet at a faraway horizon and mountains in green, pink, blue or beige depending on their geologic time of formation. In this southern end of the 130,000-square mile Colorado Plateau, sometimes the rocks were dark indicating exposure of the Chinle Shale of the Triassic age layed down in lakes, streams and floodplains 250 million years ago. The striking red rocks came from windblown Entrada Sandstone of the Jurassic age 160 million years ago. We were in a setting of obvious eternity!
Everywhere we looked, the rock formations captured both the beauty and majesty of the land. I couldn't help but get excited that these landscapes were the very same ones the early Native Americans, Spanish explorers and American pioneers saw. Now I was here. The landscape had tied us together and given a new dimension to the meaning of "sense of place."
As a Midwesterner used to flat land and "limited horizons," these vistas also left me a bit apprehensive when it came to driving through them. Sometimes we climbed or descended a mountain on its winding switchbacks where a couple feet more would fling us over the edge on a sharp, long way down. Sometimes we drove through roads carved out of the rock. What impressed me most were the mountains' massiveness and the way they enveloped us as if to invite us to become one with them. Other times, as we reached the apex of a peak, we were treated to an incredible view of the many mountains that lay ahead. How inspiring for the native peoples who saw the land as their mother, yet how discouraging for the pioneers who had just struggled to climb a mountain.

It seems that Jemez Springs is an off-beat, out of the way place and not something you'd easily run into unless you weren't headed for it. However, the variety of things to do here make it a destination town and apparently it receives a lot of visitors. The main drag has several restaurants and inns for hikers of the Jemez Mountains Trail, a scenic byway that passes geologic rock formations, ancient Indian ruins, a pueblo and abandoned mining and logging operations.

At 10 o'clock sharp we arrived at the Bath House. Frances greeted us and quickly led us to our tubs for the first part of our $115 package deal of bath, wrap and massage.

Each three-foot deep tub was made of concrete in a private stall separated by wooden walls and a curtain. Inside each stall was a chair, some hooks for hanging clothes and towels and a plastic box to carry our things with us. We immediately stripped down to nothing and ran some cold water to mix in with the six inches of steaming hot mineral water (154 to 170 degrees) that the Frances had already drawn. This hot water came from the outdoor hot springs.

Our bath lasted 30 minutes and Frances led us to the tables where she prepared our wrap. A rubber mat filled with hot water lay in the center of the table. This was where we were to place our backs. Then she wrapped us in hot towels and put a cold towel on the back of our necks and one on our foreheads and around our heads leaving space for our noses and mouths.
At first I was afraid I'd feel confined in the wrap but I was so relaxed and concentrating on the healing properties of this whole experience, that I was fine. Frances came in after 15 or 20 minutes to see if we needed any adjustments. Suddenly, I felt transported to another plane: Maybe it was an out of body experience but I definitely felt differently.

After our half-hour wrap, it was time for the massage. We donned the provided bathrobes and Frances escorted us to our individual rooms to meet our masseuse. Shelley was mine. She immediately asked me my name first and said she liked it and fit my face. Maybe I have finally grown into that name!
Shelley has been doing massage for 22 years. She is also a tapestry artist whose subjects are landscapes, trees and some portraits. She is a petite woman with strong hands, one of the first things she told me, warning me in case I didn't want a deep massage, which I didn't. Before she began the work, she asked if I wanted to concentrate on any particular part of my body and I instantly pointed to my knees. For all the work we do on our feet, she claims our knees have not adequately evolved. She asked me if I had arthritis and I said I didn't call it that. "Good for you," she said. "Don't give it any power."

Shelley asked me my astrological sign, as if she were diagnosing me like a doctor.

"Sagittarius," I said.

"You need to eat meat, fruits and vegetables and avoid grains unless they are whole grains," she said. "The carbs produce sugar and that's not good for your body."

This would be the first wellness prescription I would get on this trip. Healthy living and eating is a big part of the Santa Fe experience and it is available in many forms.

On our way back to Santa Fe we took the northerly route through canyons, mesas, tent rocks, hot springs and Bandelier Monument. Unfortunately, last summer's drought and the Las Conchas Fire had affected over 20,000 of Bandelier's 33,000 acres. Some areas were scorched to mineral soil and other areas were lightly burned. The area also suffered flash floods, so many parts of the park had also been closed to visitors. The skeletal trees and dark, scorched ground were very sad to see.

Further on was one particularly beautiful but eerie place, the Jemez Caldera, which encompasses the 89,000-acre historic Baca Ranch. Now called the Valle Caldera National Preserve, the US government purchased the ranch in 2000 to conduct a unique experiment in public land management.

The 14-mile wide caldera was the seat of a former volcano. When this one erupted, it affected the land west of the Rio Grande, which runs north and south in New Mexico before it forms the southern border of Texas and drains into the Gulf of Mexico. The volcano also spewed out hundreds of feet of ash as far as Kansas and Oklahoma and hardened into a honeycombed rock form called tuff. Nature acted on the tuff and created caves, the dwellings of the first Pueblo peoples.

For all the violence that went on here before, the caldera looked green and serene and empty. We drove over the lip of the old volcano, into the caldera and then out of the lip again. The roads, of course, were all switchbacks but nicely paved.
The west is a fascinating place and the geology alone makes it something worth studying. Now seems like a good time to read John McPhee's book on the subject titled Annals of a Former World.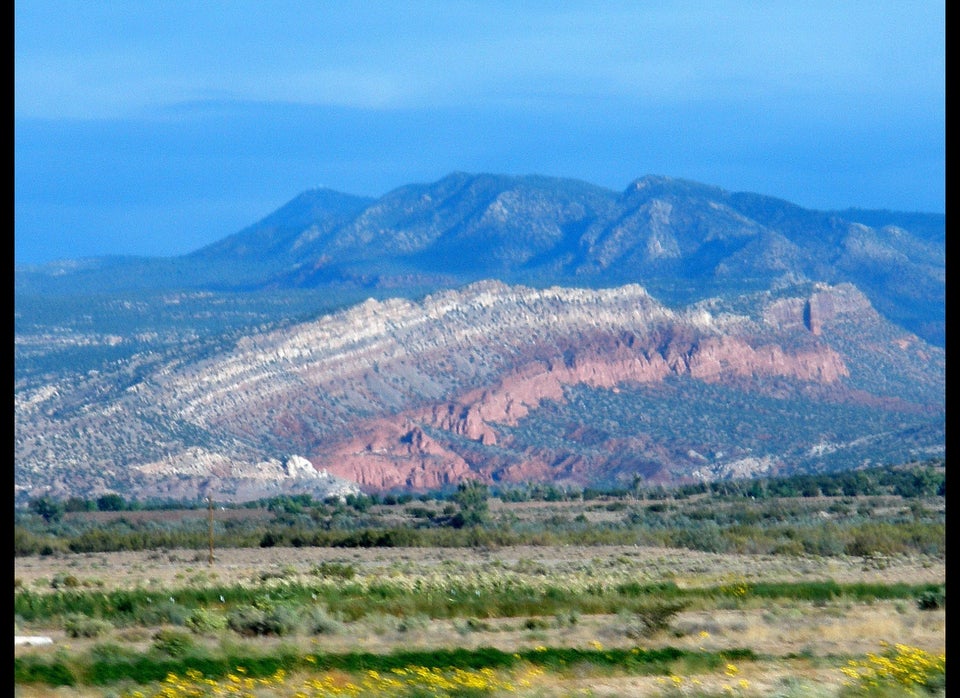 Jemez Springs, New Mexico