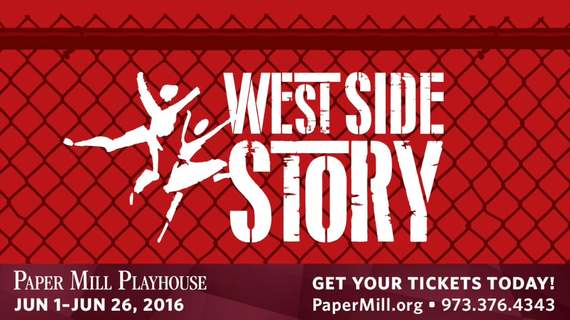 Right now, a trip to New Jersey can take you to the farthest reaches of Hell's Kitchen, circa 1957. I just made that ride and I wouldn't have missed it for the world. I've taken many shorter trips over the years to arrive at the same destination. None were remotely this satisfying.
The Hell's Kitchen outland I speak of is the theatrical setting for West Side Story. My Jersey jaunt brought me out to Millburn, New Jersey's Paper Mill Playhouse -- this year's Tony award designee as outstanding regional theater. The production of West Side Story they are currently putting on there is quite simply the best I've ever seen.
And I've seen quite a few; on Broadway and in London. Each felt just a bit over-inflated, as if in pursuit of an onstage equivalence of scale to the beautifully pumped up Academy Award-winning 1961 film. Frustrating. West Side Story may be my favorite musical, at least in theory. No production, however, had ever truly detonated for me, live.
Paper Mill's Producing Artistic Director Mark S. Hoebee has staged his West Side Story simply and starkly, burnishing every contributing detail and then getting the hell out of the way. The sets by James Youmans are evocative yet elemental, the orchestra playing is fierce, driven by Music Director Steve Orich, and the cast seems vibrantly young.
This is all that any West Side Story needs. Stripping the show to its essences and trusting those essences passionately yields a sense of timelessness, where many previous productions, in my experience, seemed to sweat too much, striving to outrun consuming traces of anachronism.
Matt Doyle, as Tony, possesses the finest voice and the surest grasp of this rather slippery character than any Tony before him that I've seen. Belinda Allyn, as Maria, matches up with Doyle sweetly, while also providing Maria with some spine. The rest of the cast smolders and struts, handling Jerome Robbins' transcendant choreography (as recreated here by Alex Sanchez) with athletic hormonal abandon.
The evening literally took my breath away again and again. Robbins, Laurents, Bernstein and Sondheim are West Side Story's creative heroes but never before have I so viscerally appreciated the power of their synchronization with one another on this one singular occasion. West Side Story is a synergistic machine that powers its way forward remorselessly. At Paper Mill, it left me flattened. As it should.
It closes Sunday, sadly.
~
REAL LIFE. REAL NEWS. REAL VOICES.
Help us tell more of the stories that matter from voices that too often remain unheard.