PHILADELPHIA — Events on the main stage at Philly's Wells Fargo Center are captivating much of the nation this week. But seven miles away, a slew of daily caucuses and councils are also addressing interests and concerns dear to myriad constituencies.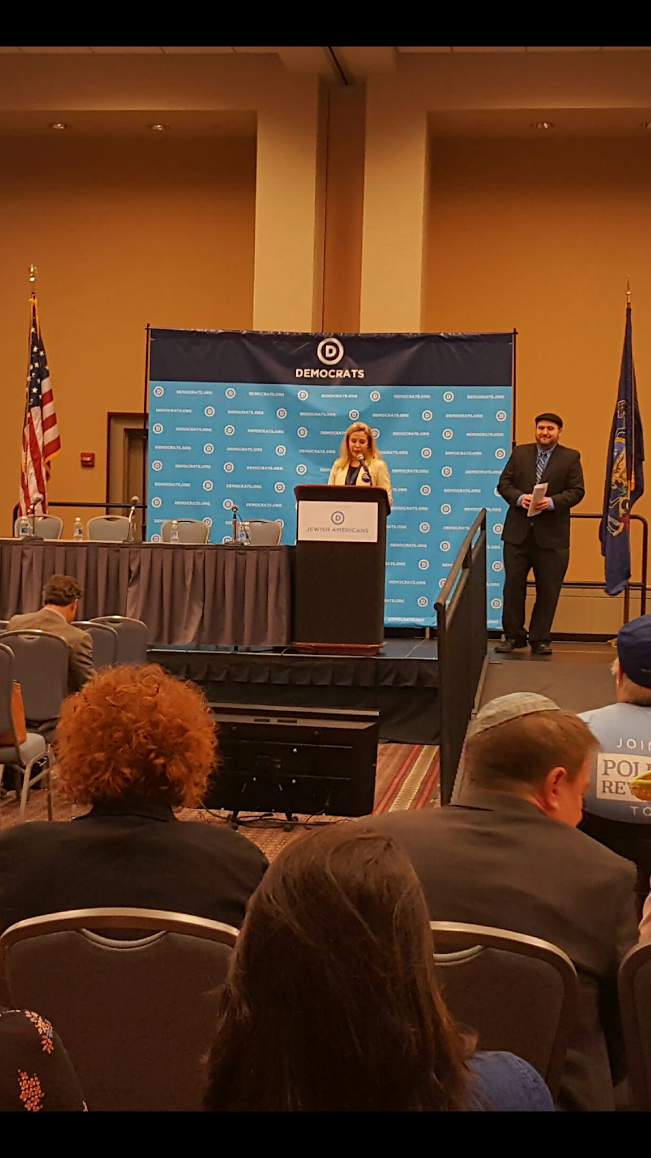 Tuesday's Democratic National Committee's Jewish Roundtable at the Pennsylvania Convention Center began with an address by Sarah Bard, Hillary Clinton's Director of Jewish Outreach. Bard, who according to a January JTA article is the daughter of Boston area rabbi Dov Bard, stressed that Clinton's bonds with the Jewish people were unequivocal and unbreakable.
"Our relationship goes back 30 years," she said, citing Hillary Clinton's 1986 incorporation of Israel's Home Instruction for Parents of Preschool Youngsters (HIPPY) program in Arkansas. The program, created at the National Council of Jewish Women's Research Institute at Hebrew University in Jerusalem, was designed to help children of North African immigrants.
Organizers of the Tuesday and Thursday Roundtables, featuring special guests, discussion and training, include DNC Deputy Communications Director Eric Walker and DNC Director of Jewish Engagement Aaron Weinberg.
"And Hillary knows that there is no greater ally than the state of Israel," she said, adding that Clinton is a strong supporter of a two-state solution.
Bard has lived in Israel, and helped lead the Jewish Federation of Greater Washington's Young Leadership Division.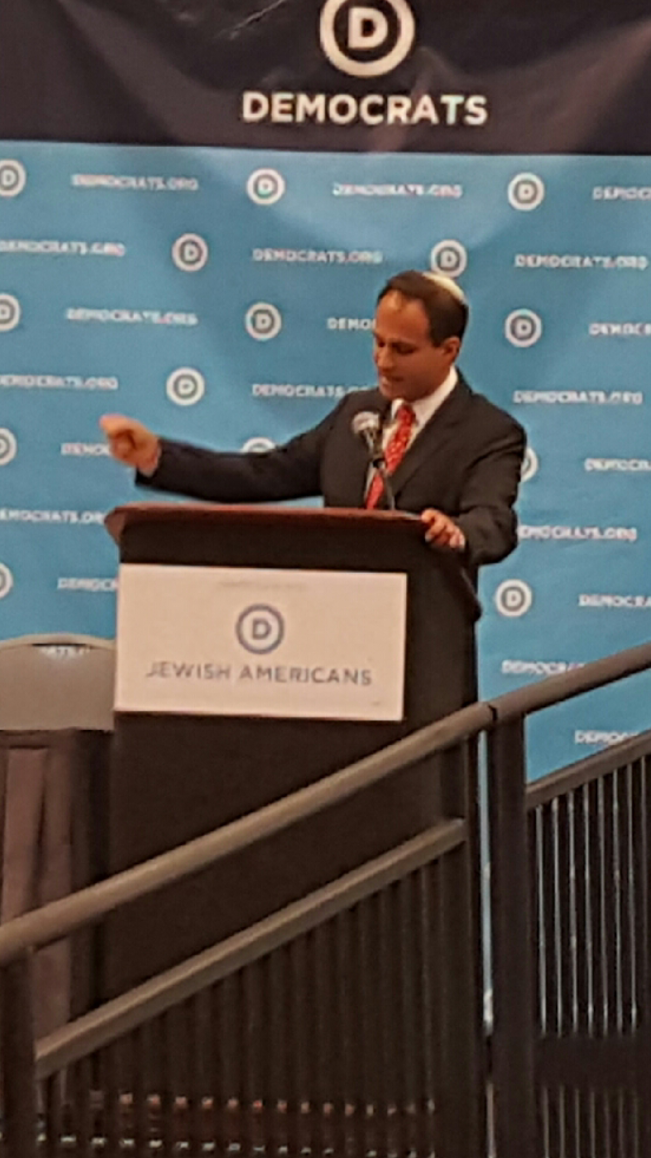 In his Invocation, Rabbi Jonah Dov Pesner, formerly of Temple Israel in Boston and now Director of the Washington-based Religious Action Center of Reform Judaism, recalled Deuteronomy 25:17-18: "Remember what Amalek did to you on the way as you were coming out of Egypt, how he met you...and attacked...all the stragglers at your rear...."
The challenge to the nation, Pesner explained, is to never allow there to be any stragglers. He referred to November's decision as an ultimate opportunity at the ballot box to achieve tikkun olum.
"The stakes could not be higher," he said.

"They say one of three Jewish-Americans can trace their roots back to Brooklyn," said New York Councilman David Greenfield, a leader of the New York Jewish Caucus, who was deputy director of finance for Senator Joseph Lieberman's 2004 presidential campaign. He is a former Vice President of the Brooklyn-based Sephardic Community Federation.
Greenfield quoted former New York mayor Ed Koch: "If you agree with me on nine out of 12 issues, vote for me. If you agree with 12 out of 12, see a psychiatrist."
He asked attendees how many were in committed relationships. As hands shot up, he then asked how many agreed with their partners on every issue. Hands went down. "How many are single?" asked one wag, to which Greenfield responded, "Hey, let's do a little shidduch matchmaking here!"
But back to business. "People have an expectation that we should agree with an elected official 100 percent of the time, but that isn't usualy the case," he said.
He reminded the audience that Jews are a very small 2 percent of the population, and that they tend to vote 70 percent Democratic. Orthodox Jews, he said, vote Republican 57 percent of the time. "In my district, we have DINOs, who are registered as Democrats, but tend to vote Republican," he said.
"Because Trump marched in an Israel Day parade once, that does not make him a supporter of Israel," he said. "His Twitter feed gives a wink and a nod to some of the most despicable people, like David Duke, who assumes that his supporters are Trump supporters."
Worst of all, he said, is his language. "If my son said to his brother, 'Shua, you're dumb, you're a loser, you're crooked, you're corrupt,'" Greenfield posited, "I would send him right to his room!"
Outside the room, Greenfield told HuffPo that it was a very important election for Jewish Americans. "After all, we have a Republican candidate who has said that we should have a religious test for those who immigrated to this country. And we know that traditionally, Jews have not done well with any sort of religious test," he said.
"For me, the fact that Hillary sent a letter to her own church, asking them to vote against BDS, proves that she is a true friend of the Jewish community and the state of Israel."
Back inside, Pennsylvania state senator Daylin Leach cited Donald Trump's August, 2015 tweet: "We need to bring back school prayer, because let's be honest after Obama America can use every prayer it can get." Leach added, "Being Jewish, I can guarantee you that if we allow school prayer again, it would not be the Shema."
Leach said that if the nominee were Jeb Bush or Marco Rubio, he'd be making the case that they are not the right people to support. "But this person, given his temperament, the fact that he demeans people, puts a Jewish star over money, retweets Neo-Nazis...."
He called the Republican nominee "a walking stereotype generator," citing Trump's response to Rolling Stone in June that comments he had allegedly made were "probably true": "Black guys counting my money! I hate it. The only kind of people I want counting my money are little short guys that wear yarmulkes every day."
Former Minneapolis mayor and DNC vice chairman R.T. Rybak accepted responsibility and asked for forgiveness regarding the DNC emails hostile to Bernie Sanders that were released by WikiLeaks prior to the convention and resulted in the resignation of DNC Chair Debbie Wasserman Schultz.
Rybak, who cofounded the progressive advocacy organization Wellstone Action, paid tribute to the late Minnesota senator.
"George McGovern also changed the course of American politics," he continued. "And Howard Dean lost, but his campaign finance strategy became the basis of Obama's."
Rybak sees echoes of all three in the campaign of Bernie Sanders. "Victory cannot be contained in a single election cycle, and Bernie found a way to reach out. He did remarkable things."
U.S. Representative Jerrold Nadler of New York said that during his youthful activism days, he believed the term fascism was used too loosely. But he called Trump "the first fascist I've ever seen running a presidential campaign."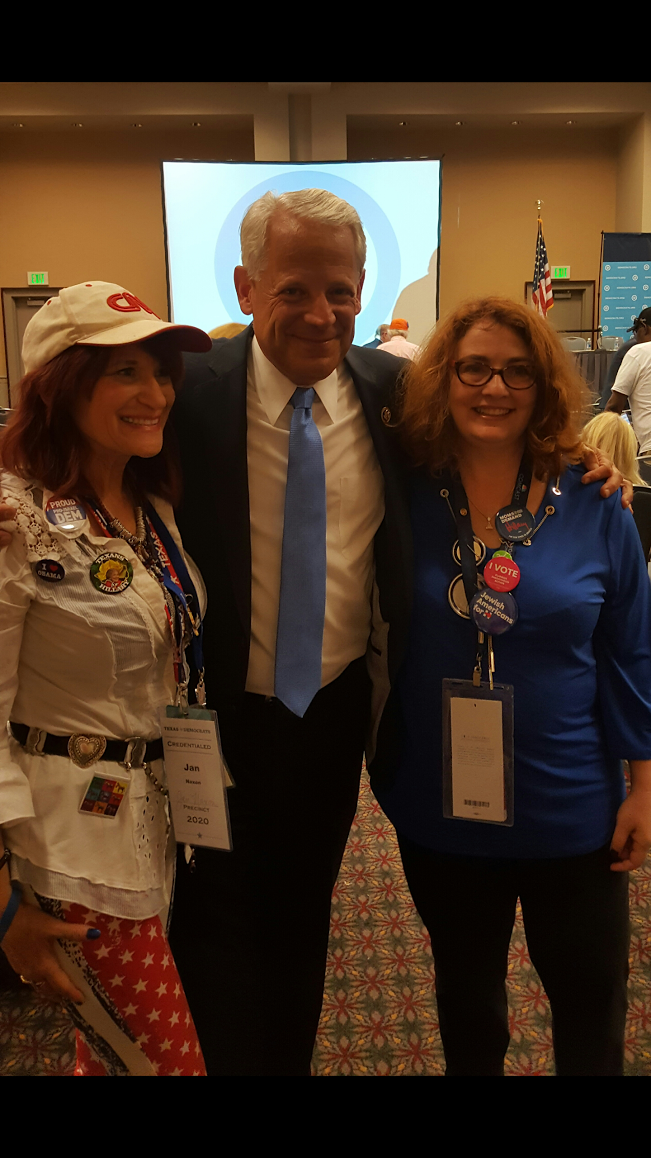 "As is the case in so many elections, the role of the American Jewish community will be pivotal," Congressman Steve Israel told the audience. "For American Jews who care about our future — whether it's women's rights, whether it's education, whether it's supporting the state of Israel — Hillary Clinton represents our best values."
Israel, who is set to retire from Congress, represents New York's 3rd Congressional District and is the sixth ranking member of the House Democratic Leadership.
At the Roundtable, the one time Suffolk County director of the American Jewish Congress spoke of his immigrant grandparents, whose citizenship papers hang above his congressional office desk.
"I don't think that my grandparents ever thought that their grandson would be a congressman," he said, before thanking the crowd in Philly on their behalf.
Rabbi Mark L. Winer of Boca Raton was impressed with Rybak. "According to Jewish tradition, to practice teshuva, or repentance, is to accept responsibility and to seek forgiveness from those who may have been affected," said Winer, who is President of the Florida Democratic Party Caucus of America Jews. "Then, one should make sure that in the future, things are done differently."
His organization, which sent 300 members to Philadelphia, is a franchise of the Democratic Party. "We work hard to maintain cooperation, have respectful debate, and maintain balance," he said. "In fact, we started the Caucus when we were disagreeing over the Iran treaty."
Susie Davidson (@SusieDavidsonMA) is tweeting live from the DNC.