In the 1920s and 1930s, Jim Tully was something of a household name.
His writing -- his singular brand of rough and tumble realism -- was both popular and critically acclaimed. In his heyday, Tully's books appeared on bestseller lists, were adapted for the stage, made into movies, and got both good and bad reviews in major publications across the country. One of his controversial books was even banned, and a large part of its first edition destroyed.
Despite his past celebrity, few today have heard of Jim Tully. In the years following WWII, his reputation waned -- but not because he was considered out-of-date. If anything, Tully was ahead of his time.
Some consider Tully a precursor to the "hard-boiled" school. In the twenties, Tully wasn't writing about the glitz and glamor of the Jazz Age. Rather, his sometimes muscular prose concerned petty criminals, addicts, hobos and other misfits of society. Charles Willeford, one of the leading post WWII hard-boiled crime fiction writers, has praised Tully and written of his influence.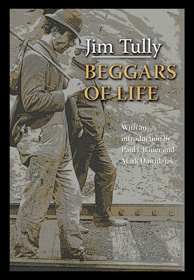 Over the last year and a half, the Kent State University Press in Kent, Ohio (Tully's one-time home) has begun reissuing this forgotten writer's long-out-of-print books. So far, they've released Circus Parade (with a foreword by the late comix artist Harvey Pekar), Shanty Irish (with a foreword by film director John Sayles), The Bruiser (with a foreword by critic Gerald Early), and Tully's breakthrough work and what's likely his best remembered book, Beggars of Life (with an introduction by series editors Paul Bauer and Mark Dawidziak). Two more titles will follow in 2012.
Next year will see the release of Bauer and Dawidziak's biography, Jim Tully: American Writer, Irish Rover, Hollywood Brawler. That book will include a foreword by documentary film maker Ken Burns, who has called it a "wonderful, hugely important biography." All together, these forewords by so many celebrated contemporary figures suggest this little remembered author has a still strong following, at least among the cognoscenti.
Born near St. Marys, Ohio in 1886, Tully experienced an impoverished childhood. After the death of his mother in 1892, Tully's Irish immigrant ditch-digger father sent the boy to an orphanage in Cincinnati. He remained there for six years until the misery became more than he could bear. Tully ran away though he was only a teenager.
Thereafter, what education this wild boy of the road received largely came in hobo camps, railroad yards, and public libraries scattered across the country. Tully is known to have stolen books by favorite writers (such as Dostoyevsky) from the local libraries in which he often found shelter.
After moving to California, Tully began writing in earnest. He also became one of the first free-lance writers to cover Hollywood. His journalism and celebrity portraits appeared in Vanity Fair and other leading magazines of the day, from Scribner's to True Confessions. Tully was highly paid for his no holds barred accounts.
Tully wrote about Hollywood celebrities (including Charlie Chaplin, for whom he had once worked) in ways that the studios and the stars did not always find agreeable. For these pieces, Tully became known as the most-hated writer in Hollywood. It was a title he relished.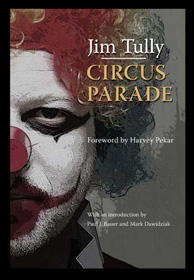 His first book, Emmett Lawler (1922), was originally composed as a single paragraph of 100,000 words. In an autobiographical statement published in 1933, Tully wrote "My first book was bad, and is now forgotten. I found myself, I think, in Beggars of Life, which I wrote in six terrifying weeks, while living with a bootlegger." The book was "intended as a compilation of dramatic episodes in the life of a youthful vagabond, which I was for seven years."
Published in 1924, Beggars of Life was the first of five autobiographical books Tully regarded as part of a larger single work. His "Underworld Edition" included Circus Parade (1927), "a series of none too happy and often ironical incidents with a circus," Shanty Irish (1928), "the background of a road-kid who becomes articulate," Shadows of Men (1930), "the tribulations, vagaries, and hallucinations of men in jail," and Blood on the Moon (1931). Of his books, these autobiographical works were the closest to his heart.
Tully also wrote celebrated novels about Hollywood, Jarnegan (1926), boxing, The Bruiser (1936), and the down-and-out, Laughter in Hell (1932). Shortly after publication, a novel about prostitutes set in Chicago, Ladies in the Parlor (1935), was seized by the police due to claims it was obscene. Most copies were destroyed and today it is a prized rarity.
Tully's last book, A Dozen and One (1943), includes an introduction by Damon Runyon. It features biographical portraits of 13 famous people he encountered during his life including Chaplin, H.L. Mencken, Jack Dempsey, Clark Gable, Diego Rivera and others.
With the May, 2011 publication of their long-in the-works biography, Bauer and Dawidziak will take to the road and revisit some of the cities and towns the hobo author once stopped in decades earlier. They even plan on visiting a local jail where Tully was incarcerated for vagrancy.
Whether or not Tully's work will strike a chord with contemporary readers remains to be seen. It could take time, as Tully is an acquired taste. Certainly, readers of Jack Kerouac, Charles Bukowski, William Vollmann or Stephen Elliott will find something of interest in Tully's stories and prose.
His champions Bauer and Dawidziak have described Tully as "the greatest long shot in American literature." Considering his ramshackle life, it is a miracle he wrote at all. If you're a sucker for neglected books or lost classics, the work of this "literary bum" is worth a gamble.
Thomas Gladysz is an arts journalist and author. His interview with Allen Ginsberg on the subject of photography is included in Sarah Greenough's "Beat Memories: The Photographs of Allen Ginsberg" (National Gallery of Art, 2010). And recently, he wrote the introduction to the Louise Brooks edition of Margarete Bohme's classic novel, "The Diary of a Lost Girl" (PandorasBox Press, 2010). Gladysz will speak about "The Diary of a Lost Girl" at the Village Voice Bookshop in Paris on January 13, followed by a screening of the film at the nearby Action Cinema.
Calling all HuffPost superfans!
Sign up for membership to become a founding member and help shape HuffPost's next chapter