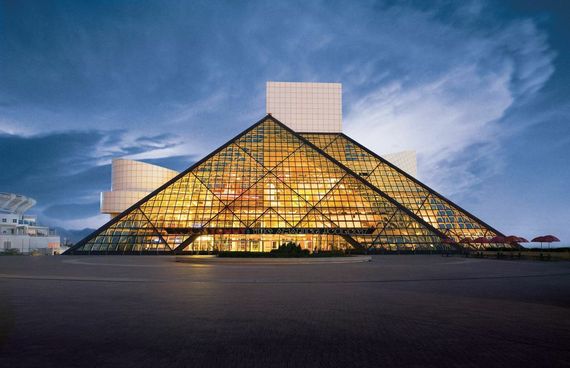 It's the home of some of rock and roll's most sacred and iconic artifacts, like Michael Jackson's white glove, Elvis' jumpsuits and Jimi Hendrix's guitar. The Rock and Roll Hall of Fame in Cleveland, Ohio, is home to over 10,000 items of music history like these -- but who finds them? Who assembles them? Who gets to reach out to globally famous acts and ask them for their stuff?
Associate curator Meredith Rutledge-Borger came to the Hall after earning a degree in cultural anthropology and theater as well as a stint at a nearby historical society. She started in 1999 as a visitor service representative, which served as "a good way to learn the museum from the ground up," she said. She now gets to collect rock artifacts for exhibits like "Paul Simon: Words & Music and Right Here, Right Now," with a variety of contemporary artists.

Travelzoo recently spoke with Rutledge-Borger about finding Beyoncé's outfits, keeping Alice Cooper's decapitated head, and what artifact she'd take home if she could.
Travelzoo: In the last 15 years or so at the Rock Hall of Fame, what have you helped put together?
Meredith Rutledge-Borger: The first major exhibit that I worked on was our John Lennon exhibit. That was in 2000. I was lead curator on our "Women Who Rock" exhibit in 2011. Some highlights ... the Lennon exhibit was really a dream come true, as was "Women Who Rock."
Both of those were pretty incredible experiences. I've pretty much contributed to every exhibit, period, that we've done, first as a curatorial assistant and now I'm assistant curator.

TZ: You also helped curate the current Beyoncé collection - when you are arranging something like that, how do you go about asking an artist for their stuff? [laughs] How do you reach out to them and say, "Can we have your clothes? Can we have your notes?"
MRB: Very humbly. Very humbly. Usually, we'll reach out. Specifically with Beyoncé, it was after her Super Bowl performance. We had been trying to reach out to make a connection, unsuccessfully, for a while. I guess I just got lucky. [We] called at the right time and specifically asked for the Super Bowl outfit. They said, "Absolutely. We'd be happy to do that. Not only that. We'd actually like it to be a little bigger than that."
We were like, "OK. Thank you very much."
TZ: From there on, do you just look through a person's career and think, "I would like if there's sheet music associated with this one song, if there are master tapes from a studio, if there's something from a music video"? How do you build that?
MRB: We cast a really wide net. Depending on the artist, we generally try to ask for specific things because we usually get a much more positive response when we have something specific in mind.
Other artists are much more...spontaneous, let's say, and will say, "I don't have that," or "I'm not interested in giving you that, but I do have this, this, this, and this." It's on a case by case basis, but very generally, we cast a really wide net.
TZ: Is it harder to curate something like the Lennon exhibit that you worked on? For someone whose career traveled through so many different paths, where there's so many items that could be available, do you choose to focus on a particular part of someone's career? Or is it up to someone to try and get on the phone with Yoko Ono and ask for a shirt or a pair of glasses?
MRB: Again, it's very much a case by case basis when we're dealing with an iconic artist, like John Lennon, or a group of iconic artists, like with our "Women Who Rock" exhibit. We take into consideration what's available. For instance, in "Women Who Rock," there's not a lot of Billie Holiday stuff around. There just isn't a lot.
If we're dealing with somebody like Stevie Nicks or a new artist like Alicia Keys or Janelle Monae, there's more to choose from. We have to strike a balance between what's out there, what we want, the story that we're trying to tell, and how these things illustrate the message.
TZ: You work with a lot of acts to build collections and tell their story. Do you also get a lot of artists who just come to visit the museum? I imagine there are a number of artists who come to just see the exhibits.
MRB: We sure do. We extend an invitation to every touring artist that comes to the city. A lot of them take us up on it and are, by and large, really thrilled to be here. Sometimes we forget that these people who are in the business are fans themselves. They're thrilled to see this stuff up close and personal. It also really gives them impetus to want to be a part of what we're doing. Of course, who wouldn't want to have their stuff alongside their idols?
TZ: Do you have a special behind-the-scenes private experience that they get, or do they just get to show up, walk through the door, and hang out with everybody else?
MRB: Depends on what they want. Some people are happy to be out with the public. Other people, just for security concerns, would prefer to have something after hours, in private.
TZ: Once the new inductees to the Rock Hall of Fame are announced, does that kick your job into high gear? Do the two sides speak to each other? Like when they say, "Green Day is going to be in," do you have to start building collections that go along with each inductee?
MRB: Absolutely. Yes. We're always working on something here. When it's not new inductee season, we have a major exhibit to put up. We have our "Right Here, Right Now" exhibit, which is ongoing. When the new inductees are announced, yeah, we immediately switch into collecting mode, go out there, get on the phone, get on a plane, and go get the stuff.
TZ: How big is the Hall of Fame's collection? Is there anything that isn't on the floor, that you think is really cool or you really like that you have or anything like that?
MRB: We have a collection of about 10,000 items. At any one time, there are about maybe 6,000 out on the floor. We do have an appreciable amount of artifacts that are in storage at any one time.
We try to rotate things just to not only keep the collection fresh for repeat visitors or just for visitors in general, but also just for conservation purposes, it's better to keep an artifact in optimal conditions, in our storage area. Even though our galleries are light, temperature, humidity controlled, storage is better [laughs] just because there's less light.
It's just more secure, in general. Just to keep things fresh and for conservation, we rotate things out. Some things that are in storage that I really enjoy...Storage changes, as I say, because we do rotate things, but currently, we've got some things. I'm a big Beatles fan. We've got Ringo's collarless suit that we've got in storage. I love it just because it was Ringo. It's a beautiful thing.
We've got lots of instruments that are off exhibit. We've got this wonderful head -- it's Alice Cooper's head. It's the guillotined head. It's so lifelike and gory and hilarious. It's a really wonderful thing. It's one of my favorite things.
Also, Dionne Warwick is one of my favorites. We have a dress of hers that I just love to look it just because [laughs], again, it's Dionne's, you know? It's a pretty cool thing.
TZ: Do you guys have a standing wish list or a top 10 list of things that the museum would like to acquire but hasn't been able to yet?
MRB: We absolutely do have a wish list, mostly of artists, not necessarily specific things. It's artists that we would like to connect with, that we would like to either improve our collection on or initiate a collection on. There are some inductees that we haven't really been able to make a connection with. We're constantly changing that out.
We have a Collections Committee that meets. We talk about who are the artists that we want to target. We're constantly working to build the collection because we're a relatively young institution. To really be taken seriously as a museum, we really need to build our collection. We're working hard to do that.
TZ: Are you guys forced to listen to nonstop rock and roll and classic rock in the office, or do you ever break it up with jazz and classical?
MRB: [laughs] We can listen to whatever we like. A lot of times, it's silence because there's music playing in the museum at all times. In our offices, sometimes it's nice to be able to just sit and chill.
TZ: If you had carte blanche to take anything in the museum home with you, what would it be?
MRB: Wow. I don't know. I think Janice's Porsche is probably the thing that I would want to have just because it's so cool. [laughs] It's just so cool. [laughs] It wouldn't get very far.
TZ: Do you play any instruments?
MRB: I play a little guitar.
Karl: Do you or any of the other musicians on staff ever get to indulge in playing some of the instruments that you guys have?
MRB: No. We don't. We don't. We did have an employee band that performed around. It was a lot of fun, but no, we do not. [laughs] We do not play the instruments.
TZ: Is that the on the record answer?
MRB: It's frowned upon. [laughs] Hey. I'm a curator.
-- Karl Klockars is a producer at Travelzoo and based in Chicago. Travelzoo has 250 deal experts from around the world who rigorously research, evaluate and test thousands of deals to find those with true value.