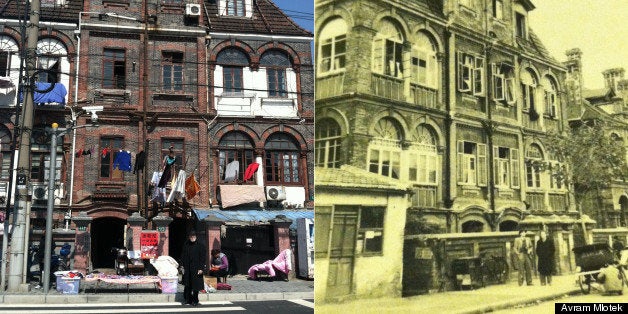 Yosl Mlotek was 21 years old, and only a few days after the Nazi invasion, the newspaper where he worked, the Folksaytung, moved their offices to Lublin. En route, he heard that the city's roads were blocked, so he traveled to Vilna. He lived there for a year, working on war refugees' testimonies. When he discovered that the paper's editor and other writers were arrested by the Soviet government, he went into hiding. It was then that he heard that one of his brothers had also managed to escape Warsaw. A mutual friend arranged their reunion. My grandfather didn't know which brother he would see until he opened the door and saw Avram. This would be the only family member my grandfather would see until after World War II. Besides a sister, Sore, the rest of his family died in the Holocaust.
While in Vilna, my grandfather heard that a Japanese diplomat was granting exit visas out of Lithuania. The two brothers waited in line for days for visas before finally receiving them from Chiuene Sugihara, who would later be listed as a "righteous gentile" by the Israeli Holocaust Museum, Yad VaShem. After a long trek from Vilna, they lived in Japan for about a year before learning that their exodus was still unfolding. The Japanese government, who had reprimanded Sugihara for his "tratorious acts" of signing visas and rescuing thousands of Jews, would not host the Jewish refugees any longer.
The Hongkou ghetto had been established for Jewish refugees and it was there that my grandfather and his brother made their home for the next several years, having moved from Japan. It was there that they wrote to Sore who was living in Siberia at the time and learned the devastating news of his family and people's fate back in Poland. In Shanghai, my grandfather worked at the Russian library and wrote for Yiddish magazines. Having been welcomed by the Sephardi and Ashkenazi communities who had lived in China for quite some time, the war refugees from Poland recreated their cultural life in the ghetto. Concerts, lectures, communal gatherings, synagogues and newspapers were all part of my grandfather's milieu in a whole new part of the world.
We wait anxiously at the Chinese consulate to hear whether or not our visas have been granted. I've been invited to participate in the 70th Anniversary of the Hongkou ghetto and at a Jewish learning program taking place in Shanghai, along with my wife, father and baby daughter. Complications have arisen and we miss our flight out of Newark international airport. We're told our visas will be ready the next day and as we commute home, I think of my grandfather, wondering what his painstaking wait must have felt like, not having the certainty of his visa's delivery, his lifeline out of Europe.
We arrived on Friday afternoon, still in disbelief that we would be spending Shabbat in Shanghai. Hazed by the jetlag, we walked to one of the city's three Chabad centers, and experienced the kindness of a free kosher meal. "Lechu neranenah -- come sing out," we sang the words of the Psalmist, words that have been part of the Shabbat prayers for centuries. I wondered quietly if my grandfather ever walked into a synagogue while in Shanghai. He did save a flyer for a Shanghai synagogue's chanukat habayit, inaugurating ceremony. But what would he say in synagogue? What does one say to God while one's family perishes in the fires of Auschwitz? My grandfather rarely spoke of his refugee experience or of his family from before the war but he did write poetry, writings that have been published in newspapers and anthologies of war refugees' testimonies.
1941, Shanghai
Excerpt from "The Lament of My Mother," by Yosl Mlotek:
Through oceans and countries,
Through closures and walls,
I see my mother's
Cracked hands.

I hear my mother's
Sobs and laments
-Where are my children
Lost and alone?

I hear her sobs,
Am aware of her grief
And each painful tear
Like a stone on my path.
We reread my grandfather's Yiddish letters to his sister while in Shanghai. We decipher his handwriting and try not to weep. At first, my grandfather gently berates his sister for not writing more and then explains just how thirsty he is for news from home. Rumors are spreading in the ghetto of the Jewish people's misfortune in Poland. In the meanwhile, he talks of how he roams the Shanghai streets and feels the burning stares of the locals. What do these looks mean, he wonders. Are they glances of pity, of compassion? I think of Moses' words: "For I have been a sojourner in a foreign land," and wonder what my grandfather's source of comfort might have been during these tumultuous times, if he even had any.
The next morning we went on walking tours of Shanghai. Home to more than 20 million people, the largest city in China, we viewed the varieties of architecture, sky risers next to flimsy apartments. Our 9-month-old daughter, Ravi, was treated like a celebrity, as people stopped on the street, smiling, pointing, and some even asking to take a picture with her. It was a relief to walk through these foreign streets on Shabbat without our cell phones snapping photos. Instead, we pushed ourselves to be present, and took mental photographs, all the while wondering, did my zeyde walk here?
Sunday marked Yom HaShoah, Holocaust Remembrance Day. We started at the Shanghai Jewish Refugees Museum where we were greeted by security guards saying Shabbat Shalom, a peaceful Sabbath. We walked through the streets of the ghetto with our tour guide who pointed out old refugee homes. My father shared photographs my grandfather had taken during his time in China and showed them to our guide.
"You are on this street now," the guide said holding the photograph.
We looked around and noticed the similarities: the narrow road, the old terraces. In another photograph stood a large castle like building that apparently used to house the Jewish Joint Distribution Committee in Shanghai. We found the old building as we turned the corner. Our touring felt more like a detective's adventure, uncovering my grandfather's past footsteps.
Three p.m. was when our performance was set to start. There were speakers from the Israeli consulate and rabbis who spoke, along with a representative from the Joint Distribution Committee. He talked of the Joint's work and the rabbinic phrase, kol yisrael arevim zeh lazeh -- all Jews are responsible for one another. He shared an anecdote telling of the Shanghai mayor's words to Prime Minister Rabin when Israel and China had started diplomatic relations in the 1990s. The two men stood at a memorial site at a nearby park in the ghetto which we visited. The mayor thanked the Israeli government for acknowledging Shanghai as a haven for Jews during the war, saying, "From the oldest and largest community on earth to the oldest and smallest community on earth, we thank you."
As lunch started, my wife's cousin, Rebecca, one of the coordinator's of the weekend's program, invited us to go on an extended tour with the guide. We jumped at the opportunity, taking out papers that listed my great uncle's address as well as the address for a concert my grandfather organized while in the city. As we walked through the bustling streets passing live frogs and birds for sale along with an array of spices and a prison to our left, it quickly became clear that buildings had been torn down and rebuilt and the streets had changed.
Part of our group went back for lunch while my father and I stayed on with the tour guide, searching. Surely, seeing a whole new part of the world was thrilling, but what were we really looking for? Buildings that no longer exist? A grandfather who has since passed and a story which he can no longer tell? We walked for half an hour and as it became clear our attempts would prove futile, I wondered something else. Perhaps this is how memory is maintained, how a collective consciousness is formed: walking through the streets of one's history, simply trying to feel something.
We sang folk songs, ballads by Mordkhe Gebirtig, of frustrated fathers and wild sons, and shared music from the ghettos, forests of the partisans and concentration camps. Our voices filled the old synagogue, Ohel Moshe, the same synagogue my grandfather's card notice mentioned. His photograph of the synagogue matched the one in which we stood. As we sang, I realized: this music, these words were his lost home. Lucky enough to share his journey with his brother Avram, after whom I'm named, it was this culture that reflected his family and world the Nazis sought to destroy. That world continues to live.
Our next days were spent site seeing and photographing endlessly. I wish I could show my zeyde these pictures of China, of his son and grandson and great-granddaughter walking through the streets of his old temporary home, if for nothing more than to say, "Zeyde, we were here, we're trying to remember." As our whirlwind adventure came to an end and I start to reflect on the short journey, I can only hope that in some way, our trip served as a tiny tikun, a spiritual fixing, to a wound that can never fully heal.
PHOTO GALLERY
Journey Back In Time
REAL LIFE. REAL NEWS. REAL VOICES.
Help us tell more of the stories that matter from voices that too often remain unheard.