From a young age my relationship with my parents and grandparents has been incredibly important to me, and it's the reason I founded Wish of a Lifetime (WOL), an organization that grants wishes to seniors. I have always found inspiration from the generation of men and women who have experienced so much and can share their wisdom and stories. Through my journey with WOL, I have had the opportunity to visit many of our nation's historical sites alongside these inspirational men and women. I've listened to countless stories and memories, and through our partnership with Brookdale Senior Living, I am proud to say that WOL is helping to preserve memories and helping many to relive their historic moments.
Since 2008, Wish of a Lifetime (WOL) and our founding corporate sponsor Brookdale Senior Living, has granted over 1,000 individual wishes throughout all 50 states. For this month, I wanted to pay tribute to three courageous women who share a common bond and champion inspiration and hope.
Lina Maddox, 92-years-old, is a Brookdale Cedar Hill resident in Richmond, CA and is the epitome of perseverance. Lina grew up in rural Mississippi as 1 of 10 children and considered herself the "champion cotton picker." Growing up in a sharecropping family was not easy. Her family was looked down upon and she and her siblings were referred to as "the kids from across the railroad tracks."
Lina has accomplished so many things in her life, but becoming a Rosie the Riveter was a catalyst for everything that followed. Lina graduated high school at the age of 16 and within two years of graduating, she became a "war-wife" and saw her husband immediately sent overseas. At the time, she was working as a cashier, but she stumbled upon a plane building demonstration at the Jackson State Fair. Shortly after, Lina applied for a job with North American Airlines in Dallas, TX. She was hired on and tasked with building P-51 fighter jets. Lina worked 12-hour night shifts until the war ended on December 29th, 1945.
Lina remains a proud Rosie the Riveter and symbolizes everything the Rosie's are about. Ever since the Rosie the Riveter Museum opened in 2000, Lina has dreamed of visiting the museum and sharing her story. On April 28th, WOL and Brookdale Senior Living were honored to send Lina along with her son, daughter in law and sister to the Rosie Museum in Richmond CA on April 29th. Lina toured the museum, met other Rosie's and stated, "You could never in 1000 years know how much this meant to me."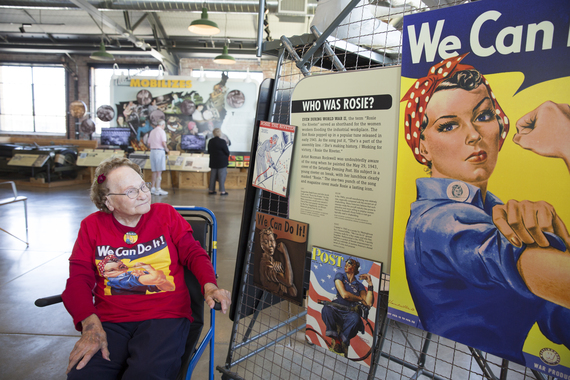 Lina Maddox visits the Rosie the Riveter Museum in Richmond, CA on April 29, 2016.
Photo Credit: Lydia Daniller Photography
Another wish I'd like to share with you is that of 80-year-old, Patti Harris, of Brookdale Scotts Valley in California. Patti is known among her Brookdale residents as an extremely caring and involved community member who is dedicated to her family and friends. Patti has always put other's needs in front of her own. She helped put her three daughters through college working as a waitress, before finishing college herself. While working and going to college as an older adult, Patti volunteered for Meals on Wheels and the Red Cross to help those who are less fortunate in her community.
Patti enjoys doing research and learning about her family's genealogy. Through her research, Patti discovered that her grandparents and mother used to live in the historic Frank J. Baker House in Wilmette, IL, and that the house was built and designed by the famous architect, Frank Lloyd Wright. Her wish of a lifetime was to visit the home.
After Patti's mother passed away in 1965, Patti found a photo of the Frank J. Baker house. She knew that was the house where her mother and grandparents lived, but she did not realize that it was a work of the famous architect, Frank Lloyd Wright. The house was named after Patti's grandfather, Frank Baker, who commissioned Frank Lloyd Wright to have it built. According to family lore, her grandmother Gayle Nelson Baker and Frank Lloyd Wright would often bicker about the design of the house. The house stayed in her family until her grandmother sold the house, when her grandfather passed away. In 1974, the family who owned the Frank J. Baker House had it added to the National Register of Historic Places. Patti's wish was granted on April 23, 2016 when WOL and Brookdale Senior Living worked with the Sobel family to send Patti to visit her family's home. The Sobel family also made arrangements for Patti and her daughter to meet with other Baker relatives, and visit St. Augustine's church, where a stained-glass window stands in memory of Frank Baker's civic contributions.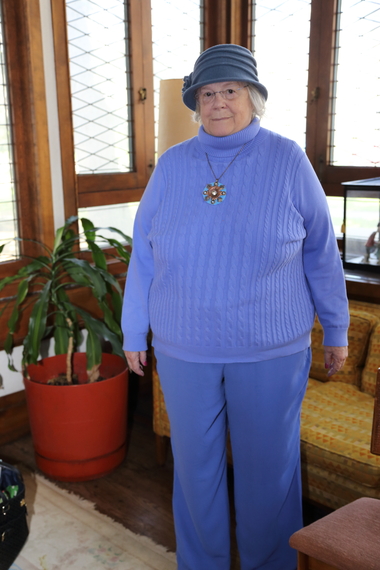 Patti Harris visit's her family's home, the Frank J. Baker House designed by Frank Lloyd Wright, in Wilmette, IL on April 23, 2016.
Photo Credit: Digital Image Nursery
The final wish I'd like to share is that of Jo Byrnes, 89-years-old, a Brookdale resident from Denver, CO. Byrnes' world was turned upside down when her husband returned from serving with the US Army on "The Manhattan Project" at the Trinity Atomic Bomb Site in New Mexico. Sam Levy Jr., her husband, worked under the famed Italian scientist Enrico Fermi. There were 500 soldiers who were ordered to stand at attention as the bomb was being prepared for detonation approximately 9 miles from Ground Zero in the desert of New Mexico. They were told by their commanding officer that they would probably not survive, but all were willing to give the ultimate sacrifice for their country.
Sam did survive and upon his return, says Jo, his entire demeanor and attitude had changed and he suffered from severe brain damage. He died at 59-years-old from complications related to the Trinity Atomic Bomb site. Psychologically it was hard for her husband to cope, knowing that his actions led to the demise of so many people at once. This event not only impacted Jo's life negatively, but left their daughters questioning what happened to the father they once knew.
Jo's wish of a lifetime was to have the opportunity to visit the historical Trinity Atomic Bomb Site in New Mexico with her two daughters to pay respect to her late husband and his service. On April 2, 2016, thanks to WOL and Brookdale Senior Living, they took the emotional trip. Jo was able to locate a picture of her husband that she had never seen before. She was also able to tour the McDonald Ranch House which is the exact site where the assembly of the atomic bomb took place. As expected, the trip was quite overwhelming but Jo feels as if she has "finally found some peace and closure" for a life-changing event in all of their lives.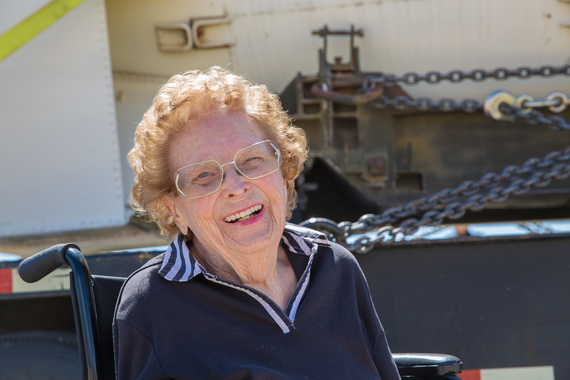 Jo Byrnes visits the Trinity Atomic Bomb Site in New Mexico on April 2, 2016.
Photo Credit: Karina Schuh Photography
Being a part of granting these historical wishes and paying respect to the history, endurance and perseverance that these three women have endured means so much to me. With the help of Brookdale Senior Living and WOL, we hope to continue granting more wishes and helping to tell the stories of the past.
Calling all HuffPost superfans!
Sign up for membership to become a founding member and help shape HuffPost's next chapter