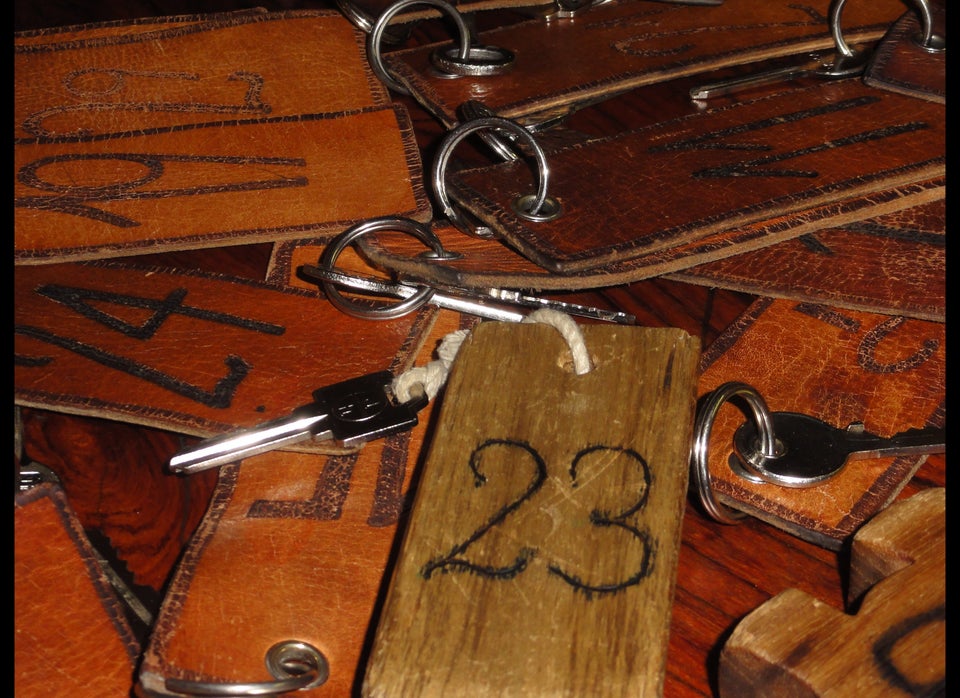 A Journey Through Namibia, part 1
36 hours, three countries, three plane changes -- I finally arrived in Namibia's capital, Windhoek. Even though I was tired and stinky, I was excited at the idea of actually being able to adventure through this ancient and diverse land from the comfort of a luxury train ride thru the Namib Desert to the Atlantic Coast and back. Traveling with me was Missy DiDonato, one of our Grannies on Safari staff photographers. This would be her first time on the continent of Africa and although really tired, she was excited too.
We were met at the airport by Sean -- a fabulous transport driver who was going to drive us to Okapuka Lodge and Game Reserve where we would join our other fellow train passengers. As we drove the 50 miles or so, my first impression of the land was that it was similar to the high deserts of California and Arizona. As far as my eye could see -- there was sand and very little vegetation. Under amazingly bright blue skies, the brown's and grey's of the sands stood out. During the hour-long drive, Sean filled us in on the history of this country of 1.5 million people, its ethnic groups and the status of the conservation plans the government had for the animals and the land. Namibia is a relatively new country -- it became independent in 1991. It was formerly governed by South Africa and for a very short period of time it was a German colony.
A sign for Okapuka Lodge seemed to appear out of nowhere -- it blended in so naturally with the landscape. This theme of blending or camouflaged was to become a continued concept throughout our journey, as the land, animals and vegetation all seemed to blend so well as a part of the landscape that if you didn't know what you were looking for, you would have missed it.
We stayed in an individual chalet, which was very roomy and reflected a true outdoorsy-safari experience with large bedrooms and loft areas. The chalets arranged in a circle around a huge open space. From our chalet windows we could see wart hogs and small antelope graze in the common space.
The lodge boasted of having Nile crocodiles and other game on the premises but it had been dry so long that the crocodiles had gone upstream and we would not be able to see them. They did have one lioness left from their previous pride but because of new laws, they would not be able to bring other lions to their game reserve after the last one died. Namibia is very involved in protecting and conserving all of its animals so this was in keeping with its objectives. When we heard the lioness roaring near our rooms, we knew that we were lucky.
The huge common dining room also allowed us to watch the animals graze! It was a great place to meet our fellow train passengers and together sample local food like Oryx steak and rock shandy's.
The next morning we boarded air-conditioned buses and drove back to Windhoek to meet the train. As we drove in to the city, the Jacaranda trees and African flame trees were in full bloom with colorful flowers everywhere. I took notice of the interesting street names as you could see how they were transitioning from German to honored Namibian heroes. Surprisingly, there were even street names of famous communists and socialist leaders -- Fidel Castro and Mugabe to name a few.
We stopped at a local arts and crafts market and bought some lovely jewelry from Himba women -- who were covered from head to toe in red fat-based ochre. Their hair styles were elaborate depending on cultural traditions -- the twists and designs relay messages to other Himba's as to the women's status -- married, single, single but looking, not married etc. I had so much fun bartering with the women that at the end, they gifted me a bracelet. I was told by our guide that the gift represented how much fun they had bartering with me too!
We arrived at the Windhoek station where we were met by staff who handed us cold glasses of fresh juices. So refreshing and much-needed as we quickly learned how HOT most of Namibia is! And then... off we were boarding the train!
With only 24 cabins on this luxury train, which tends to be around 48 passengers, I immediately felt special because of the intimacy of this journey. Lernidee loves to personalize the trips to reflect the regional treasure. Thus, every wagon was named with an animal indigenous to Namibia. I was assigned the meerkat wagon, and so the door of my cabin had an etching of a meerkat in the glass.
My cabin was large and roomy. A huge window was on one side and three chairs that converted into two beds on the other side. There was an upper bunk also that could accommodate a passenger. Best part -- I have been on international trains before where passengers share bathrooms and the shower so you an imagine how excited and happy I was to have my own bathroom inside my cabin! I pushed the curtains aside on my big window and the cabin door and had amazing views of both sides of the track as we took off.
I went to explore the rest of the train. I found a lovely bar car, a dining car and an observation lounge car. Decorated in leather and wood, the cars were very pretty and super comfortable. I started mingling with the passengers and found out that they we had a diverse group from Canada, England, Scotland, Zimbabwe and Germany. Almost all of them were experienced travelers and that made for great conversation as we began to share highlights of our past trips and the good and bad adventures.
The train staff were a delight -- they were well-trained and took the time to learn our names on the first day onwards. Our guides, Monica and Bianca introduced themselves and from then on were personable and made it a priority to keep us informed at all times. One of the crewmembers was a doctor -- which gave us all comfort in case one of us got sick.
A quick word about the food -- YUM! Stroganoff made with local antelope, ostrich carpaccio, local chicken and pork, fresh breads were baked daily and the menu included lots of fruits and vegetables, which is such an important thing when traveling. It became a fabulous feast every night! I was introduced to "Rock Shandy," a non-alcohol drink of lemonade, sparkling water and a little bit of bitters, and ended up ordering them every day. And of course, I tried their local beer Windhoek! Thank goodness that the conversion rate between U.S. and Namibian dollars was 10:1 -- by the end of the trip, my tab didn't feel like it hit my pocketbook too much because the dollar amount stayed low.
Our journey took us south first and then north in the coming days. Our first southern destinations on the train: the Quiver Tree Forest, a visit with Cheetahs, and a hike around the rim of the Fish River Canyon -- the second largest canyon in the world after the Grand Canyon in the U.S.
More to come in the next article as I journey through this ancient, mysterious and beautiful land. Now its bedtime and I'm looking forward to being rocked to sleep as my train makes it way to our next destination.
Regina Fraser, dreaming of massive sand dunes and the Skelton Coast