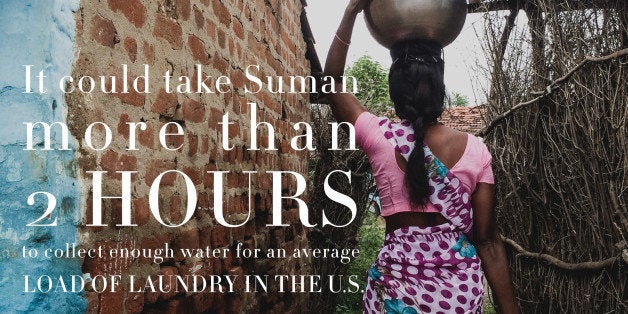 Over the years, we have traveled together to several developing countries, meeting thousands of women and young girls who shared their dreams of becoming a doctor, nurse, lawyer or teacher. Many of our conversations took place while tracing the long and often difficult path these women and young girls walked every day to secure water for their families. We were deeply moved by their aspirations, but it was difficult to ignore the reality that the number of hours they spend on their journeys to secure water would effectively destroy their dreams. We made a commitment to see this change, in our lifetime. And why not? We know how to build toilets and we know how to deliver safe and sustained water access. All we need is the global will to see it done.
Together we formed Water.org and with the support of our partners, we have made progress by developing and delivering innovative solutions to the global water and sanitation crisis. To date, our efforts have positively transformed the lives of more than two million people, ensuring a better life for generations ahead. We have seen firsthand the differences that access to safe water and sanitation make in the lives of individuals and their communities. They thrive; they have hope, health, and a chance to contribute to their future. On our most recent trip to India, we met with women who shared their joy in having a water tap in their home. They talked to us about the differences it made in their lives -- having more time to care for their families and generate income, having to spend less time at doctor's visits.
Today at the Sundance Film Festival, Stella Artois and Water.org are launching 'Buy a Lady a Drink,' a campaign that will help stop journeys to collect water that millions of women and children around the world take every day. One of the films that Stella Artois will show at launch tells the story of Anita. Anita had a water tap installed in her home a year ago. Having water available at the start of every day has allowed Anita to work at the family business and plant crops, avoiding the long journey to the center of Nagpur to shop at market for vegetables. Her children no longer miss school because of the need to line up at a local water source waiting for water that never comes. We are grateful to Stella Artois for donating $1.2 million to Water.org, and for collaborating with us to bring the stories of women like Anita to life.
For most of us, access to safe drinking water and sanitation is something to which we give little thought. Yet the reality for nearly 750 million people is vastly different. Around the world, women and children spend nearly 200 million hours fetching water every day for their families. That's 200 million hours they could spend attending school, building businesses and making other contributions to their communities. In India, for example, women can make up to six trips a day to gather and transport water, carrying as much as 15 liters every trip. In some cases, these walks cover 10 miles a day.
A study by Booz & Co reports that approximately one billion women have the potential to enter the global workforce in the next decade. The amount of time that women spend searching for safe water poses a significant barrier to their ability to join the labor market. Access to safe water and sanitation are at the root of economic development, disease prevention, and breaking the cycle of poverty.
Join Water.org and Stella Artois in our efforts to help stop these water-collecting journeys, so women can begin new journeys of their own. Your generosity can help bring health, hope and possibility to families around the world.
To learn more about the Stella Artois 'Buy a Lady a Drink' campaign, stories of women directly impacted by the global water crisis and how you can purchase a Chalice, visit www.BuyALadyADrink.com or join the conversation with #BuyaLadyaDrink. To learn more about Water.org, visit http://water.org/.
Related