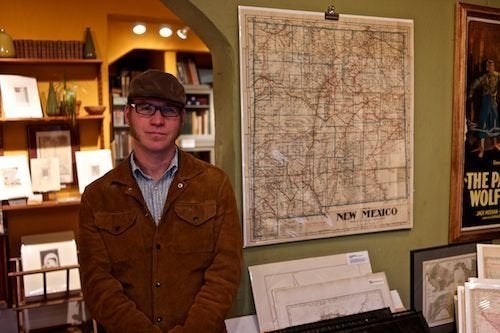 My fondest memories as a kid were road trips taken with my family and friends. I always found something a bit magical about packing up a car and driving someplace new. My parents, and their parents in turn, seemed to enjoy taking the road less traveled. It's something I hope to pass onto my own daughters as they grow older.
This love for travel was no doubt the inspiration that fueled the creation of Gowalla, a company I founded with friends a couple years ago. It's a social adventure guide for people who like to go places, almost like having a passport or travel journal on your phone (people around the world have now visited 2.5 million places with Gowalla).
So when Gowalla was offered the privilege of working with Sundance Festival to create a unique mobile and social experience for folks attending the event, we jumped at the opportunity.
It just so happened that we had been refurbishing a 1967 Airstream for use elsewhere, so we decided to take it with us to Park City, Utah. This would be a great opportunity to use our own service on the open road. Four of us from Gowalla left Austin with a mission to see as much as we could along our way, opting for back roads over Interstate whenever possible.
On day one, we make it to Abilene, Texas in time for lunch. We aim to eat at the highly recommended Harold's Pit Barbecue, only to learn it is closed on Mondays and Tuesdays. It was only then we discover Square's Bar-B-Que Pit. The hefty red Chevrolet pickup we pull up in likely does little to mask our city-slicker nature, but they treat us like locals, serving up fantastic barbecue and friendly conversation. They even do the research to confirm their BBQ sauce is gluten-free for Keegan. It is a giant win all around and we leave Abilene happy and full.
After stopping to photograph the giant wind turbines off US Highway 84, we pull into Lubbock a bit late. Sadly this is when we realize the running lights have shorted out on the aged Airstream. Instead of dinner, we spend the next three hours in a parking lot rewiring the lights. A late departure from Lubbock puts us into Santa Rosa, New Mexico at one in the morning. We camp in a truck stop parking lot.
On day two we quickly hoof it to Santa Fe where we hustle around the Plaza, take some photos and attempt to restock on film. We could spend much more time here, but we're on a mission for breakfast at Michael's Kitchen in Taos, New Mexico. For me, this means a short stack of Atole-Piñon Pancakes and the Poor Man's Eggs Benedict, a delightful twist on the classic favorite smothered in the finest red chile sauce ever imagined. My parents first took me to Michael's over twenty years ago, before Julia Roberts arrived and made the place semi-famous. Fortunately the service and recipes have stayed the same, as has the line out the front door.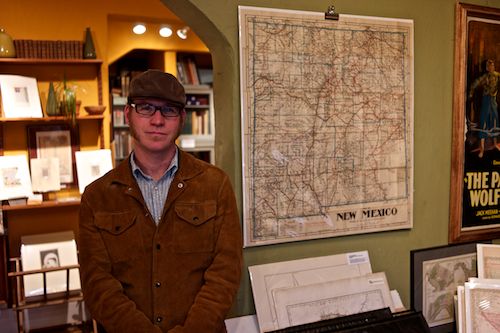 Cullen Stevens, G. Robinson Old Prints and Maps
For the uninitiated, Taos is an enchanted town, filled with art galleries and trendy southwestern boutiques. I'm looking for something a bit special though, so I dive into G. Robinson Old Prints and Maps. The collection of rare and unique woodcut prints, etchings and maps dating back hundreds of years is astonishing. The proprietor, a gentleman who goes by the fantastically appropriate name of Cullen, is also quick to point out his growing collection of antique Japanese and French erotica. I skip on the vintage adult etchings, but purchase a gift for a friend moving to Austin soon. I never know what I'm going to find in Taos, and G. Robinson is no exception.
After a Mocha Mexicana from World Cup, a local favorite, we're back on the road. We stop briefly at the Rio Grande Gorge Bridge to soak in the view and grab a few more photos.
The drive from Taos to Durango, Colorado (via Chama, New Mexico) is one of the most beautiful drives in the country. It can also be one of the most dangerous during the winter since storms can move in fast, quickly icing over the narrow traverses. We're blessed to find there has been no weather in days and we're able to make the jump in good time, witnessing one of the most astonishing sunsets any of us have ever seen.
Not much is open in Durango when we pull in around 8pm. We manage to find the Irish Embassy, a lively pub in the center of downtown. Thanks to a recommendation found on Gowalla, Keegan and I decide to try Allerton's Fish Tacos. Jon (aka JJ) goes with the Fish and Chips and the other John (aka Critz) grabs an epic burger. After I wash my fish tacos--a decidedly risky bet for an Irish Pub in Durango--down with a Guinness, I toss the keys to Critz and we're back on the road.
We make Utah about midnight and park the Airstream just outside Canyonlands National Park, across the highway from the eerie-at-night Beehive Rock. As we're drifting into sleep, Critz channels his inner hobo and bangs on the aluminum door, putting the other three of us in near cardiac arrest. Fear of crazy transients and ax-murderers is evidently alive and well on the road, even when you're an adult. We'll get him back later.
Yesterday we awake and hike out to Beehive Rock. As striking as the monument is, it's unusual appeal pales in comparison to what we're about to see in Arches National Park. Even though we have to make Park City by mid-evening to setup for Sundance, we decide to take a couple hours to see some of the most scenic landscapes America has to offer. At times we wonder if we're still on earth or somehow stuck in a cosmic landscape pulled from the video game world of Halo. Though I would love to return to the park during warmer times, the snow adds to the mystery and beauty of the place. Our National Parks are a treasure and I was reminded again of how fortunate we are to have them.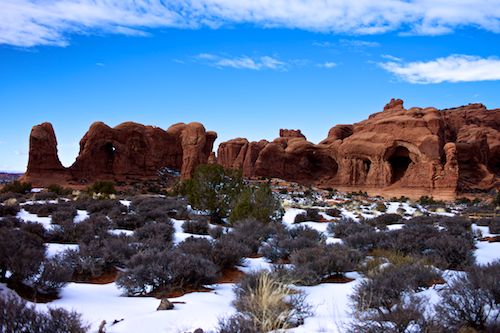 We arrive in Park City, Utah around 8pm. Today Sundance begins. If all goes well, I'll post a couple updates from the event as the festival gets under way. Late next week we'll make the return trip to Austin, perhaps through Vegas and Flagstaff. Until then, you can keep up with our adventures in photo form on Flickr. We'll see where the road takes us.