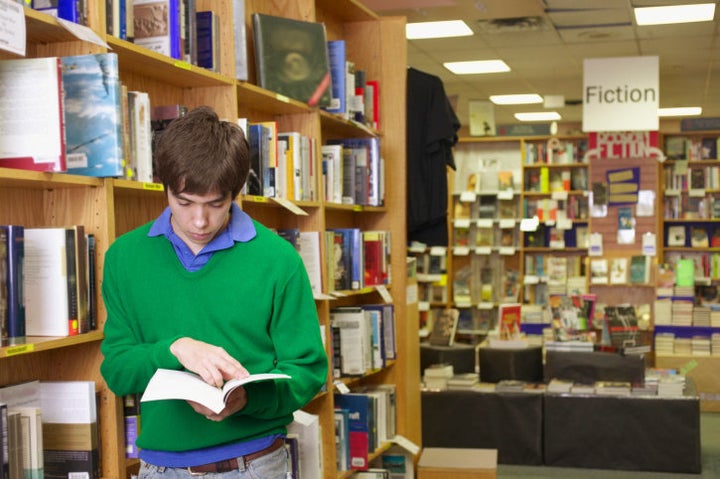 Richard Minsky's The Art of American Book Covers: 1875-1930 is a work that fully merits the term amazing. He explores one of book publishing's most creative periods, when covers took on some of the qualities of sculpture.
Minsky is uniquely qualified to guide us through the history of a time when the book as art merged with the book as industrial object. He was -- some would say -- the founder of the modern book art movement, whose influence inspired countless artists. He revolutionized the concept of the book by detaching it from its purely literary conventions and concentrating on the ways in which books provoke love and hate in the social milieu by their very existence. Using simple office equipment such as the inkjet printer, he also showed how the author/artist could escape the control of the industrial publishing complex and create works that were products of individual thought rather than groupthink.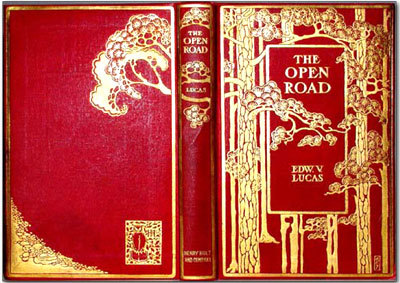 Bertha Stuart, 1905. The Open Road by Edw. V. Lucas. New York: Henry Holt and Company. 16 x 10.7"
One of Bertha Stuart's most interesting cover designs was produced with simplicity, using two-tone gold (stamped with one textured dye) on red cloth over thin, flexible boards. The branches move both behind and in front of the title plane, a device Stuart used many times. Holt issued a series of books in this format, all with different bindings by Stuart. Each title was produced in both red and green cloth.
The Art of American Book Covers mainly consists of the covers themselves, which are shown in full color, along with brief biographical and historical information, but Minsky's introduction -- beautifully illustrated with examples -- is a remarkably complete yet succinct history of the period, its artists and its main business and intellectual forces. He writes:
In the 1870s book cover art in the United States entered a Golden Age that lasted more than fifty years. Some of the work is startling for its prescience and can be associated with art movements that occurred decades after the books were produced. Publishers commissioned contemporary painters, architects, and stained glass designers to create covers that would grab the eye of bookstore browsers.

Artists experimented with new visual concepts and production processes in an era of rapid technological, social, and aesthetic evolution. These artists were in the forefront not only of book cover design, but of visual culture. In the following pages you will see works by early precursors to Malevich, Marinetti, Kandinsky, Kline, Escher, and other artists. One wonders if the artists had these books in their childhood homes.

Identifying the cover artists helped publishers to sell books. Houghton, Mifflin took the lead in America in 1887, featuring Mrs. Henry Whitman's name as the cover designer in their advertising, but showed no images of the covers. Sarah Wyman Whitman created hundreds of covers for Houghton and influenced many other artists. In the decade that followed, other publishers' advertisements and catalogs featured cover artists such as Frank Hazenplug, Will Bradley, and Bruce Rogers, who had become so well known that their names appeared without pictures of the covers.

As early as the 1840s, Americans were buying books as decorative objects for their homes as well as works of literature. This was not the same as buying sets of books by the yard to decorate the shelves of a home library. The beautiful covers of individual books were meant to be seen, not hidden on shelves with only their spines exposed.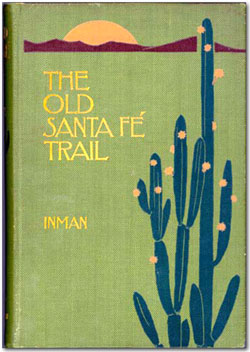 [Unsigned, likely The Decorative Designers], 1897. The Old Santa Fé Trail by Colonel Henry Inman. Illustrated by Frederick Remington. Initials and tail pieces by Thomson Willing. Fold-out map. New York: The Macmillan Company. This copy is the fourth printing, January 1898. 22.7 x 15.7 Yellow, maroon, and dark green cactus in abstract landscape with gold title on green cloth.
If you love books, you will love this book. It is a landmark in the history of the book and will surely provide great inspiration for any artist, whether working in the field of books or not. Minsky captures a critical moment in industrial design that was characterized by a profound sense of humanism. Far from being ironed out and standardized, book covers were intensely personal, suffused with a kind of joy that survives to this day in the art of the book cover. Modern production may be much slicker, less textured, but book covers remain defiantly creative even as content is muffled in deadening white noise. The Art of American Book Covers is easily one of Minsky's greatest works, a stunning example of critical art history that is free of any kind of curatorial jargon, fundamentally respectful of our intelligence, yet clear, accessible and useful. It belongs in every library.

Related
Popular in the Community