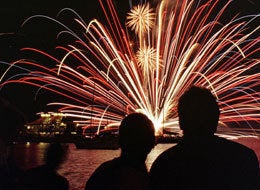 This July 4, lets put election reform on the agenda.
Are you a pro-democracy patriot? I am. Like millions of Americans, I experienced a surge of hope after the most nationally inclusive race for a presidential nomination in US history. It was that hope -- a sense that the time is ripe and right -- that moved me to write a manifesto about how to invigorate our democracy and capture greater power for the people. My essay, "Just Democracy" addresses the crisis of our democracy, the opportunity we have to repair it and the steps we can take to build a more perfect union.
While The Nation has published clarion calls for change before -- most recently in 2001 and 2004, the confluence of events suggests there may never be a better time to renew our electoral process. Just a century ago progressive forces brought about a flurry of constitutional amendments, including women's suffrage and direct election of senators. We have a similar opportunity to pass the reforms that will build a more just democracy. A pro-democracy movement already has the grassroots and netroots in place, as well as the principles and concrete proposals. Of course, it will take political will, savvy strategy and hard-nosed organizing -- organizing that should be integrated into the 2008 campaign and continue after this year's voting is done.
By developing a holistic and galvanizing democracy agenda, the larger public interest and progressive community can unify and amplify particular issues -- health care, the environment, an end to reckless war and economic injustice.
What would a core agenda be? How about Just Democracy -- a program to ensure that every voter can vote, that every vote gets counted, that money talks no louder than the many and that every challenger gets to make his or her case? Many of the reforms I propose are embodied in legislative proposals that have already been introduced in Congress.
A Just Democracy movement will require determined idealism and hard-nosed realism; it will demand a broad coalition committed to making these reforms a high priority. Working together, I believe we can repair the broken system we've been handed and confront the crisis of disenfranchisement that has overtaken our democracy. We want 100 percent registration. We want increased participation. We want full representation with majority rule. We want the right to vote. We want to vote without fear--that our votes will not count, or be counted by hacked machines.
Isn't it long past time to place democracy at the center of our politics? This July 4th, let's begin to make America a more perfect union.
Calling all HuffPost superfans!
Sign up for membership to become a founding member and help shape HuffPost's next chapter