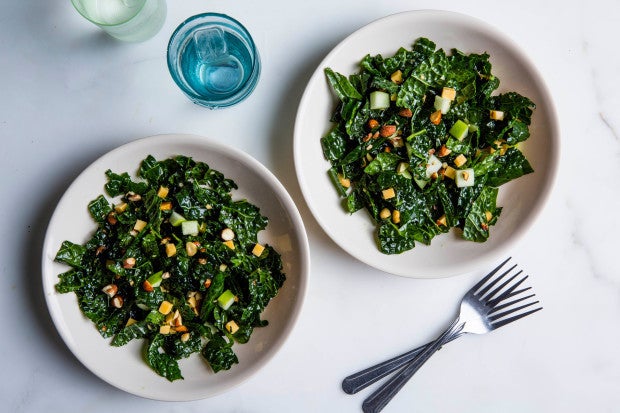 Welcome to Cooking Without Recipes, in which we teach you how to make a dish we love, but don't worry too much about the nitty-gritty details of the recipe, so you can create your own spin. Every day this week, we'll be bringing you a large-format dish that's perfect for a potluck. Today, associate web editor Christina Chaey makes the easiest kale salad ever.
After many conversations with salad-loving friends who rarely make them at home, I've concluded the scariest part of making salads is the dressing. Unfortunately, it's also what separates a great salad from a meh one. A good dressing has plenty of fat like olive oil, which helps carry flavor (the fat dissolves lots of flavor compounds that aren't water-soluble! Science!) and provides that rich mouthfeel that makes you momentarily forget that you're eating "health food." But a good homemade salad dressing must comprise more than just fat, and I totally get why achieving the right balance of acid, sweet, salt, and fat can be intimidating. Which is why I love this salad so much—it relies on fatty ingredients, like cheese and toasted nuts, which means you can get away with the laziest of dressings—lemon juice and olive oil—and still feel like you're eating the best salad of your life.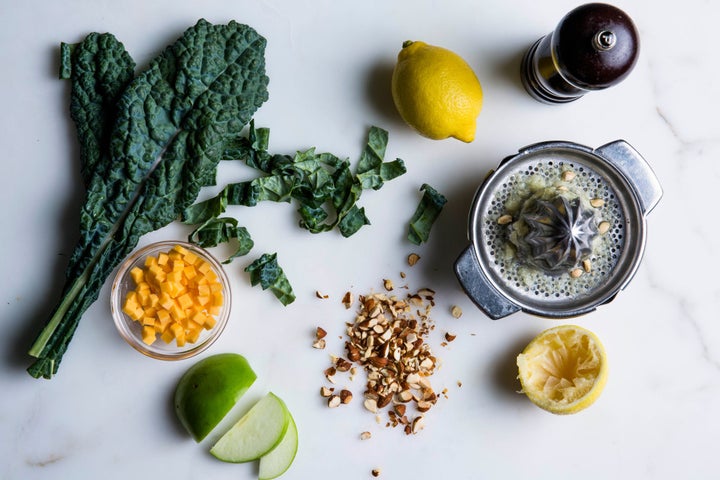 This makes a nice, big side salad for 6 to 8 people, but it also scales up or down beautifully. Here's how I do it:
Wash and thinly slice two bunches of Tuscan kale, stems removed, and toss it all into a biiiig salad bowl. Squeeze in the juice of one lemon and scrunch the kale around with your hands until the leaves start to feel soft and smell fragrant and grassy. Add two chopped Granny Smith apples,two big handfuls of chopped, toasted almonds, and as much cubed cheddar cheese as you like—I especially love a super savory, crumbly clothbound cheddar like this one from Jasper Hill Farm. (Don't have cheddar? Shaved aged Parm will work beautifully, too.) Drizzle with the nicest extra-virgin olive oil you've got (since there aren't any extra dressing ingredients, you want to taste the rich flavor of the oil). Season with salt and pepper, add some more lemon juice to taste, and gently toss everything together.
At this point, you could throw in a handful of dried cherries orpomegranate seeds for sweetness, or roasted squash like they used to do at the now-closed Northern Spy Food Co., whose popular salad inspired this one. Whatever you do, it's basically impossible to ruin this one. And on the off chance you end up with leftovers, they'll taste just as good the next day.
De-stem any green like you mean it:

Support HuffPost
A No-B.S. Guide To Life
Related
Popular in the Community