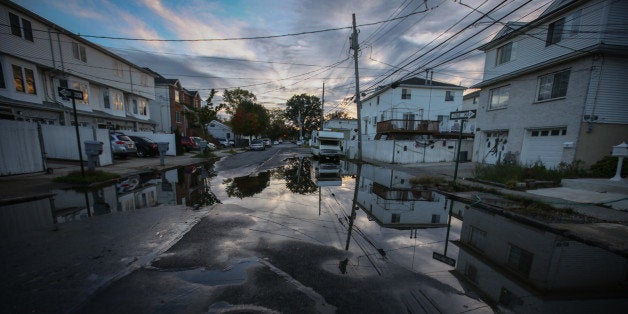 Last week was the second anniversary of "superstorm" Sandy and, for many in the northeast, it is a reminder of the fragility and interdependence of modern life. The New York Times profiled the transformative effect the storm had on some of the families most affected by the storm, reporting stronger family ties. While this and some other impacts may well have been positive, I am certain that many more of the social and economic impacts of the storm were negative and long-lasting. People were displaced from their homes and children could not always attend the schools they had enrolled in before the storm. The sense of disruption and dislocation needs to be understood when assessing the full impact of the storm.
Since I rent my New York City apartment from my employer, the only property my wife and I own is our bungalow in Long Beach, New York. This little house required a gut renovation of the ground floor after we took in five feet of water. My two sisters, my parents, and two nieces were displaced by the storm. Fortunately, our family, especially our cousins in Queens, provided my family with shelter from the storm. My next door neighbor emptied our home of its soggy contents and carried it to the curb for pick-up. All of our Long Beach neighbors helped each other get through the worst days in the aftermath of the storm. Over the past two years, most, but not all of my neighbors, have rebuilt their homes and resumed their normal lives. But this resolve and resiliency was far from cost-free--costs that were both emotional and financial.
I have written before about the heroism and selflessness of the first response to the hurricane and also of the absurd, bureaucratic and wildly disorganized effort at reconstruction. Writing in the Wall Street Journal last week, Laura Kusisto reported that:
For many who lived in the Staten Island neighborhoods hit hardest by superstorm Sandy two years ago, it hasn't been easy to start over somewhere else. It hasn't been easy to stay, either. About 500 people who lived in the New York City borough's coastal neighborhoods have decided to leave and sell their properties to the state, fed up with floods and brushfires. Meanwhile, thousands of others have chosen to rebuild even as they struggle with the government programs designed to provide help.
She noted that the city's "Build it Back" home reconstruction program has had a mixed record of success, with:
...about 14,000 active applicants to Build It Back. So far, nearly 800 homes are under construction and more than 1,000 reimbursement checks have been issued. Many community advocates and homeowners said they had seen improvements in the program in recent months.
The difficulty with our efforts at reconstruction has been that the government programs designed to rebuild homes and businesses have been seen as temporary "one-shot" emergency response efforts. The revenues for these programs depend on the whims of our dysfunctional federal Congress, and the organizations set up by state and local governments to oversee the reconstruction took a while to learn their jobs and have an uncertain future. We are still in the middle of the learning curve, and while government was learning how to deliver reconstruction aid, people suffered.
We now live in a in a more crowded country where people are more frequently in the pathway of hurricanes, earthquakes, floods, forest fires, droughts and other natural and human-made disasters. When a disaster occurs every month somewhere in America, we can no longer consider them an emergency, but a regular, routine event. Since the primary function of government is to protect people, we need to develop and maintain the national capacity to reconstruct communities after a disaster. This new organizational and financial capacity should be funded by a new and regular progressive tax paid by everyone, and the revenues should go into a trust fund that can only be used according to clear and well-understood rules.
While the reconstruction of private property has been problematic, the overall effort to rebuild and reinforce infrastructure has been proceeding quietly and effectively. In New York City there has been an almost seamless transition in resiliency planning and management from the Bloomberg to the de Blasio administration. Clearly, this was one part of the people's business that required a determined, apolitical effort and that is precisely what we are seeing.
In a press statement released by the New York City Mayor's Office on the second anniversary of the hurricane, the de Blasio administration reported on both the near-term and long-term resiliency programs now underway. According to the Mayor's Office:
Short-term measures were quickly put in place to immediately reduce risk. For example:

4.15 million cubic yards of sand place on City beaches
26,000 linear feet of dunes on Staten Island alone, with more to come
10,500 linear feet of bulkhead repairs around the City
Updated building codes, including 16 new local laws to improve residential and commercial resiliency
$1 billion in resiliency investments being made by ConEd to harden critical assets like substations and switches
Reforms to the national flood insurance program
Longer-term efforts included coastal protection planning throughout the city, investments in green infrastructure to prevent flooding, and resiliency upgrades at hospitals and city housing projects. Similar efforts are underway by regional authorities such as the MTA and Port Authority as they seek to ensure that the next storm is less disruptive.
It is clear that our modern lifestyle depends on energy, transportation and communications infrastructure that can be damaged by storms and other disasters. We are less independent and more interdependent than ever. That has changed the role of government and the sooner we learn to accept that the better off we will be. In this era of extreme political polarization it is difficult to see how a government function such as disaster reconstruction could be expanded enough to meet our growing needs. Our poisoned political system is too paralyzed to act. One has to assume that things will need to get worse before they get better.
In many parts of the world, where refugees struggle to survive, the displacement caused by Sandy would be seen as a small problem. But viewed within the context of the lifestyles familiar to people in America, the type of displacement caused by Sandy, Katrina and similar events is far from a small problem. America has the resources and ability to routinize reconstruction. The costs of waiting and responding after the fact are high. Two years after this superstorm, the chief lesson is the need to be prepared. We have learned that well for first response and infrastructure resilience. We have failed at community reconstruction.
I see this as a national problem requiring a national solution. The storm may have hit New York two years ago, but it will hit somewhere else this year. If we act as a national community, we can spread the risk and the cost. The trust fund we need is really a rainy day fund. And the time to put away money for a rainy day is before the storm, not after it.
REAL LIFE. REAL NEWS. REAL VOICES.
Help us tell more of the stories that matter from voices that too often remain unheard.