I stood in front of her tonight... a warm bedroom light reflecting the years of life that have etched their lines in her sweet face.
I slid her fuzzy slippers upon her swollen feet, riddled with devastating arthritis, her toenails painted in a frosted mauve.
I reached gently around her small frame and guided her arms into the plush sleeves of her soft, quilted aqua robe.
She smelled like fresh lavender and talcum powder.
My arms extended around her waist as if to share in a big bear hug and I gently tied the fuzzy belt into a simple bow at her side.
Another day behind us, another dark curtain ascending on the night.
I began to step away from her when she reached out and firmly grabbed my arms.
She drew me close and planted a big kiss upon my cheek.
"You are so very good to me," she whispered. "You're in my prayers every night and I thank God I have a daughter like you."
It was then, I parted her silver white bangs and I kissed her forehead.
I reminded her, with a whisper in her ear, how grateful I am to have her for my mom.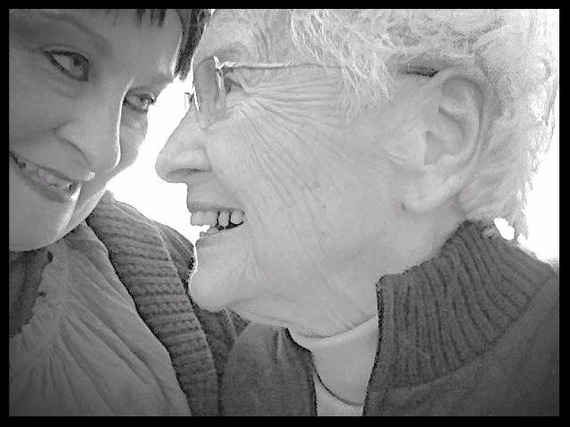 Alzheimers Care-giver, Beverly Booher
REAL LIFE. REAL NEWS. REAL VOICES.
Help us tell more of the stories that matter from voices that too often remain unheard.