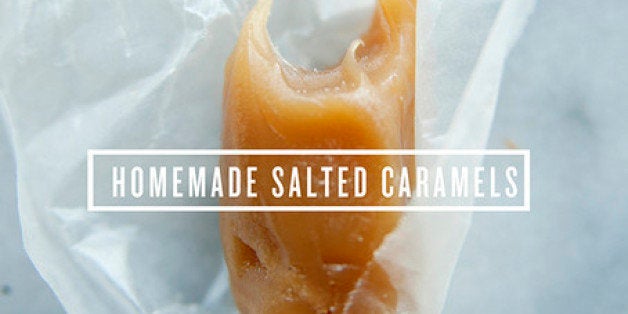 Caramels are one of my favorite candies. That melt-in-your-mouth honeyed flavor with a subtle punch of salt is so addictive, and the perfect canvas for creating delicious Halloween candies. I love making batches of these to keep in bowls at costume parties and get-togethers. Enjoy!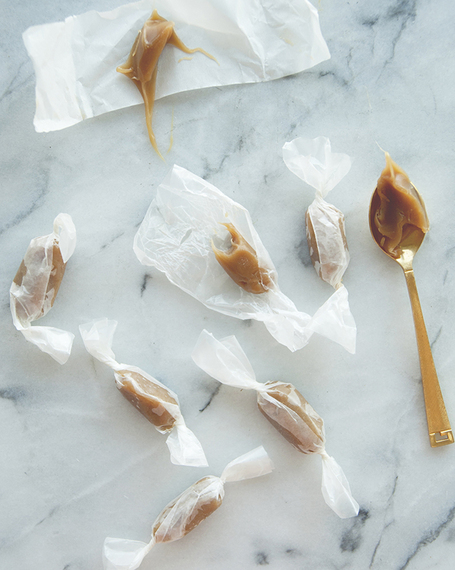 INGREDIENTS
1 1/2 cups heavy whipping cream
1 cup white sugar
1 cup packed light brown sugar
2 1/2 teaspoons sea salt
2 teaspoons vanilla extract
ADD ONS
Finely chopped pecans
Finely chopped almonds
Finely chopped chocolate
Finely chopped cookies
DIRECTIONS
In a heavy medium-sized saucepan, stir together the cream, sugars, and salt. Place the saucepan over medium-high heat and bring to a boil, stirring constantly with a wooden spoon. Once the mixture boils, with a heatproof pastry brush that has been dipped in warm water, wash down the sides of the saucepan to remove any sugar crystals that may have formed. Boil the mixture over medium-high heat (do not stir) until the temperature reaches 245F. Remove from heat and stir in the vanilla extract. Pour the caramel into your greased pan (grease with butter or cooking spray) and let cool to room temperature, then pop in the fridge for at least 2 hours, or when it's completely chilled. When chilled, scoop out tablespoon sized balls of the caramel with a greased spoon. If you want, roll the caramels in an add-on. Wrap in wax paper.